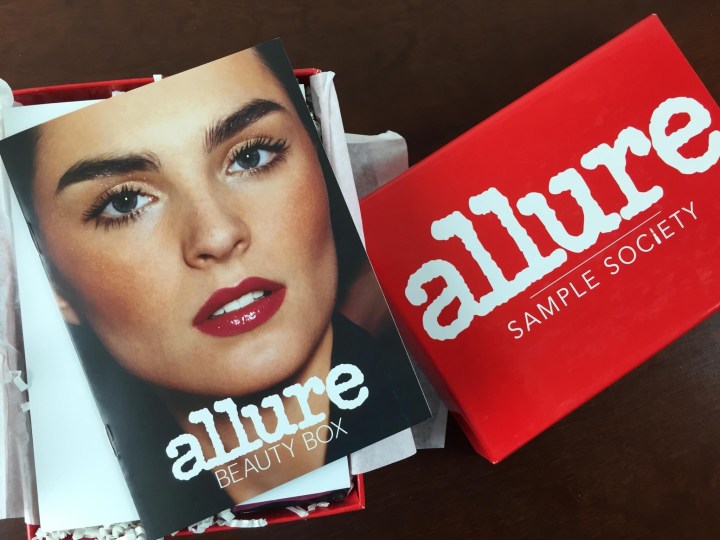 Allure Sample Society from Beauty Bar is a beauty subscription that sends 5 deluxe samples – makeup, skin, hair, accessories, and fragrance.  Samples are chosen by Allure magazine editors and Beauty Bar runs the subscription.  As I suspected last month, June is the last installment of this box from Beauty Bar. The new Allure box will be found here – still no home page! Check out this post on Sample Society updates/news if you haven't heard about it yet.
This box was quite full!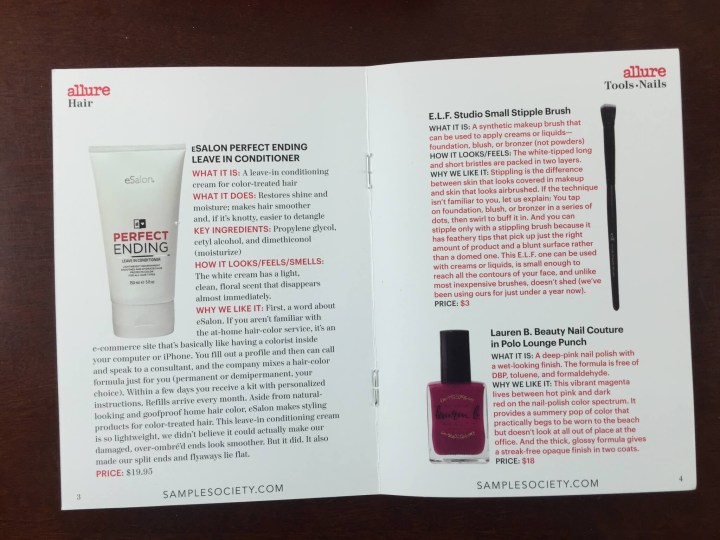 There's a mini magazine in every box and it's very editorial – the Allure editors pick every product and give tips on use and why they like it. Or why you might not.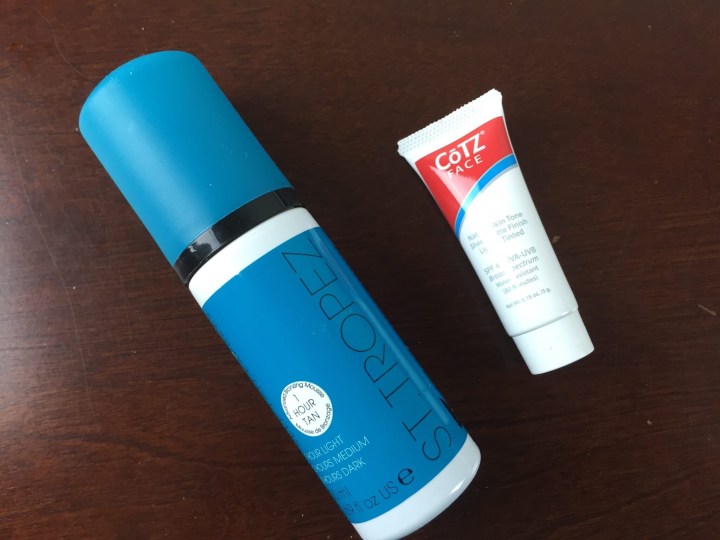 St. Tropez Self Tan Express ($11) Put it on and then turn off the skin-darkening elements with a shower. This is a neat idea and I'm really excited to try it out!
CoTZ Sheer Matte Finish SPF 40 ($2.40) I love CōTZ and I am excited to get it in 5 different boxes in the past 4 weeks – no joke. I think it's a fantastic product and I'm really happy to see it everywhere. Lightweight, smooth, tinted, and a mineral SPF – nothing more than I can ask for in a sunblock!
e.l.f. Small Stipple Brush ($3) The value on this one is nothing to write home about, but we like e.l.f., especially to try out new colors and techniques (see our e.l.f. Beauty Bundle reviews). The mini-mag gave excellent instructions on how to apply foundation with this brush.
Completely Bare Wax Strip Sample Pack-8 ct (Sample) This didn't come with the lauded lavender oil towelettes, so I'm going to say if you want more strips, try these cheap ones on Amazon! They're probably exactly the same. Just try them on your legs first, right?!
eSalon Perfect Ending Leave-In Conditioner Deluxe Sample ($2.90) I'm actually really happy to get a conditioner instead of a shampoo. The scent smells like drugstore shampoos and this is a leave-in one. eSalon is a customized hair color company. As you may know I typically use Madison Reed (see Madison Reed reviews) because it doesn't itch or sting my head at all (the formula is resorcinol free). The box also included a coupon for your first hair color for only $10 (half off)! Use code samplesociety at esalon. Use this link to check out the ingredients in the color. And then check out Madison Reed if you'd like. I personally purchase and use MR and am 100% biased for them, because of my excellent results! I can't help but plugging them.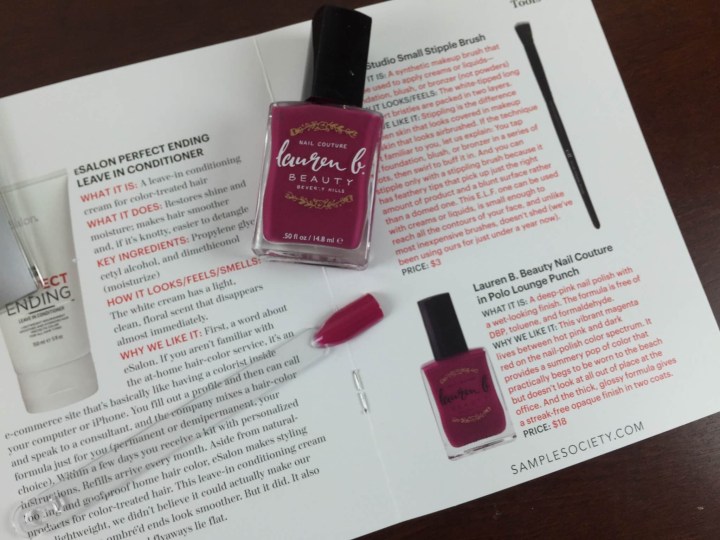 Lauren B. Beauty Nail Polish, Polo Lounge Punch ($18) my bottle was leaky but the polish didn't get past the cap screws. Whew! I love this color – it's totally gorgeous! Great formula, and Allure makes a great point – this color is 100% office friendly.
My box had around $37 in value and despite being a little meh on the spoilers, I liked it when I got it! Hopefully we'll have information on the new subscription soon!
Visit Sample Society to subscribe or find out more. You can also see all my Beauty Bar Sample Society Reviews  and all the other Beauty Subscription Boxes in the directory!
The Subscription
:
Allure Sample Society from Beauty Bar
The Description
: Get five deluxe-sized luxury brand samples and $10 monthly gift code to redeem on a $50 purchase at BeautyBar. Plus an Allure mini-mag.
The Price
: $15 per month