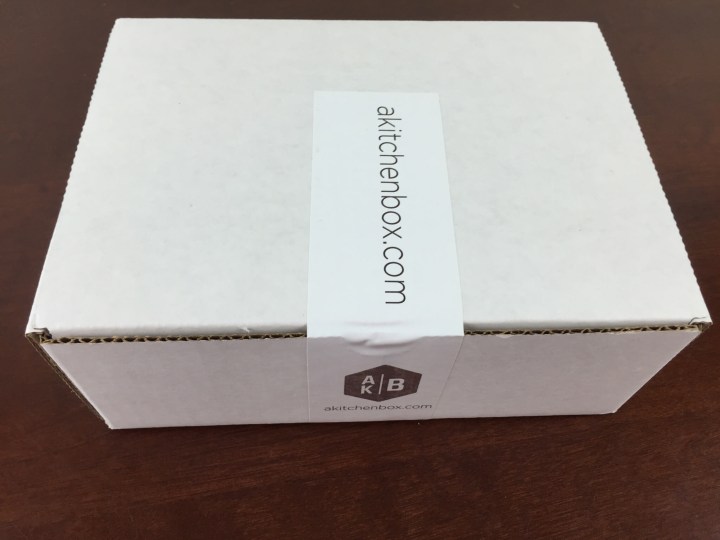 A Kitchen Box has just released their collaboration with Better Homes and Gardens!  The Summer Alfresco Box is a one-time purchase for $34.95. I was thrilled to see this show up at my door, because BH&G is my fave magazine – since I was 12 (really!).
Every box includes a whole year to Better Homes & Gardens ($5.99)!
Complete Item List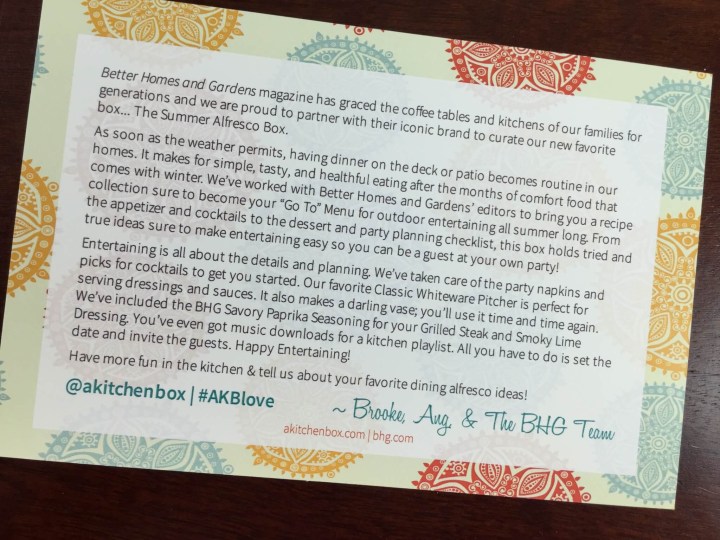 Better Homes and Gardens magazine has graced the coffee tables and kitchens of our families for generations and we are proud to partner with their iconic brand to curate our new favorite box… The Summer Alfresco Box.

As soon as the weather permits, having dinner on the deck or patio becomes routine in our homes. It makes for simple, tasty, and healthful eating after the months of comfort food that comes with winter. We've worked with Better Homes and Gardens' editors to bring you a recipe collection sure to become your "Go To" Menu for outdoor entertaining all summer long. From the appetizer and cocktails to the dessert and party planning checklist, this box holds tried and true ideas sure to make entertaining easy so you can be a guest at your own party!

Entertaining is all about the details and planning. We've taken care of the party napkins and picks for cocktails to get you started. Our favorite Classic Whiteware Pitcher is perfect for serving dressings and sauces. It also makes a darling vase; you'll use it time and time again. We've included the BHG Savory Paprika Seasoning for your Grilled Steak and Smoky Lime Dressing. You've even got music downloads for a kitchen playlist. All you have to do is set the date and invite the guests. Happy Entertaining!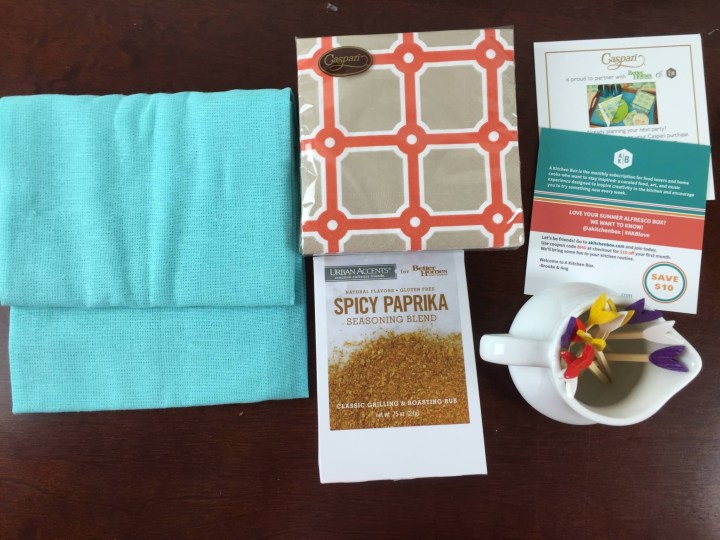 Beautiful combo!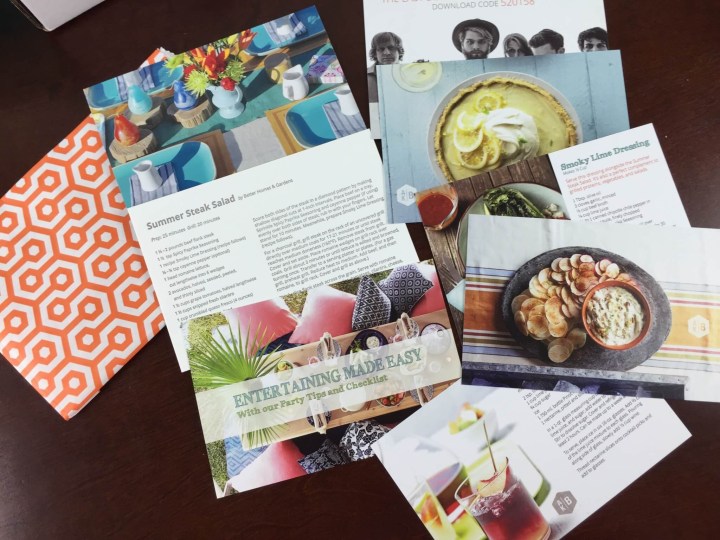 Inside the neat geometric envelope are cards containing the BH&G Summer Entertaining recipe collection,  plus the featured Summer Steak Salad recipe on a letter-pressed card.
There were also two music downloads, plus a postcard and an Easy Party Planning Checklist.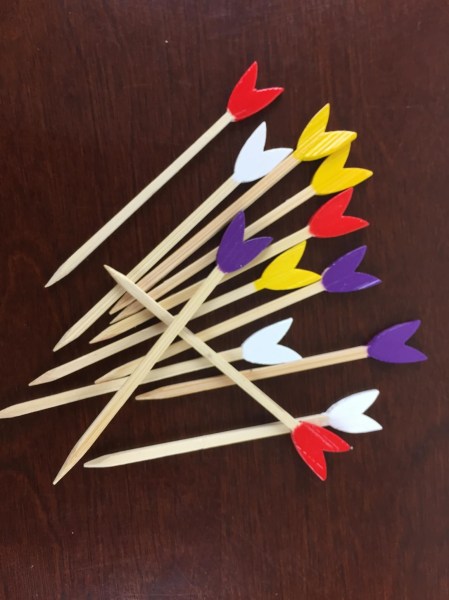 Tulip Cocktail Picks – These are so pretty and super sturdy! Instead of a pick like these having an end stuck on, the tulips are part of the pick. Use them to skewer olives and other fancy cocktail accoutrements! What a great idea!
Classic Whiteware Pitcher – My kids are always bringing me random flowers/weeds they've plucked, and this is the perfect vessel for those! When not displaying their treasures I can use it for dressings and sauces! It's nice to pretty up the dinner table with decorative items instead of a giant squeeze bottle of honey mustard!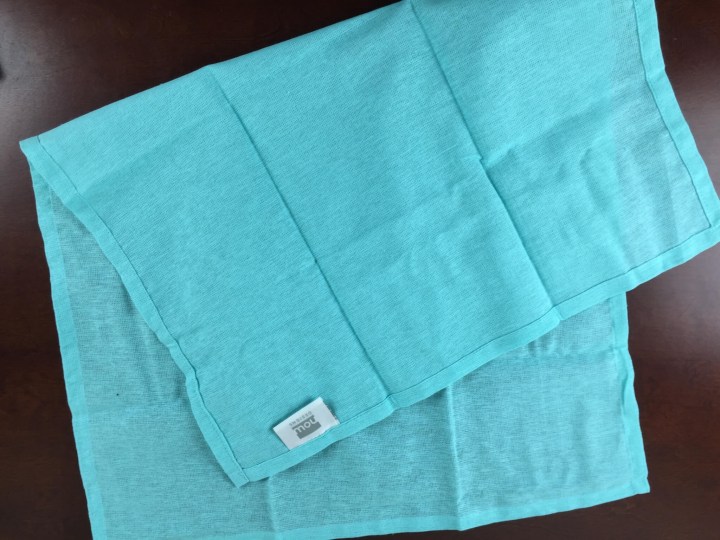 Now Designs Flour Sack Towel ($6) This is a gorgeous towel, and I love that it's not white (and of course, coordinates with the rest of the items! A Kitchen Box includes a flour sack towel in every box, but it's typically white. This is an excellent item, and super stylish!
Caspari Summer Cocktail Napkins ($5) What a gorgeous find, and I'm going to have to get more designs! I feel like I have to lot to live up to with these napkins!
Urban Accents for BHG Savory Paprika Seasoning Blend This looks like a great easy way to get grilling or roasting without too much fuss! I also trust BH&G to get the flavors right – they are the authors of my most favorite recipes ever!
This was a fantastic little box full of great style and flavor! It's hard for me to do a complete breakdown because much of this box's value is in the recipe cards (I will be making the smoky lime dressing ASAP!) and making it easy to get started with summer entertaining. There probably could have been another item (perhaps some ice cream salt) to round out the box, but it's also hard for me not to like it, because I love both these companies! (And pssst – this Veggie Chili Con Queso is my favorite BHG recipe of all time!)
Visit A Kitchen Box to pick up the Summer Alfresco Entertaining Box or any of their other curated boxes or monthly subscriptions. You can see more food & cooking subscriptions in the directory.
The Subscription
:
A Kitchen Box
The Description
: A Kitchen Box sends one box per month jam-packed with delightful finds centered around a monthly theme to inspire you in the kitchen.
The Price
: $30 per month