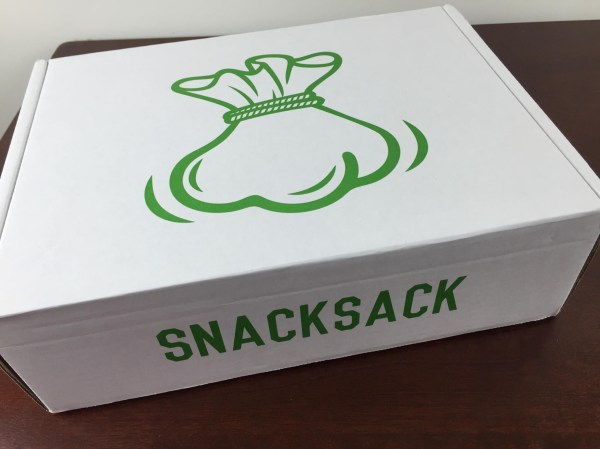 SnackSack is a brand new monthly snacking subscription box that aims to bring high nutritional value natural snacks to your door every month. Snacks are organic or all-natural, non-GMO, vegan, fair-trade, or gluten-free.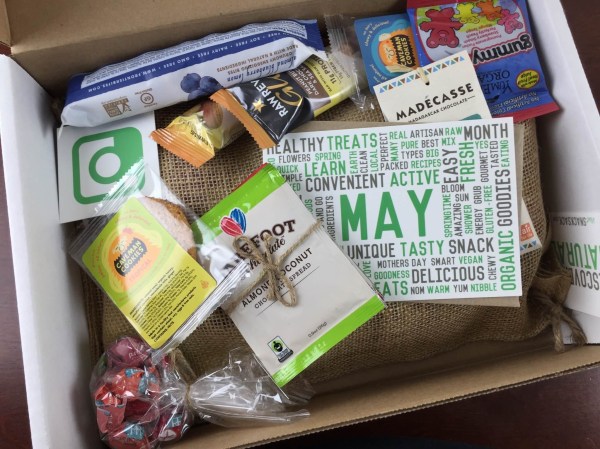 The snacks are packed in a burlap bag, but there were so many snacks, they couldn't all fit in! Boxes are only $23 per month shipped!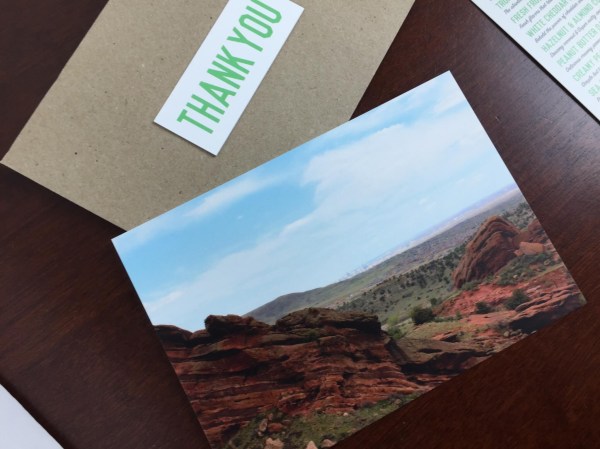 A postcard of Red Rocks Amphitheatre in Colorado, where Snack Sack is based. Such a cool spot – I've been to a concert there but it was so long ago I couldn't even tell you what band.
The Sack o' Snacks!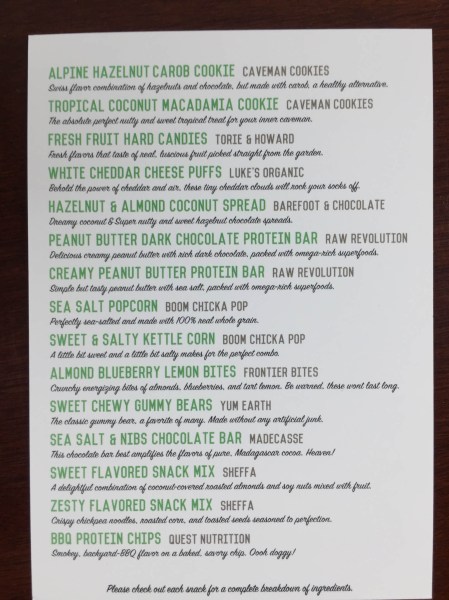 The information card gives you brief info on the very many snacks packed into this box.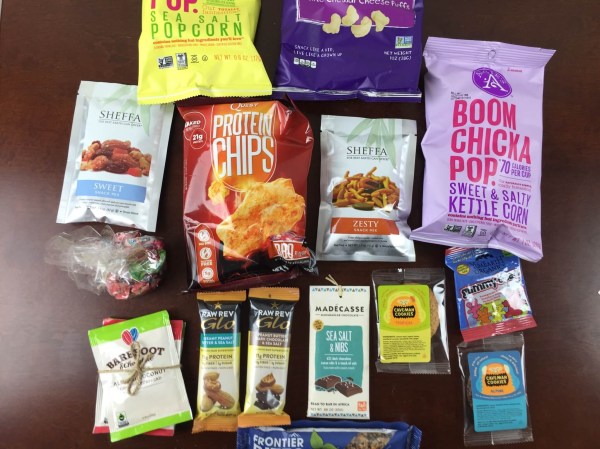 So very many snacks. I was really pumped at seeing these because there were only a few items that we had tried before. Everything else was new to me!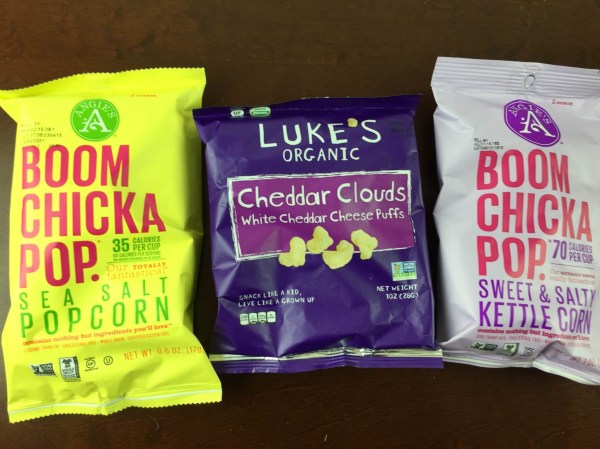 Boom Chicka Pop Sea Salt Popcorn & Sweet & Salty Kettle Corn – One of my favorite brands of popcorn! Angie's seasons it just perfectly and the corn is delicate & tasty.
Luke's Organic Cheddar Clouds White Cheddar Cheese Puffs – corn, cheese, and air! I saved these for the kids – they love junk like cheetos (who doesn't) but this is nice and healthy and non-GMO!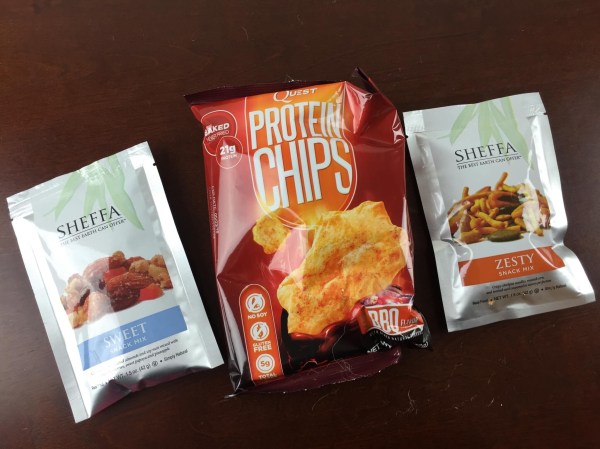 Quest Protein Chips in BBQ Flavor – I was personally very excited to get these, because I really wanted to try them out! (My cousin was too, she left an inquiry on Instagram). They have excellent first bite flavor, but a whey aftertaste. My husband and I decided we needed to try more flavors before making a final verdict on Quest Chips. 21g of protein is a great alternative to yet another protein shake though.
Sheffa Snack Mix in Sweet & Zesty – The Sweet features coconut roasted almonds and soy nuts with fruit, and the Zesty has chickpea noodles, roasted corn, and toasted seeds. We love this brand's savory options and both of these were delicious.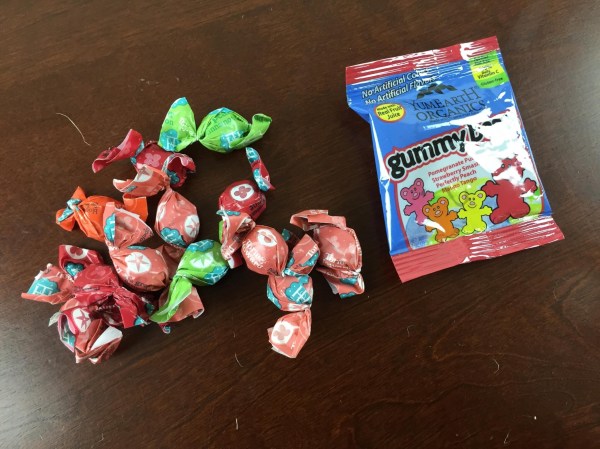 Torie & Howard Fresh Fruit Hard Candies – These are great little hard candies with fresh clean flavors. My favorite is the grapefruit flavor. All natural & organic!
Yum Earth Organics Gummy Bears – Always a favorite!
Madécasse Sea Salt & Nibs Chocolate Bar – Delicious, very fruity chocolate made with cocoa nib inclusions and a dusting of sea salt. Made with Madagascar cacao.
Raw Rev Glo Protein Bars – Creamy Peanut Butter & Sea Salt and Peanut Butter Dark Chocolate & Sea Salt – I have to admit, I was a teeny bit disappointed these weren't protein chocolate bars (like protein packed candy bars) but they were super scrumptious.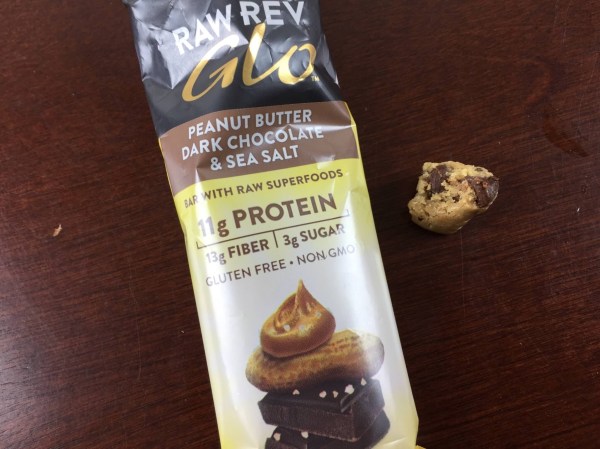 I broke off a little piece to show you. My husband enjoyed these too. We're going to fight over them.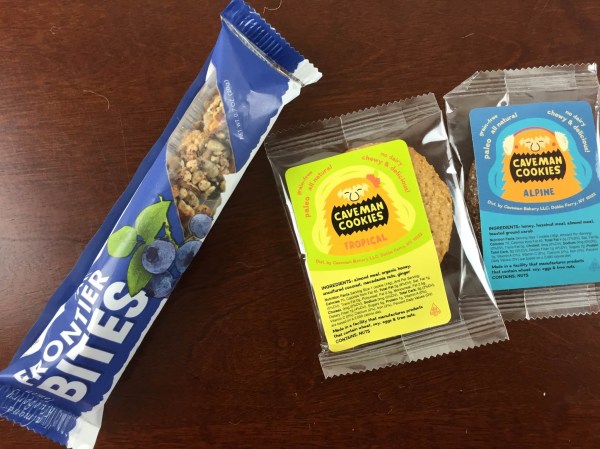 Frontier Bites Almond Blueberry Lemon Bites – I love these for a great durable purse snack. They are crispy crunchy and airy and super delicious.
Caveman Cookies in Alpine Hazelnut Carob & Tropical Coconut – I can't say I agree that carob is a healthy alternative to chocolate (I say just eat the chocolate!) but these are paleo cookies and are a nice little paleo-compliant treat.
Barefoot & Chocolate Spreads – Almond Coconut & Hazelnut – So, Yum! I haven't tried these out yet. I'm saving them for my purse low-blood sugar snack attack must have chocolate times. I cannot imagine them not being mindblowing. I love nuts and chocolate.
Really just an awesome box and SnackSack absolutely fulfilled its promise to send healthy and nutritious snacks that tantalize tastebuds.  FYI, in addition to the coupon you can save a little extra on every box by choosing a longer plan. I think it's an excellent value.
Visit SnackSack to subscribe or find out more. Get 15% off the entire lifetime of your subscription! Use coupon code HELLO15.
The Subscription
:
SnackSack
The Description
: Monthly surprise delivery of delicious all-natural & organic snack foods. We curate a delicious assortment of gluten-free, non-gmo, & vegan goodies. Sent from beautiful Colorado directly to your doorstep.
The Price
: $23 per month
The Coupon
: Get 15% off the entire lifetime of your subscription! Use coupon code
HELLO15
.