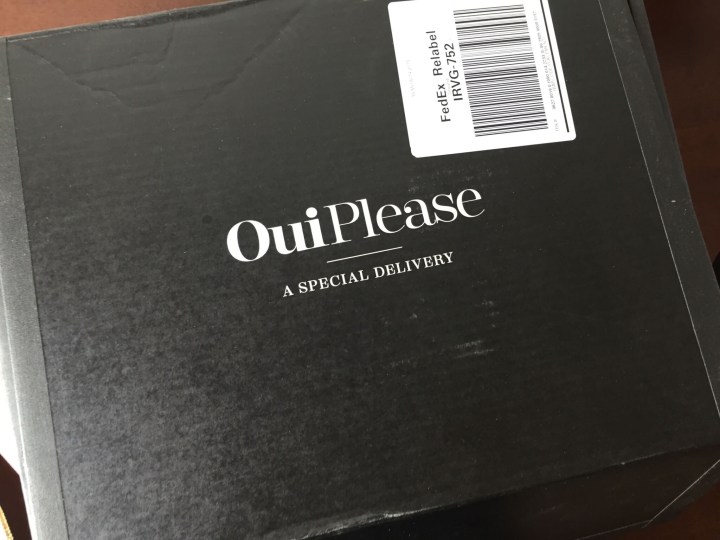 Oui Please is a French luxury subscription – every parcel contains an assortment of full-size products from France.
OuiPlease Vol. 1.3: "A Breath of Provence" is valued at more than $400 per parcel. From brands such as Comptoire des Cotonniers and L'occitane, to Marie Jeanne and Cecile Pic, your exclusive parcel will feature a surprise selection of the finest French products, making each delivery limited edition.
A giant card on the top commands DÉCOUVRE (discover).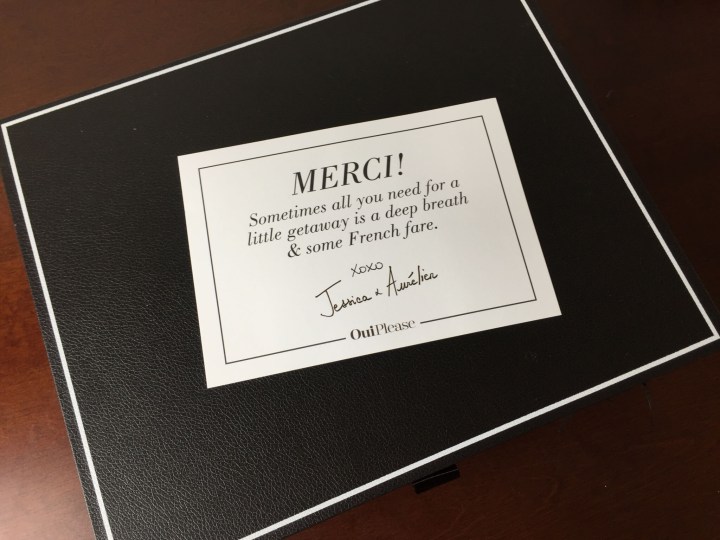 The Oui Please box is gorgeous and high quality. My shipping box had water damage (I was out of town and my husband was very worried about it!) but there's enough internal packaging between the outer and inner box that the inner box was undamaged.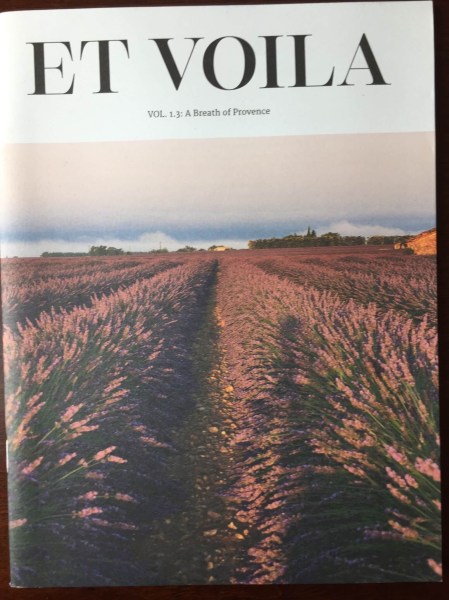 A mini-mag comes with the box – it details all the item variations (subscribers don't all receive the same box) and makers.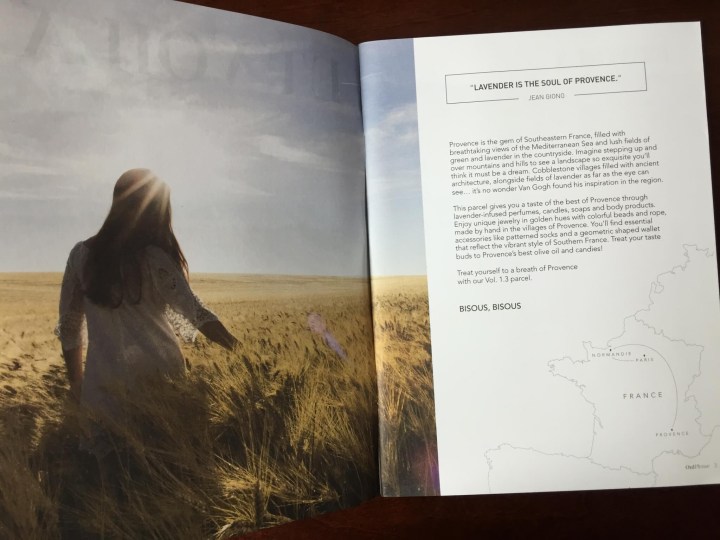 The box smelled strongly of lavender when I opened it, and as the note said, lavender is the soul of Provence.
All the items in May's Oui Please box.
FYI – OuiPlease seemed to forget their promise to include at least $400 of value in every parcel. To compensate, they inflated the prices of most items – perhaps more than would be expected to cover import costs (in some instances items are available in America and still the prices were jacked up). Some subscribers received substantially less value than I did. Don't get me wrong – this is still a beautiful box and I enjoyed it, but it's not perfect.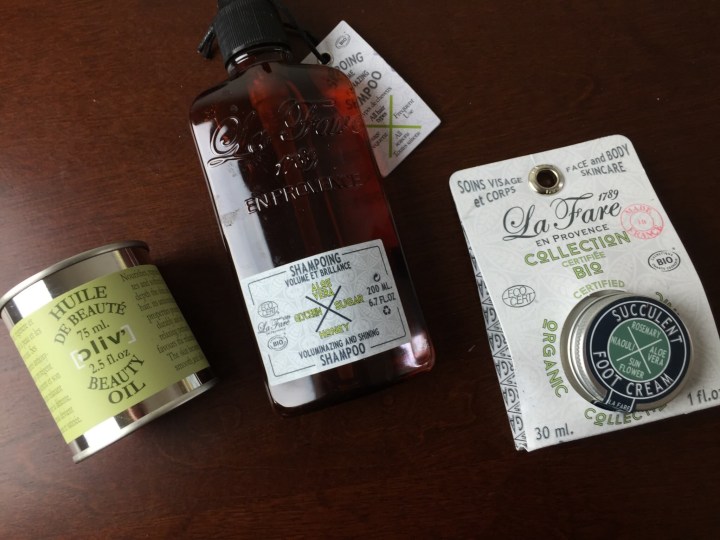 Oliv' La Claree Huile de Beaute Beauty Oil  ($22, OP price $35)
La Fare 1789 Volumizing & Shining Shampoo ($15/$25)
La Fare 1789 Succulent Foot Cream ($10.50/$15)
La Fare is part of the La Claree family, so I was disappointed to receive 4 products all from the same manufacturer (one more below). However, these are all high quality and some of them are certified organic (certifiée bio).  The Lare Fare brand is supposed to represent Provence, so it was a nice choice, and I'll try to use everything. I'm not sure about the beauty oil because there's no dispenser!
Sothys Iridescent Eyeshadow ($18/??? ) This was from the Winter 2015 and completely inappropriate for a May box. It wasn't in the mini mag – and obviously included to try to pump up the value of the box.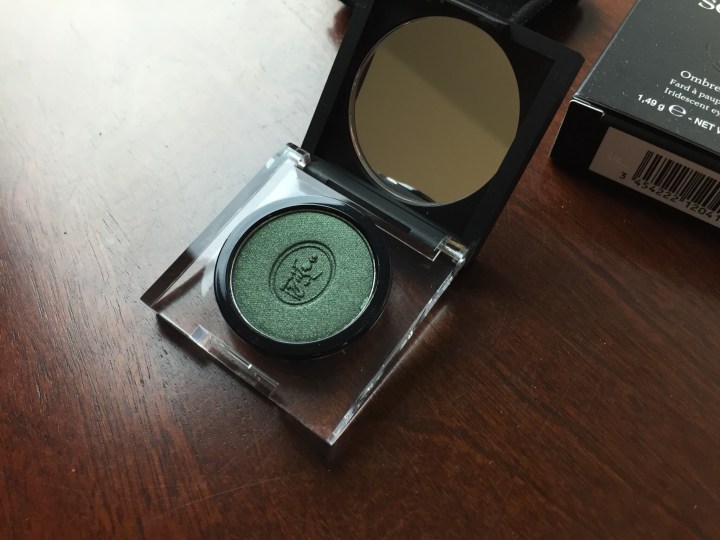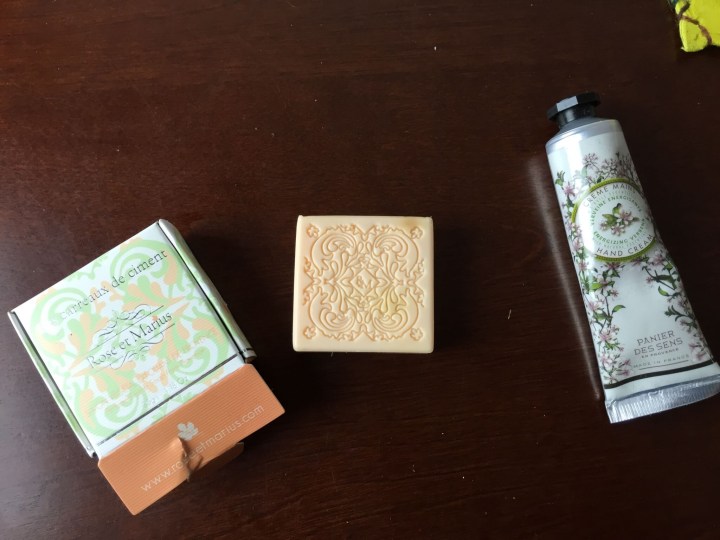 Rose et Marius Les Carreaux de Ciment – Flowery Fragrance ($8/ $15) Perfumed soap from Provence
Panier Des Sens Lavender Hand Cream ($8, inflated to $15) This is available on the US market but it smells great and I really love this brand of hand cream. It has 20% shea butter and is L'Occitane level… but why is there no L'Occitane in this box?? Le sigh.
Oliv' La Claree  Elixir D'Eclat Radiance Elixir ($49/$50) This is a great dry oil and I've been using it right up. I have dry skin so I love an extra layer of moisture before my day or  night cream.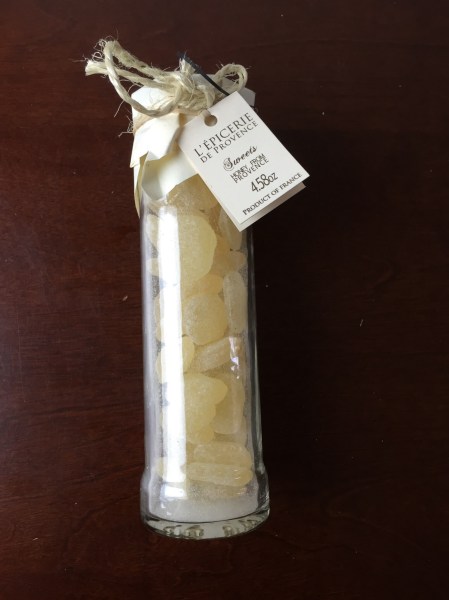 Epicerie de Provence Honey Candy from Provence ($6.50/$15) I will probably gift this – it doesn't appeal to me greatly, but I appreciated that it was from Provence.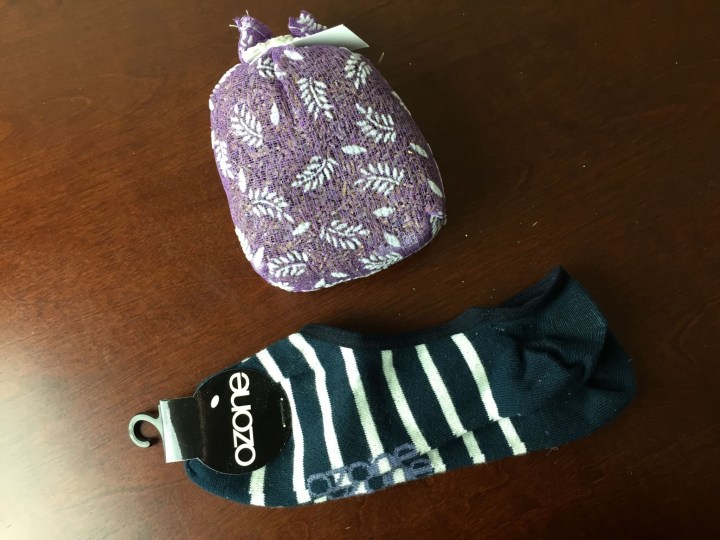 Plantes et Parfums Lavender Flower Sachet ($6/$15) This is a quite large and very fragrant lavender sachet. It went right in my closet!
Ozone Classic Stripe No Show Socks ($10) Oui Please inflated this price to $15. FYI, these are made in Colombia. Ozone was founded by a Parisian.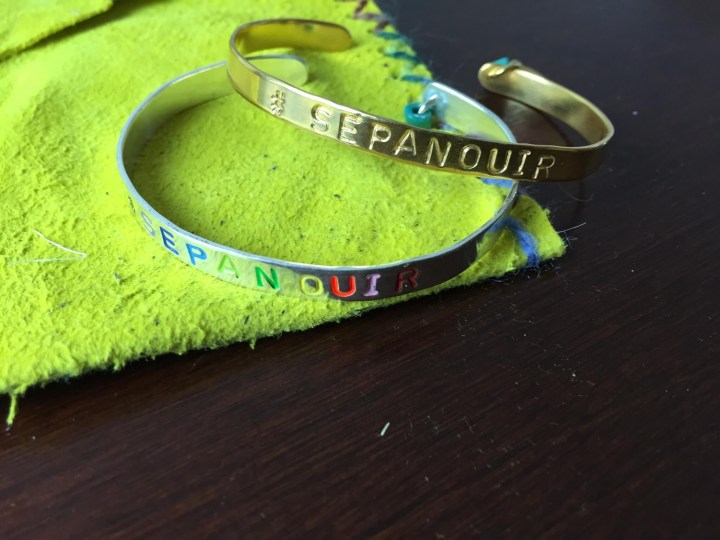 MIMILAMOUR Les Bracelets #Hashtag #SEPANOUIR bangles ($93/$100 although I think they tried to say it was for one?) Translated – to blossom, bloom, come out of one's shell. These are pretty awesome – but I would have preferred two different words! I've never seen the enameled hand-stamped jewelry before like that, and I thought it was very unique and chic.
Tassia Canellis Way Ring Brass & Silver ($60) Unlike many subscribers my ring was actually quite large – almost too large! (For most it fit as a midi ring) This is a little weird and looks funny on my fat American fingers, so I refuse to show it on.
Oui Please's value for the items was $360 plus whatever they valued the shadow at. I arrived at $306 including the shadow. For some of the items we can give them the benefit of the doubt and the cost of importing items – but for others like the socks and the hand lotion, those are available domestically, which calls into question all the other prices.  I think Oui Please should do two things – switch from the regional theme, which they aren't doing well at all, and make all susbcriber boxes the same. They've already removed their promise of $400 in value, but for annual subscribers who signed up under that representation, the box does fall short. Again – it doesn't mean it's a bad box and indeed – I used a 20% off coupon to sign up – so I received a good value and some great products. For a luxury box this subscription is fallling a bit short on the curation and I'd like to see it improve.
FYI – for additional commentary on this box, see the comments on my Facebook post.
Visit Oui Please to subscribe or find out more. You can see all our Oui Please reviews or check out more lifestyle subscriptions in the directory.
The Subscription
:
Oui Please
The Description
: Full size French luxuries in every parcel including apparel, beauty, jewelry, home/decor, and epicurean delights.
The Price
: $150 every other month, or $650 annually