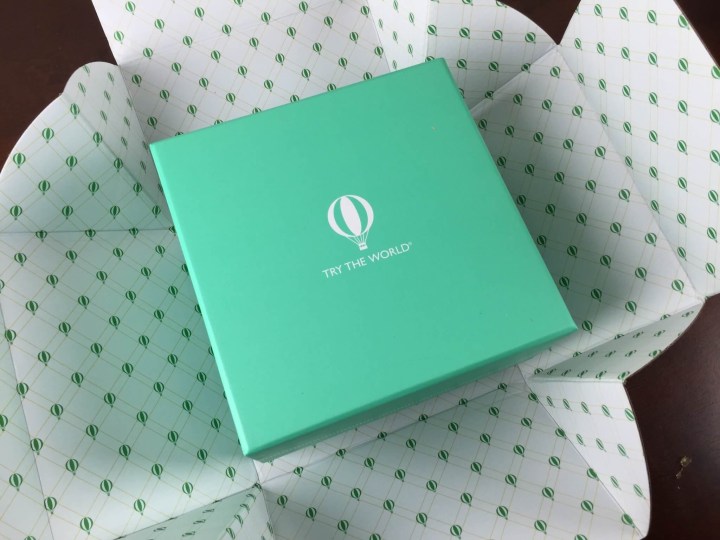 Try The World is a bimonthly international food subscription box – every month you'll get new treats and delicacies delivered from a new destination! Every Try The World box includes 7-10 artisanal food items, a card describing each product, and a culture guide & recipes! So far they have curated boxes from France, Japan, Brazil, Italy, Turkey, India and the UK with the most unique and authentic products you won't easily find where you live (they directly import many of the products featured in their boxes).. Every box includes $60+ of delicious food from a different country. Boxes are $39 – lower with longer subscriptions!
This is a gorgeous box (as in the box itself) – super reusable and I love the way the outer brown box unfolded (you can see it in the first photo).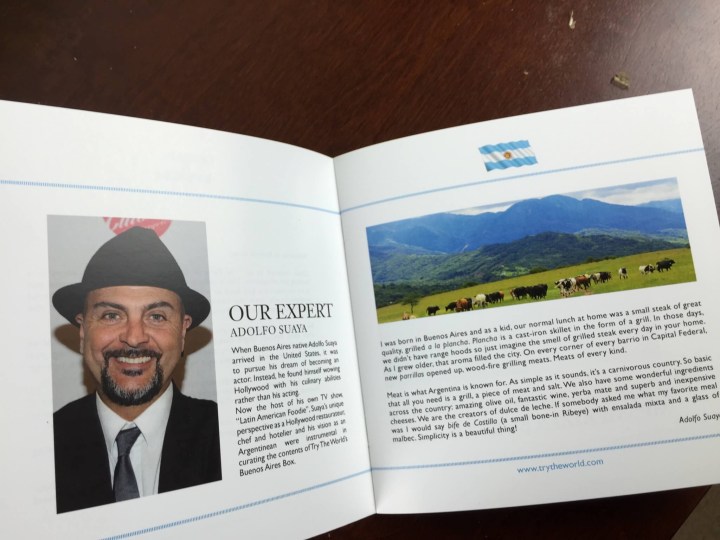 The included culture guide showcases how people from different parts of the globe celebrate the holidays. It included holiday movies, a playlist, and a recipe, as well as a curator letter.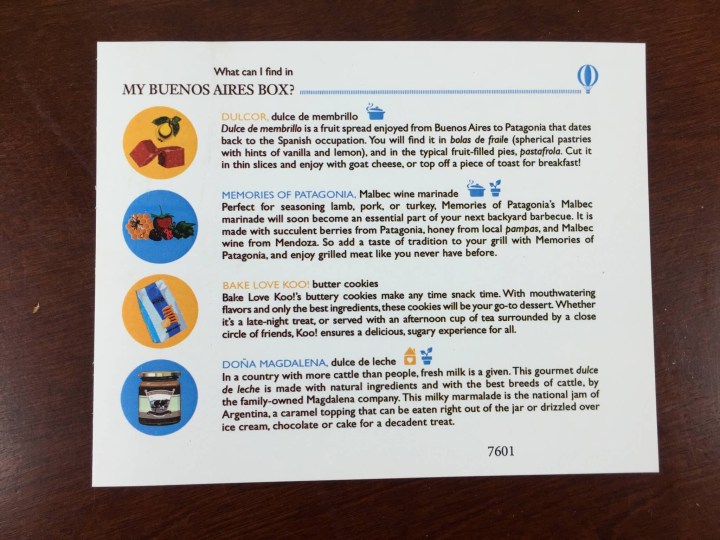 The two-sided information card gives the facts on every item in the box.

And there were a lot! This is one of the heaviest boxes I've ever unpacked – it surprised the heck out of me!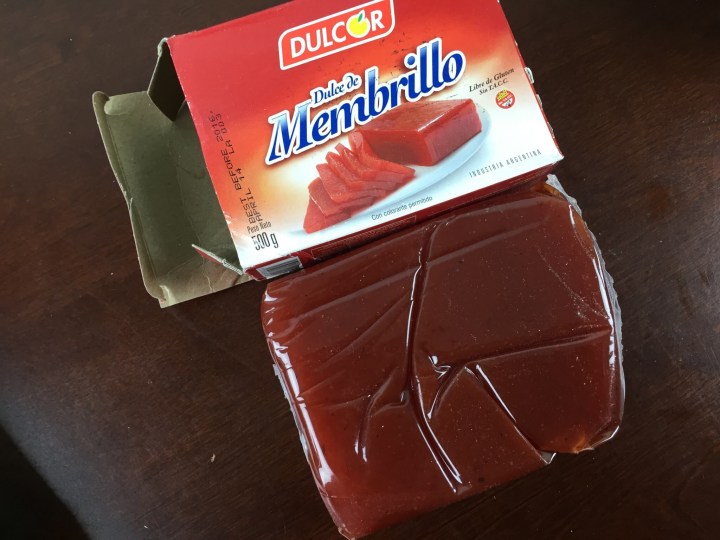 Dulcor Delce De Membrillo: Knowing that Argentina is all about beef, when I pulled this out I wasn't quite sure I hadn't pulled out a block of cow product. (I always read the cards afterwards, I love discovering the products first!) This is a quince fruit spread and we've been eating it with toast at breakfast or for snack. Yummy!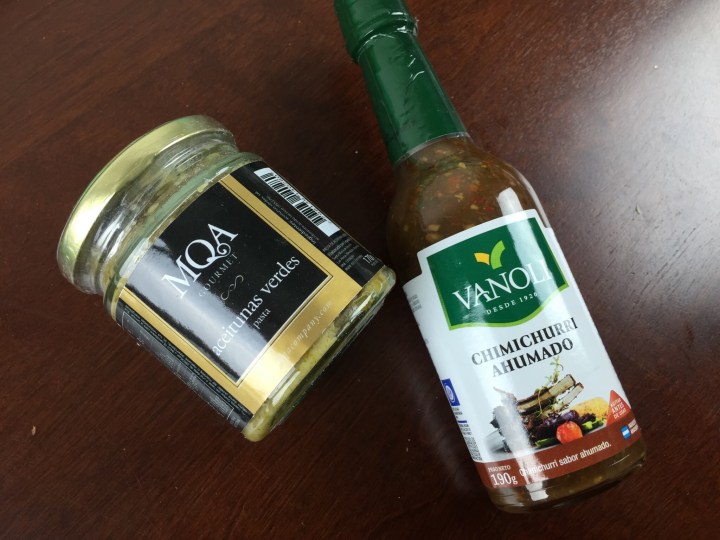 MQA Gourmet Green Olive Tapenade: Fresh green olives in this one, the tapenade was finer than I am used to. My favorite flavor is brine so I popped this one open and tried it. Delicious and fresh, with a pure olive flavor.
Vanoli Chimichurri Ahumado: I loved how this was an all-natural sauce. Chimichurri is basically like our ketchup – you'll find it everywhere to dip meat into or served right on top. It's a parsley, garlic, oregano, red pepper, and olive oil sauce.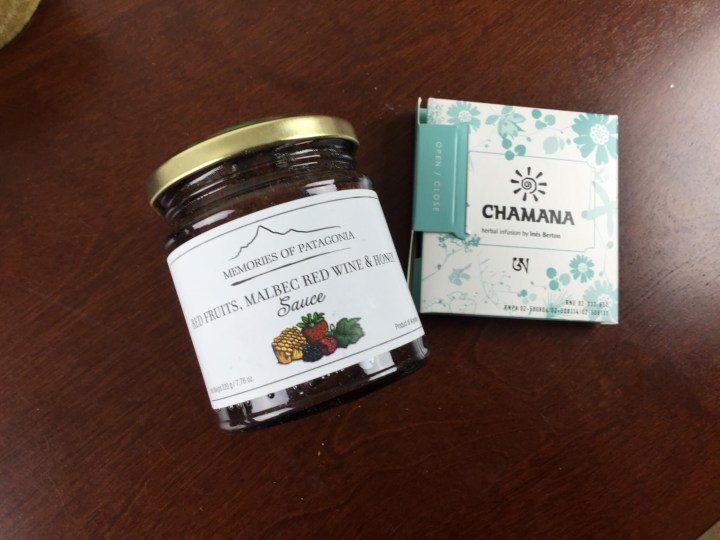 Memories of Patagonia Red Fruits, Malbec Red Wine & Honey Sauce: I love how this meat marinade is packed full of local flavors from fruits to honey to local wine. We will be using this to grill.
Chamana & Inti Zen Tea Sampler: A tea sampler using authentic Latin American ingredients.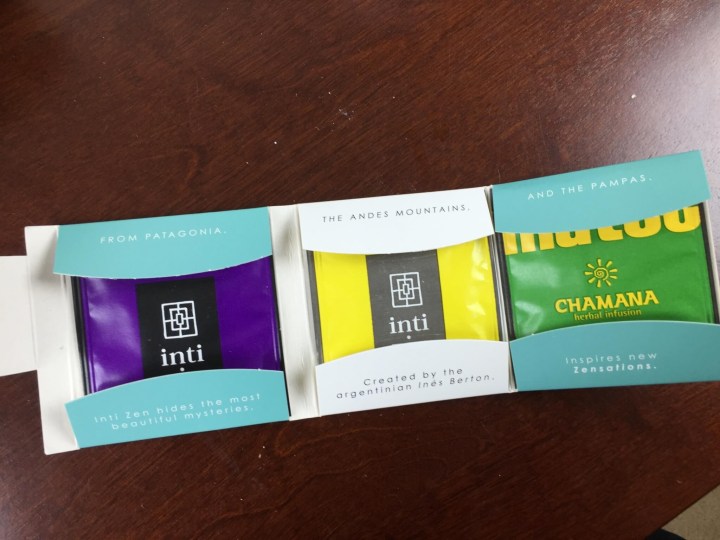 I am not a tea drinker but I can appreciate the fact that these teas were curated and presented by different regions in Argentina!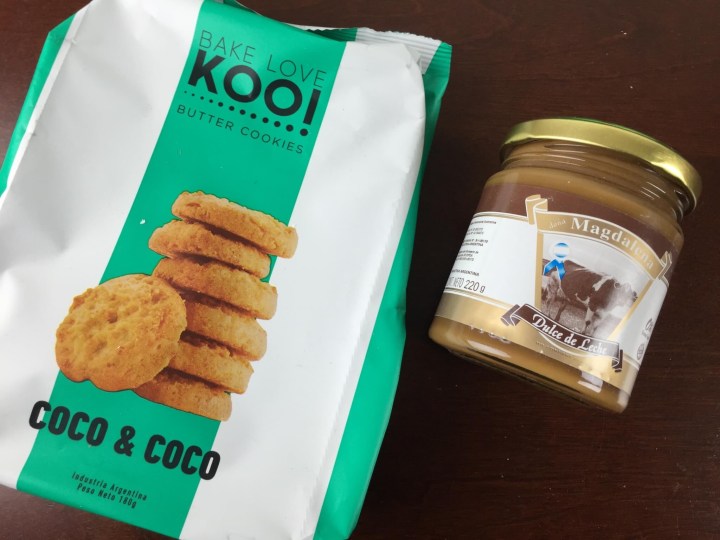 Bake Love Koo! Butter Cookies – Coco & Coco: This Argentinean brand produces 4 flavors of butter cookies, all of which are gourmet. I think this is a real find and it speaks of excellent curation!
They are traditional butter biscuits with a touch of Coco Indonesia, which make us travel in every bite. Its flavor and aroma Coco Coco Coco & Coco make them perfect to accompany a rich natural tropical fruit juice or perhaps a tea with hints of chocolate. For trained palates, accompany with white tea. (translation)
These butter cookies were not only ridiculously delicious and buttery, they had an excellent "flavor and aroma" (sabor y aroma) of coconut! How unique!
Magdalena Dulce de Leche: And looky there, one could, if one desired, dip those cookies right into some Argentinean dulce de leche from the finest cattle in the hemisphere (remember that Argentina is beef country).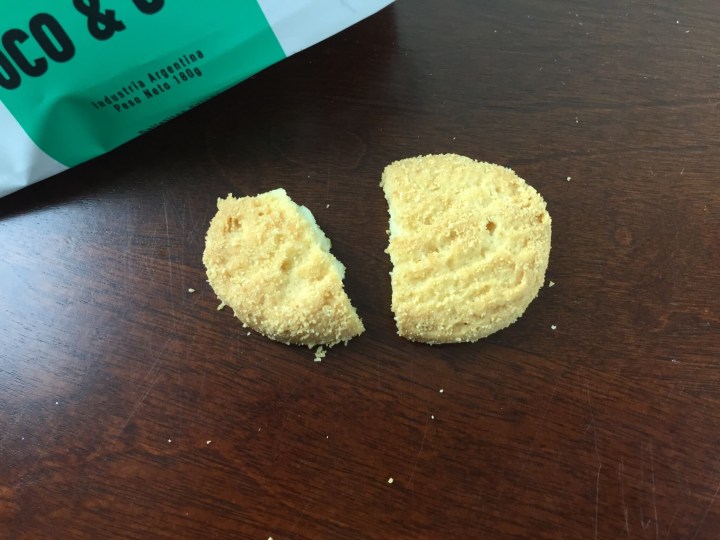 Yum yum cookies!  This box really made me want to go straight to Argentina. I think it would be a really exciting trip, and they obviously have good food (I admit, we are food travelers).  This box was really a win for me, with fun treats and excellent cooking items.
Visit Try The World to subscribe or find out more! You can save 30% on your first box with coupon code HELLOSUBSCRIPTION. You can read all our Try the World Reviews. Don't forget to take a look at other Boxes with Geographic Appeal & World Traveler Food Subscription Boxes.
The Subscription
:
Try The World
The Description
: Try The World delivers the best products coming from the greatest cities in the world, to your door! Go on an incredible journey across continents delivering some of the best products from the most exciting places on the planet. This box is delivered every 60 days!
The Price
: $45 per month