The May Mommy Mailbox was miles better than last month's, but I'm on the fence about resubscribing. Mommy Mailbox is a women's lifestyle subscription box (really, nothing in this one that was moms only) with 3-5 surprise items.
Every box is curated by a different Mom blogger of some type. This is a cute idea!
The information card seems better too.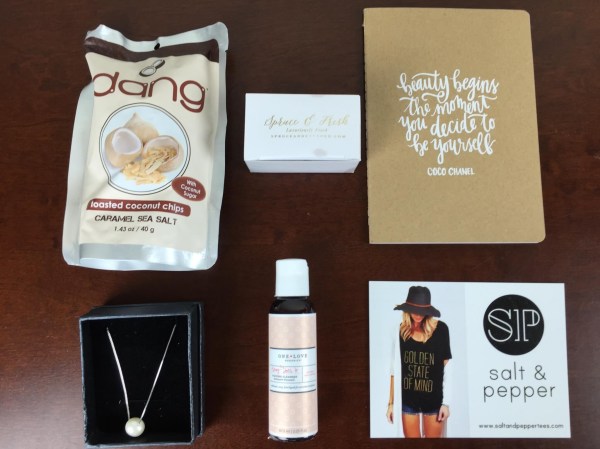 Everything in the May Mommy Mailbox.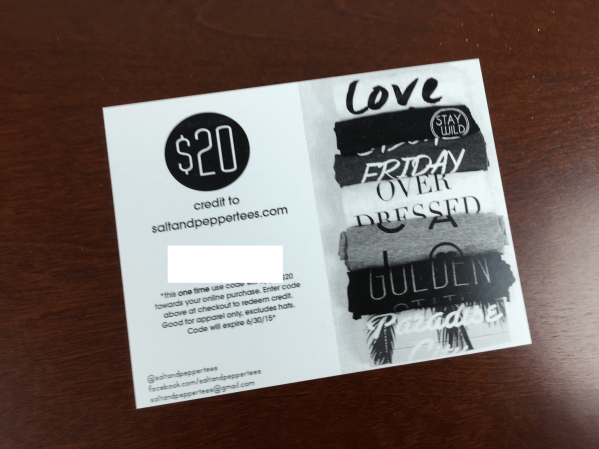 Salt & Pepper Tees Coupon ($20) I love being able to pick out my own shirt, but the tee I wanted was $34, and with a $5 shipping charge, would cost $19 to redeem. And you can't redeem it on hats, so this basically has no value to me.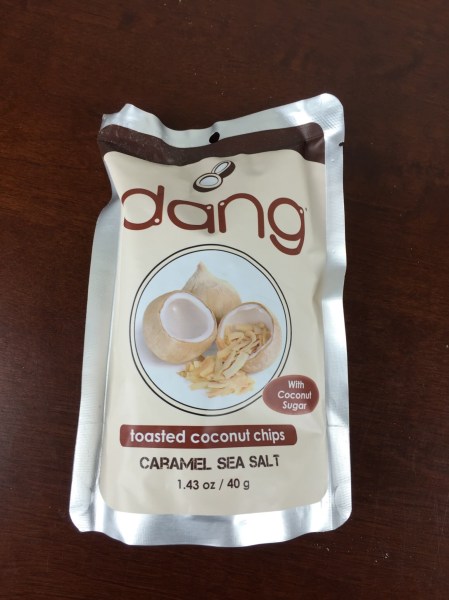 Dang Chips Caramel Sea Salt ($4.49) Huge fan of this brand, I don't find the caramel sea salt flavor to be inhalable like the plain, but I like them!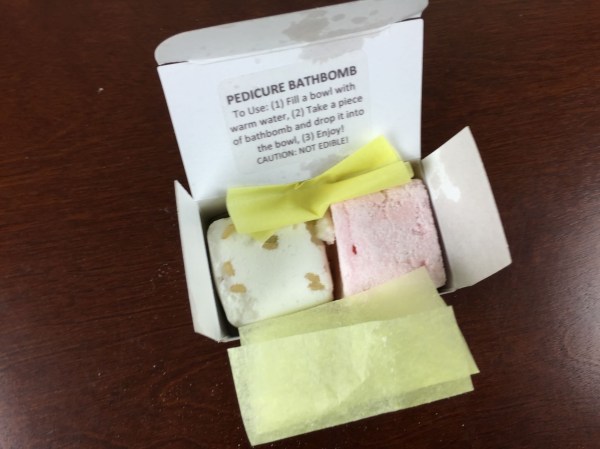 Spruce & Freshen Pedicure Bathbombs ($6.50) This sounds like a fun way to relax, although after walking in sandals in the rain for a day last week, my feet are currently smooth as a baby's butt! I'll save these.
Homec Jewelers Pearl Necklace ($30?) I have no idea the value on this beauty but I love its grace and simplicity.
Hello Tosha Design Company Notebook ($2) I love the style and we go through notebooks like mad. This is cute!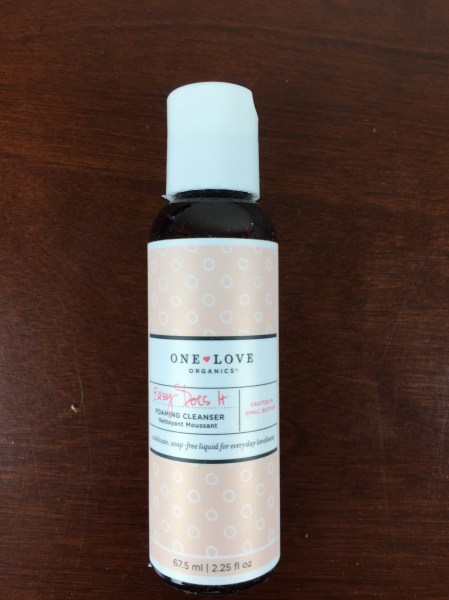 One Love Organics Easy Does It Foaming Cleanser ($7.40) I definitely wasn't expecting this in the box, and I think it's a great addition. Love this company, and they were just in the April Popsugar Must Have box!
The value of the May Mommy Mailbox was around $50, which was great, and I did love the curation. I did not, however, value the coupon at the shirt shop and that was disappointing to me.  I'm always looking for new boxes to subscribe to, but I'd hate to miss out on something fab! Any suggestions? Should I keep it?
Visit Mommy Mailbox to subscribe or find out more. Read all our Mommy Mailbox Reviews or find similar subscriptions in the lifestyle & combo subscription box list.
The Subscription
:
Mommy Mailbox
The Description
: A new "mom" subscription box, carefully curated to make your life better, easier and sweeter. Each box contains 3-5 surprise gifts that change each month.
The Price
: $33 per month