The May 2015 Birchbox Man theme was Comeback Story and aimed to outfit men for reversals of fortune. Birchbox Man is a monthly grooming and lifestyle subscription for men. You'll receive 3-4 samples, plus a lifestyle item. Boxes are $20 per month and you'll earn points for reviewing the items in the box. You can earn 110 points ($11 in the shop) for picking up a yearly subscription.
We all have our slumps. Sometimes you can be in a slump without even knowing it—and only realize you've been in one once you get back on track. As the world thaws and the sun shines again, May is your chance to return to form. It's the month to rediscover your groove (without the island romance). So shake off the cobwebs and get back to what you do best. It's time to write the ultimate comeback story.
The box also called for embracing or vanquishing the #dadbod. Thanks Birchbox for reminding me.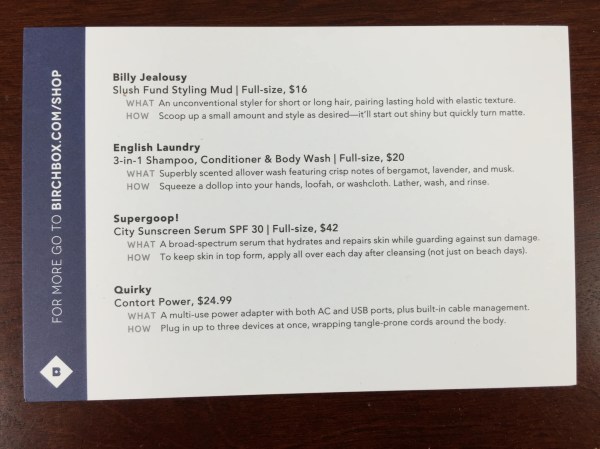 The information card gives the details on each item. Subscribers are given a sample choice opportunity via email, and I selected the Quirky item.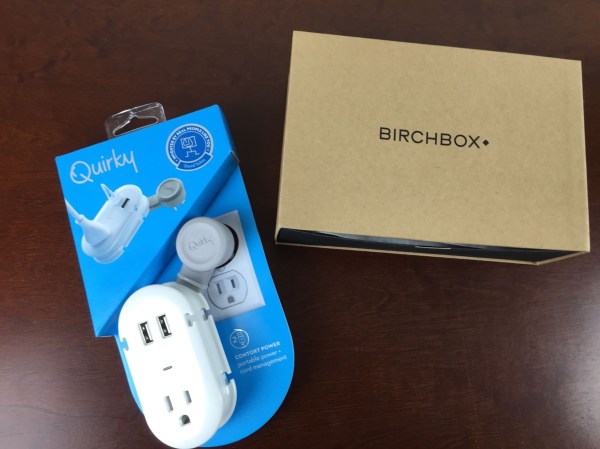 Quirky Contort Power ($24.99) Already came out ahead in the cost of the box, plus I have a nifty outlet that lets me plug in two USB cables & a conventional plug in the hard to reach outlet on my side of the bed.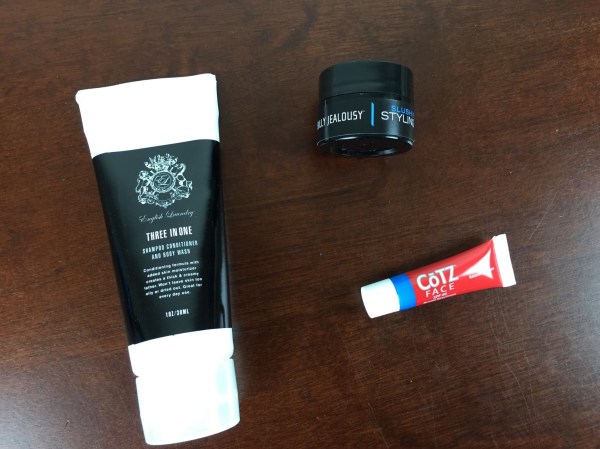 English Laundry 3-in-1 Shampoo, Conditioner & Body Wash ($2.38) English Laundry is a perennial Birchbox Man favorite (for me) and I was happy to see a product besides cologne from them. I will probably buy this.
CoTZ Face Natural Skin Tone SPF 40 ($0.94) Note from Brandy – I immediately claimed this for my stash – it's one of my favorite products (tinted mineral sunscreen). Sorry honey.
Billy Jealousy Slush Fund Styling Mud ($1.33) Nice textured hair mud, the smell is just ok.
My May box had about $30 in products – the vast majority in the Quirky, which was fine, as I selected it. I rather like the option to lay off some of the grooming products when I have had enough.
Save $5 on the first box of a monthly Birchbox subscription (normally $10) or Birchbox Man subscription (normally $20)! Use coupon code BB50OFF at checkout.  Expires 5/24.
Visit Birchbox Man to subscribe or find out more. Check out all our Birchbox Man Reviews. Don't forget to take a look at other Subscription Boxes for Men.
The Subscription
: 
Birchbox Man
The Description
: Birchbox Man offers grooming and lifestyle products in a monthly theme matching your profile. Items include haircare, body care, fragrance, electronics accessories, and dressing accessories.
The Price
: $20 per month