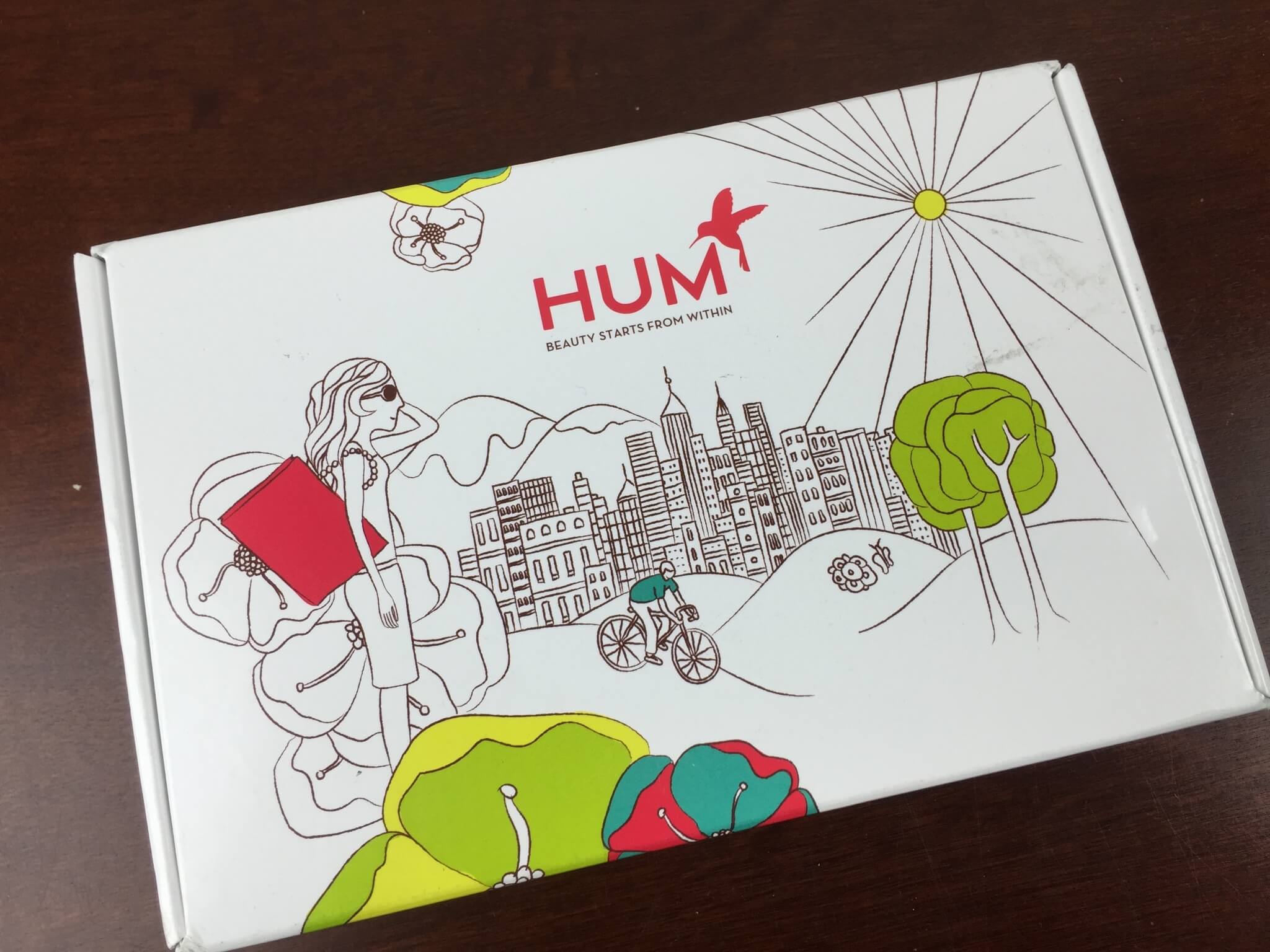 HUM Nutrition is a line of targeted vitamins and supplements aimed at solving beauty and lifestyle concerns based on your individual needs. They are only available through the manufacturer and at the HUM Nutrition shop at Sephora (but read below on how to save $20 on your first order!). It's a much better deal to both try out and subscribe directly through HUM.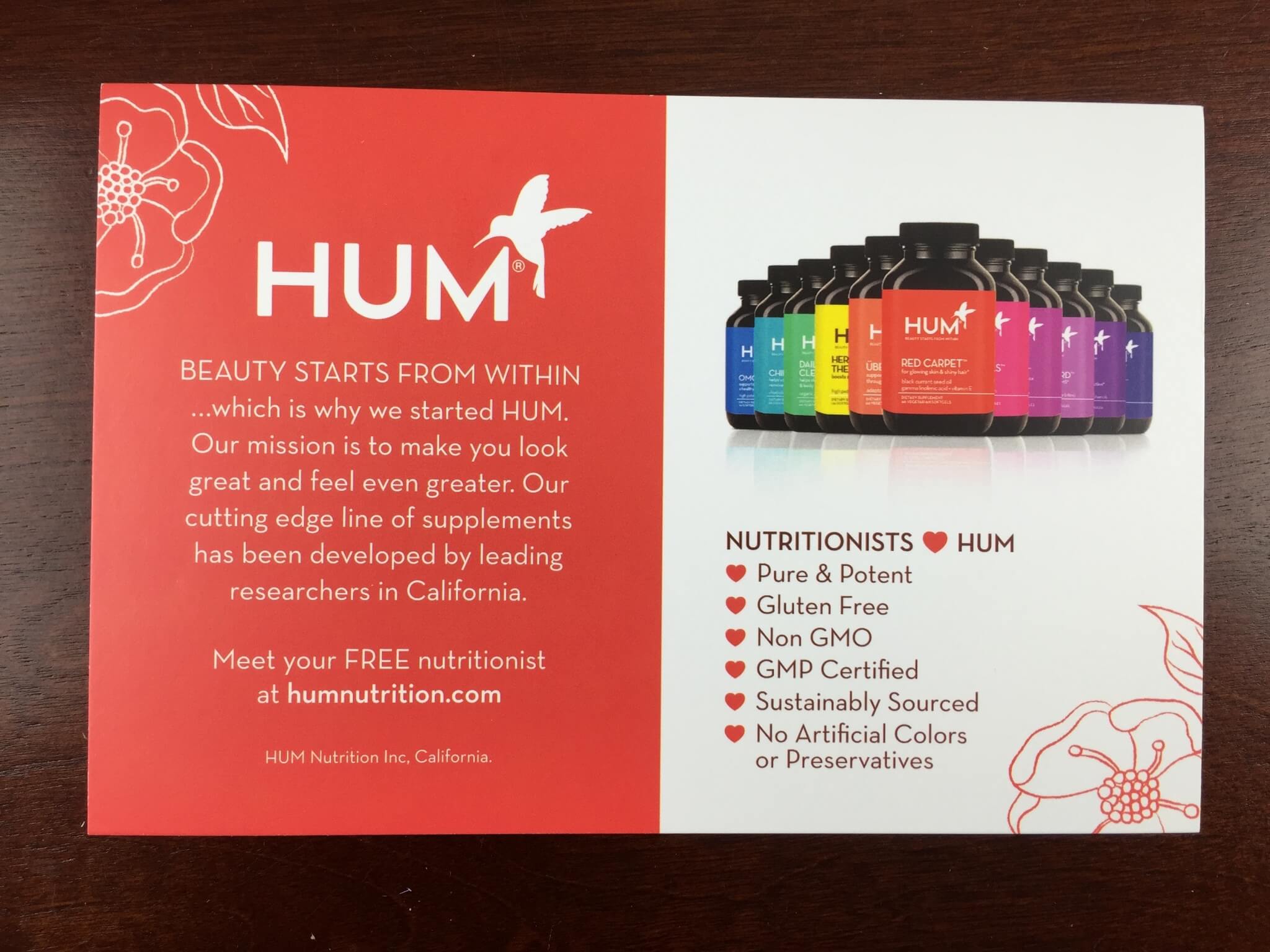 The HUM Nutrition supplements are all GMO- and gluten-free, sustainably sourced, and use no artificial colors or preservatives. I am personally on and off about taking my vitamins and supplements (I need a good pill case, and that would have been a nice bonus with my order, or an excellent add-on item) but I was really excited to try a few products, so I ordered.
When you start, you will take a 3 minute quiz about your beauty concerns and your lifestyle habits. HUM will generate a report by a nutritionist in a couple days. Although obviously the first report is based on your survey answers, you do get the email address of the nutritionist and I am thinking this could be a good fine-tuning resource in the future (e.g., I've been taking XYZ supplements and have seen these improvements, also want to work on ABC concerns).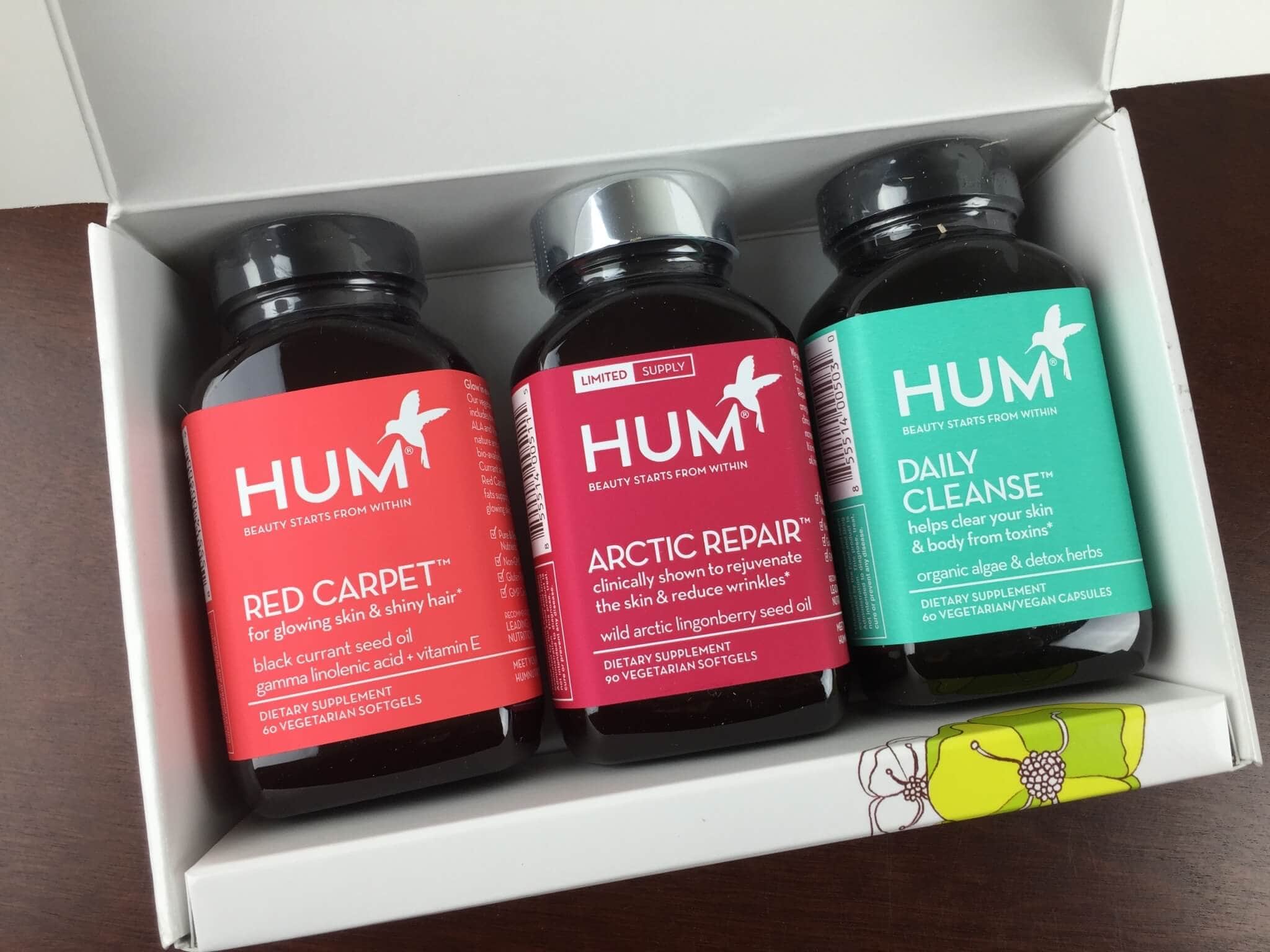 I ordered 3 supplements. Y'all know I cannot resist a good offer – you save an extra 25% whenever you buy 3 supplements at a time. It worked out to getting one free, plus I also made it over $50 for free shipping. I didn't even wait for my nutritionist report before ordering. I ordered them on a Saturday and they arrived within a few days. I had a hard time choosing, but I knew I wanted that Arctic Repair. I also chose Red Carpet, and the Daily Cleanse (intending to switch it out later).
There are 3 basic areas that the supplements fall in to: Skin, Body, and Lifestyle. They also offer your basic daily multis + omegas. I already have those and I wanted to focus on these "bonus" supplements that are focused on beauty concerns!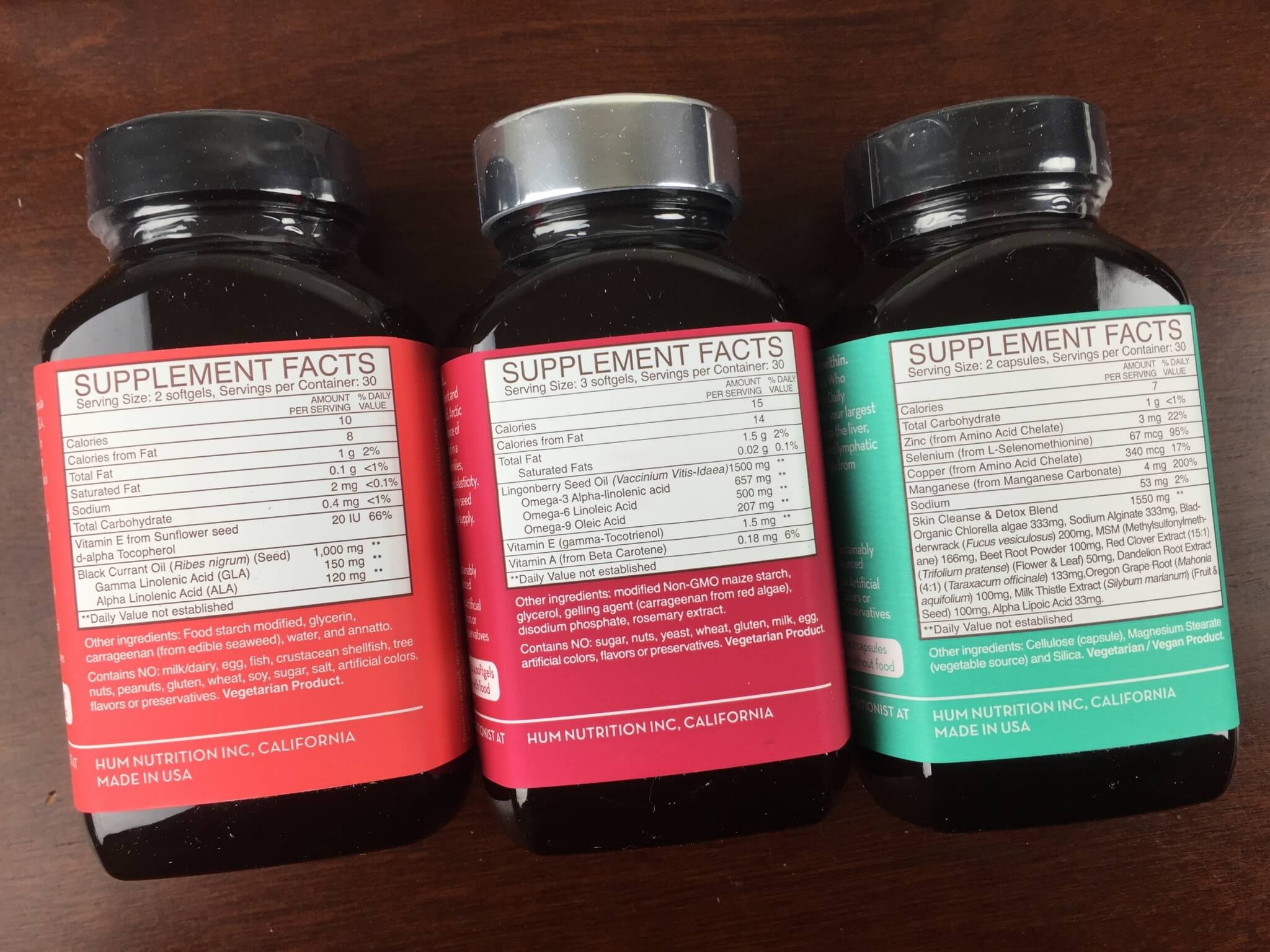 The bottles are surprisingly light, but there's only 30 days in each. That means that nothing is a giant horsepill (no fillers).
For size reference. Everyone knows how big a bottle of Julep polish is!
HUM Daily Cleanse ($25)
This herb-nutrient blend includes algae, which studies link to detoxing the liver, and kelp, recognized for antibacterial and anti-inflammatory properties.
This supplement focuses mostly on minerals and an algae-based superfood blend, plus antioxidants like ALA and cleansing herbs. I had been meaning to pick up some milk thistle and this looked like a great blend, so that's why I chose it. I've been trying to lose some weight and have always found that liver-cleansing herbs are effective for me.
I also really like the visual graphic charts found on the supplement pages. One thing they could improve is sending you a chart with everything in your box, especially if you change what you're ordering month to month. I ended up making a little spreadsheet of when I'm supposed to take everything. Improving my vitamin intake is one of my big rocks for this year. Anyways, I viewed this one as my "lifestyle" item. I thought I'd start with detox and then maybe move to a weight loss/blood sugar control supplement to try that out. Who knows. If I see a lot of dark circle improvement with the Daily Cleanse, I may move to Wing Man, which provides more focused liver detox.
HUM Arctic Repair ($60) I'm really excited about this one! This lingonberry seed oil supplement is only available through HUM and Sephora (they probably have the only one approved for consumption? I'm not sure why it's unavailable elsewhere).
A 2012 study on the effects of lingonberry seed oil showed significant improvement in skin hydration, density and elasticity and decrease in skin roughness.
I haven't been consistent enough with any of these supplements to really have any opinion on their efficacy yet. Also I just realized when I was writing this that I switched the Arctic Repair & Red Carpet.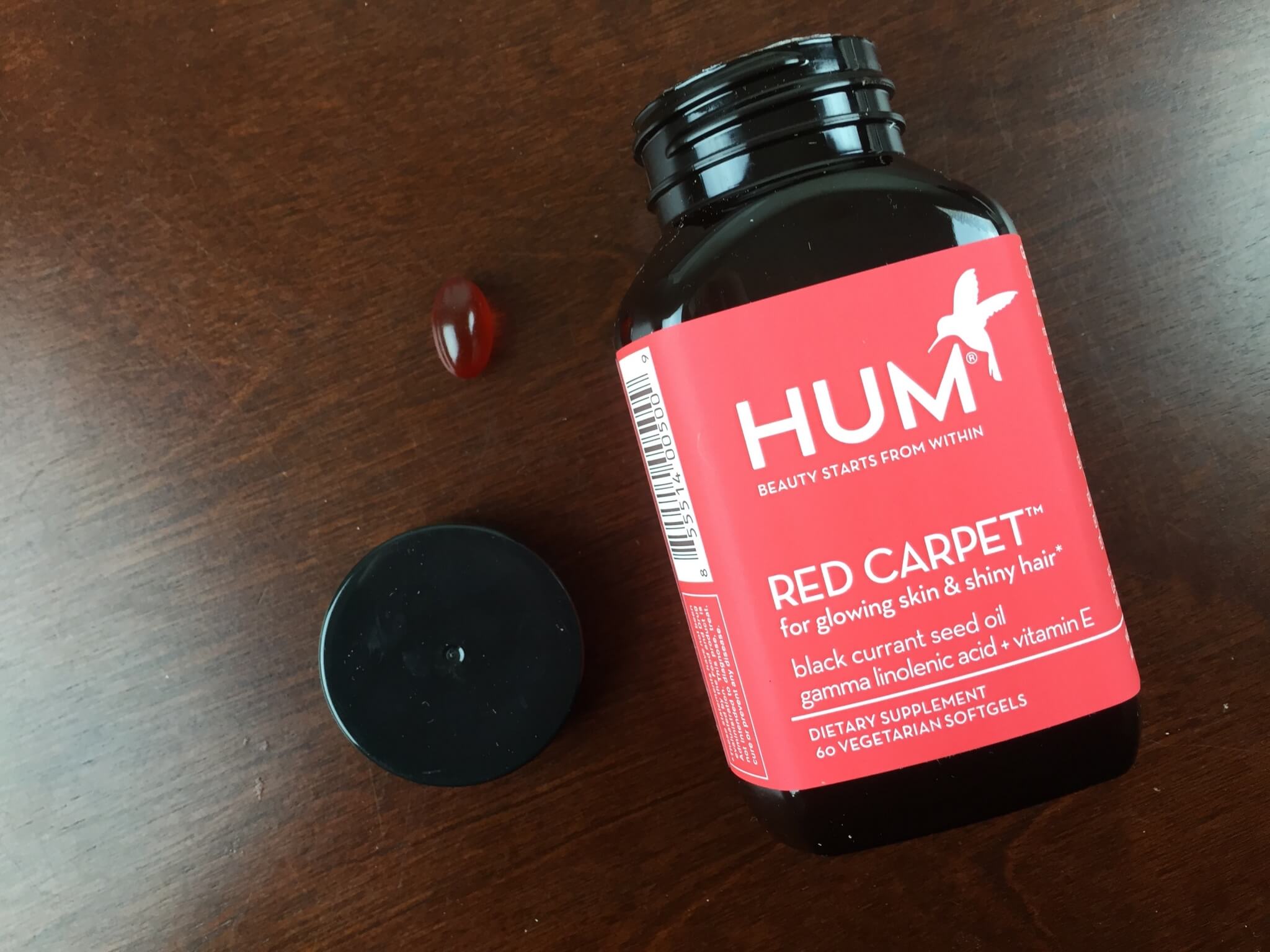 HUM Red Carpet ($25) This is HUM's hair & skin formula. This one isn't biotin based (they also have Killer Nails – a vegetarian biotin supplement, and you can buy the two in a daily pouch together). Red Carpet uses Black Currant Seed Oil, which stimulates healthy skin and hair growth. It's also a strong anti-inflammatory.
Glowing skin and shiny fuller hair in 6 weeks. 95% satisfaction rate.
I'm always working on fuller hair (and better skin!) so this one was right up my alley!
There's a lot to be said for concentrating on beauty from within (HUM's tagline) and it only makes sense to eat right, exercise, drink your water, and take the right supplements for you. I've always been in my best health when taking the appropriate supplements and I'm going to give these a shot. I need to make taking my vitamins a better habit (and drinking my water too!).  I'm going to keep taking these. My next order has Wing Man instead of the Daily Cleanse, because that seemed to me like a month sort of thing (they also offer "Cleanse to the Rescue," a 21-day cleanse & digestive enzyme packet).  FYI, if you order something and cannot stomach it or swallow it, you can return for store credit.
The Subscription
:
HUM Nutrition
The Description
: Get unique nutritionist-designed blends of vitamins, herbs, and supplements designed to provide the ultimate beauty nutrition. Fill out a 3 minute health profile and a nutritionist will provide recommendations based on your lifestyle and food and drink habits. Gluten & GMO free, all ingredients are sustainably sourced. Featured by beauty editors in Vogue, New Beauty, Glamour, Marie Claire, and more! Also
available at Sephora.
The Price
: $30.95 per month
The Coupon
: Take the beauty quiz and use code
HUM10
for $10. Stack with my referral code
1BA66A0F0
for a total of $20 off your first order. Save an additional 25% by buying 3 supplements.