Just in time for grilling season, Charred from Bespoke Post delivers some heavy-duty tools for some hardcore grill-work.  Bespoke Post is a men's lifestyle subscription box. Each month, you'll get to choose from one of the limited-edition boxes filled with an array of products built around a central, unique theme. There are usually two or three new boxes to choose from every month in addition to a selection of past boxes. One of the great things about this subscription is that you can skip the month if you're not interested in it. You can save 25% on your first box with coupon code MYFIRST.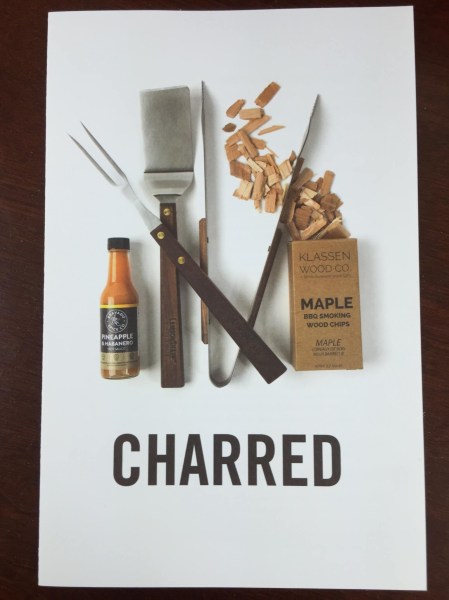 The CHARRED box debuted in April 2015 but may still be available – subscribers always have a choice of previous collections.

Bespoke Post always includes a booklet describing the care that went into producing your new treasures.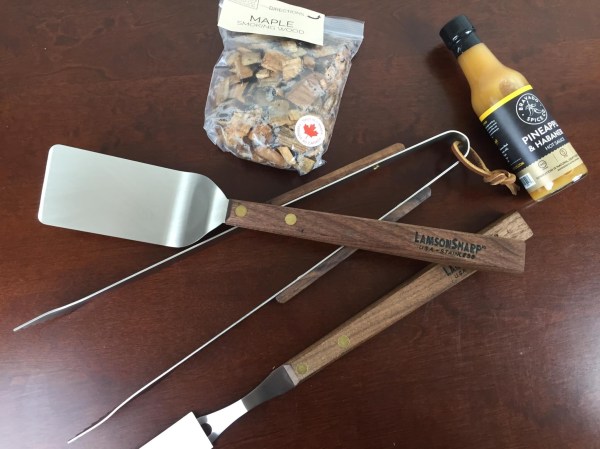 All the items in the CHARRED box.
Pineapple & Habañero Hot Sauce, 8.5 oz, Bravado Spice Co. ($9) Habanero and tropical fruit is a now-classic combination.  Hot sauce goes with anything that comes off a grill, but the pineapple will definitely play nicely with pork and chicken.
Maple Wood Chips, 1-2 Uses, Klassen Wood Co. ($3?) Shipped straight from Canada, where they have nothing if not an abundance of maple trees.  Can be used on an ordinary grill and don't require a fancy smoke box to use (tinfoil will do).  My bag was a bit dirty – some pulverized bark tagged along with my chips – but nothing the requisite soaking wouldn't cure.
Walnut Handled Open Flame Essentials, 15″ long, Lamson & Goodnow ($80) I admit to having used $1 Walmart and dollar store grill tools, but there is something about using quality tools that brings out the creative spirit.  These over-sized tools are handsome and very sturdy – solid enough to maneuver a pork butt or other large cut without losing it.
We also picked up these Extra-Long Suede BBQ Gloves ($30) from the Bespoke Post shop.  Long enough to cover the entire forearm, these are perfect for working deep within a smoker, tending an oil drum grill, or just keeping the hair on your arms.  The suede gives leather-like protection while retaining great flexibility.  I may use these in the house too avoid those occasional oven door and broiler-coil contacts.
This would be an excellent box for Father's Day. Bespoke Post has also updated its shop in advance of the main event, along with a Father's Day Gift Guide (preview available now, full guide open on May 26).
Visit Bespoke Post to sign up or to find out more about this subscription box. You can save 25% on your first box with coupon code MYFIRST. You can also read all our Bespoke Post Reviews.
The Subscription
: 
Bespoke Post
The Description
: Curated theme box for men. Each luxury box delivers items centering around one central theme. Past boxes have included complete shoe care for professional men, unique accessories, bar mixology, tequila tasting, charcuterie entertaining, and more.
The Price
: $45 per month