Starbucks Reserve Roastery is an exclusive coffee subscription box from Starbucks. Each month, one rare, small-lot coffee is selected by their experts, roasted in Seattle then delivered fresh to you within days.
Timing:
Roasted April 12, Shipped April 15, arrived April 20.
I honestly didn't feel that for $24 for a half pound of coffee that is lauded to arrive within days that an entire week was acceptable, and there was no improvement over last month. There are better, less expensive, and speedier coffee subscriptions.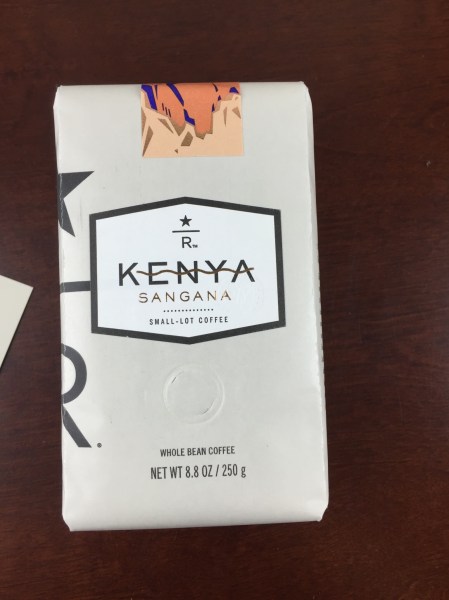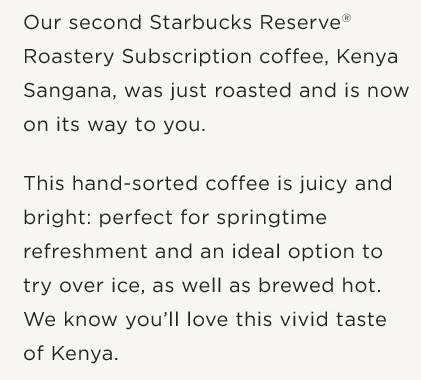 Starbucks tasting notes:
 Situated in one of the world's highest-elevation coffee-growing regions, tiny farms in the Sangana area turn out intensely flavored and beautifully aromatic coffees. This vivid taste of Kenya is as delicious over ice as it is brewed hot with bright acidity, black currant and Assam tea notes.
My Tasting Notes:  I am always surprised by the way Kenyan coffees distinguish themselves from those produced nearby in Ethiopia.  The Kenyans tend to feature richer, darker, less dry and floral tones.  I detected the currant and tea flavors, but I found the acidity to be fairly mild.  The most pronounced feature of the coffee, for good or bad, is the roast.  It has the distinctive Starbucks roast flavor that makes all Starbucks coffees more alike than they are different.  If you love that quality, you're better off price-wise picking up a bag of their beans at the store.  If you are looking for stand-out, unusual beans, there are a ton of other coffee subscriptions that have a variety of roasters as well as producers, and they are a better deal for the price, too.
Visit Starbucks Reserve to find out more or to subscribe.  See all our Starbucks Reserve reviews or check out all the coffee subscriptions in the subscription box directory.
The Subscription
:
Starbucks Reserve Roastery
The Description
: Starbucks Reserve label coffees are one-of-a-kind rare and distinctive coffees. Every month you will receive one bag of freshly-roasted coffee delivered to you within days of being roasted in Seattle.
The Price
: $24 per month