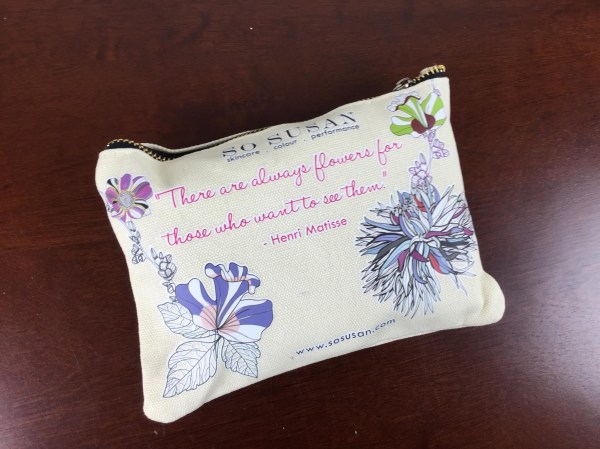 So Susan Lip Love has moved from a totally lip focus to a general makeup bag. Not only was the demand there, but I think it's really hard to maintain a single-brand lip focus!! So Susan Lip Love is a brand new monthly lip product and makeup beauty subscription. Every bag includes 4 items: 3 items + 1 BONUS makeup product + 1 BONUS accessory! You can also see the preview for the next month's bag and skip if you're not interested.  From May 2015 onwards, you will be able to preview 2 items. The other 3 items (including the 2 BONUS items) will be revealed after the bags ship. Things are still shaking out with this brand new subscription in terms of detail, but the value is totally there, and it's only $15.95!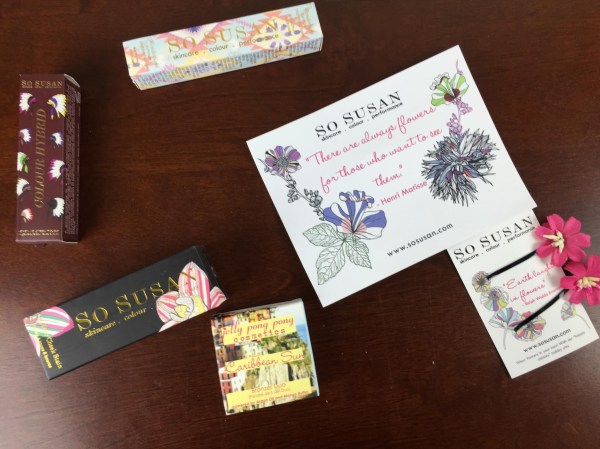 The April Lip Love bag is all about flowers! The bag included a flower bobby pins. My flowers on the bobby pin were squashed. They were super pretty but I hope they don't send something squishable again.
The Earth laughs in flowers, and there's no better time to witness this than in Spring! This month we are inspired by fresh luminescent complexions, a healthy floral flush on the lips & cheeks and pops of color!
Caribbean Sun by Jelly Pong Pong ($25 / £16) Very sheer bronzer duo. I think I would have preferred a single pan – these duos are hard to work with large face brushes. 
8-Hour Cheek Stain ($30 / £25) Supposed to stay on for 8 hours and a very pretty color! I haven't tested this one yet!
Colour Hybrid ($17.50 / £15) If you've tried a lip/cheek jelly this is basically the mousse version of that. And it really has that texture. So unusual and I liked it!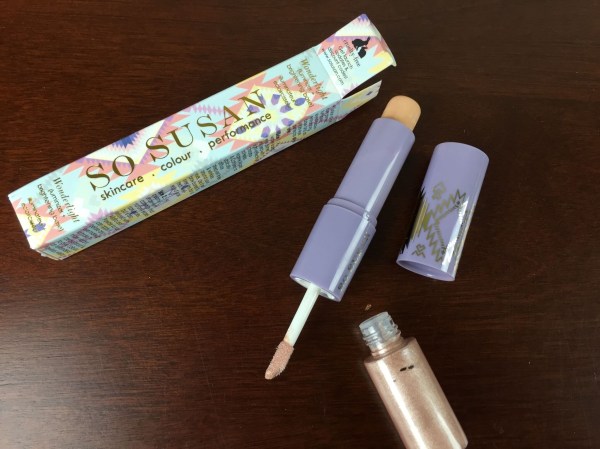 Wonderlight ($18 / £12) This is one of my fave products I've ever seen! It's a duo applicator luminizer (which So Susan is famous for) and brightening base. You can use it all around the eye area to brighten things up!
I love this bag, and if you're ok with experimenting with new colors of makeup and some innovative products from the same brand, I don't see why you wouldn't subscribe! I think it's an excellent value and a great way to just play with some makeup without worrying too much about picking the exact right product. This brand has a deserved cult following and I think the bag is impressive. Also, I have to say, I just plain old like their style. The packaging for everything is fun and cute!
You can see the preview for the May bag here! The theme is "I Love Vacations."  My April 2015 So Susan Lip Love bag had around $90 in value, which is even crazier than last month.
Visit So Susan to subscribe or find out more. Check out all our So Susan Lip Love Reviews or see more beauty and makeup subscriptions in the subscription box directory.
The Subscription
:
So Susan Lip Love
The Description
: Every month get 4 So Susan cosmetics products: 3 lip items and 1 bonus item for another part of your face. Bags are available to view before shipment and you can skip the month or send to a friend.
The Price
: $15.95