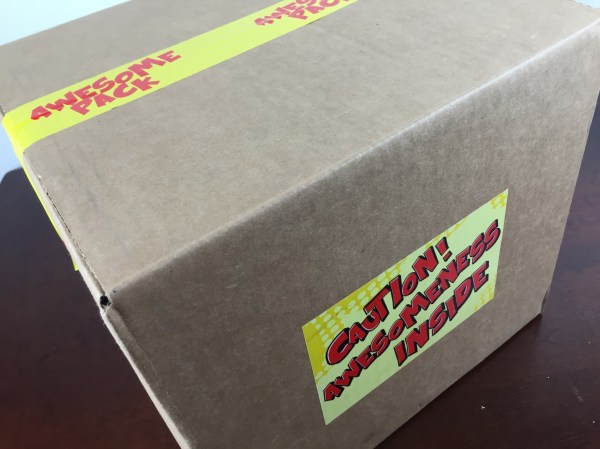 We got Awesomed again! We loved our first Awesome Pack and we were excited to check one out that featured a game for older players. 
 Awesome Pack is a whole family fun subscription box whether your family includes kids or not – choose either the family box or the Big Kid box, for the game loving fun at heart big kids. Awesome Pack curated this box for my family, which includes mom, dad, a 6 year old girl, a 4 year old boy, a 6 month old baby, and a dog. Every box will include a board game and other fun activities selected based on your preferences. Family Boxes include a family board game, and Big Kid boxes are for kids 12+ and will include higher quality (and more advanced!) games and other activities.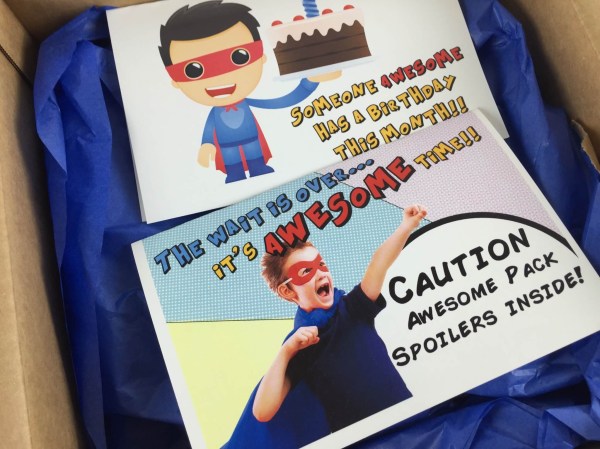 The top of the box has the info card.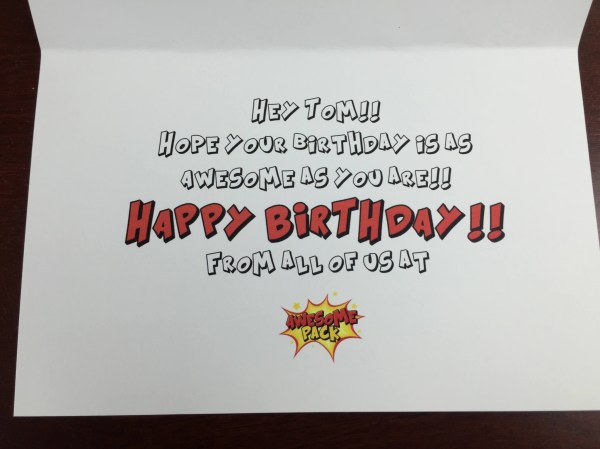 Awesome Pack sends a card in your box if it's your birthday! My husband's birthday was the other week, and this was perfect because he loves board games. So much so that several are banned from my house. Fortunately Awesome Pack had an extensive questionnaire so they can curate your box and none of those games will ever show up!
This box was curated for us. I asked Awesome Pack for an adult game this month – my husband and I love board games!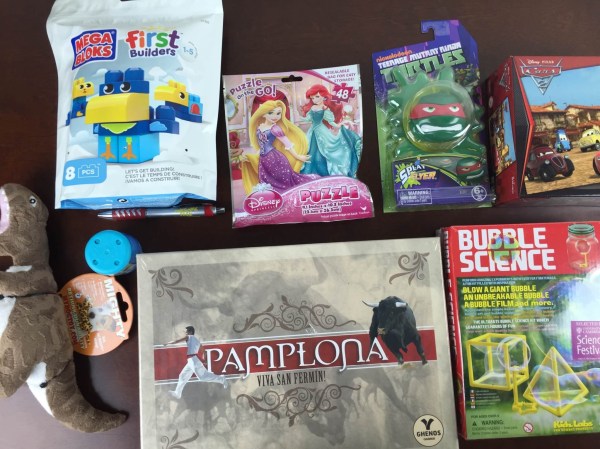 Everything in our April 2015 Awesome Pack and there is something for every member of the family!  
Frozen Fashems ($4?) Oh no, I meant to tuck this in my daughter's bag as a road trip surprise and I forgot. We got one of these last month and getting another one for a 6 year old girl is excellent curation. Trust me when I tell you that Frozen is still all that.
Disney Princesses Puzzle ($3) and so is anything else Disney! My daughter is always excited to get a super girly puzzle and she will love this one.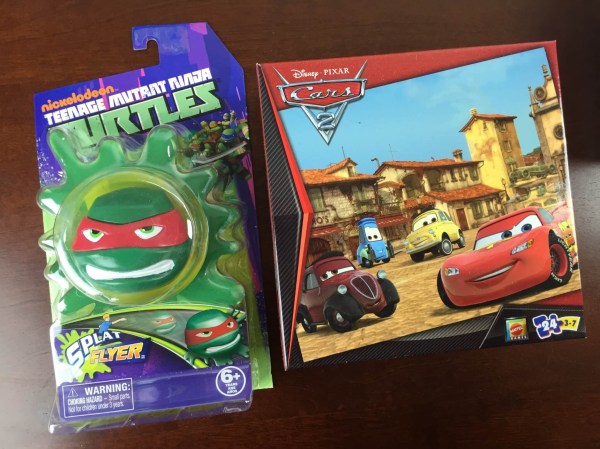 TMNT Splat Flyer ($4.49) This is one of those jelly things that you throw against the wall and it splats. Perfect for boys 3+. To whatever age. Like at least 87.
Disney Cars 2 Puzzle ($4) For my four year old Cars + puzzle = magic. 
Kidz Labs Bubble Science kit ($10.80) My kids love bubbles and science and with the weather getting warmer this is a great month for this kit. I know it will be a huge hit.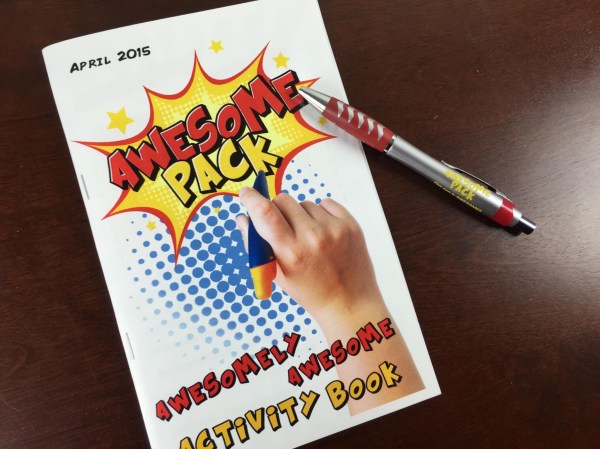 The box also comes with the Awesomely Awesome activity book, and a pen! It's full of games and puzzles and other activities.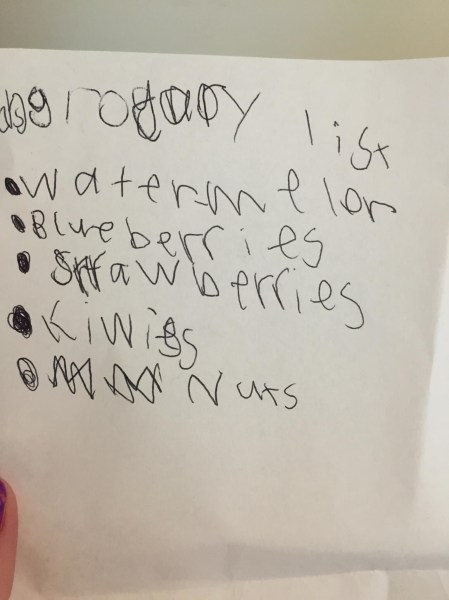 Last month my daughter found the book and the included fruit pizza recipe. She holed up in her bed one night making a grocery list, so I took her to the store to select everything.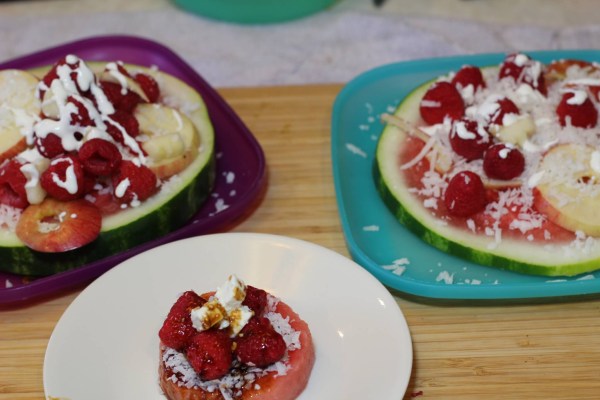 Here's our fruit pizza! Oh right – the main game!! We aren't done with all the activities yet. 
Mighty Dog T-Rex toy ($19.04) My dog was super interested in this one! She needed it unpackaged right away!
Mega Bloks First Builders ($4) I was excited to see this included for baby. It's really spot on age wise because baby F has been all up in E's Lego Duplos all week.  E is stressed out by this and now F can have his own. Whew. 
I thought the sturdy double layer construction on the dog toy was cool too.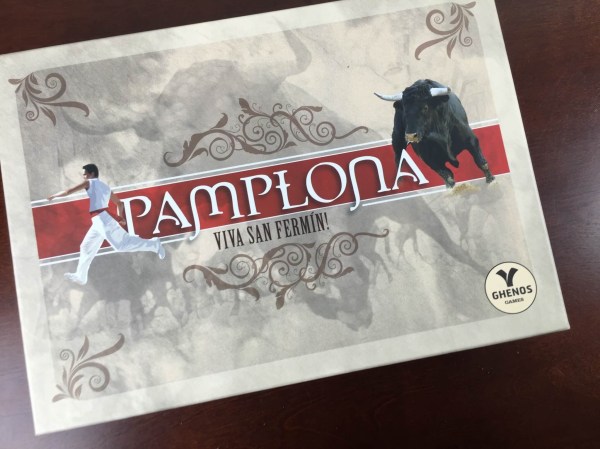 Pamplona: Viva San Fermín! The Board Game – Ghenos Games ($35) 
One of the reasons this box is so neat is that they source really hard to find games. When I pulled this one out I immediately knew that it would be perfect for us.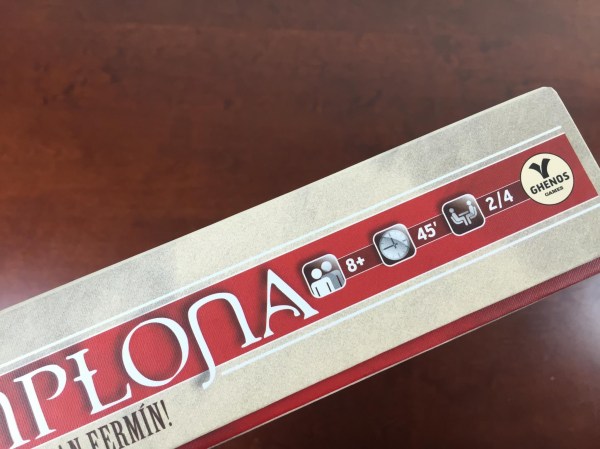 2 or 4 players, 45 minutes game play, ages 8+. Although my daughter is 6 I think she can participate.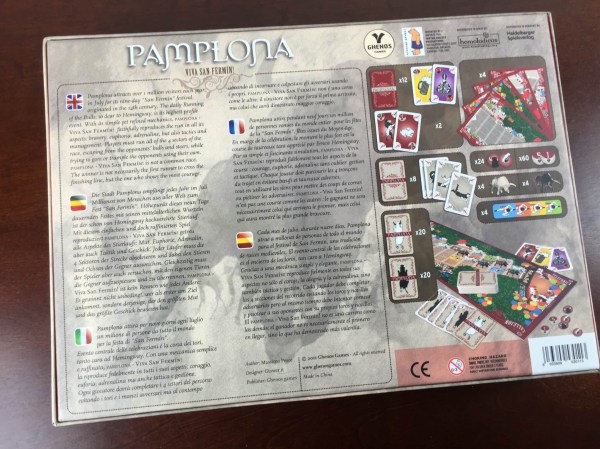 I love foreign-market board games, they're such high quality!
This one features the bull run of Pamplona, complete with little figures! We haven't had the opportunity to play this one yet because we've been on vacation, but we're really excited to spend some child free time with each other and also… we're super competitive. To the victor go the spoils!  (Which is probably not getting up with baby in the middle of the night!)
Pamplona attracts over 1 million visitors each year in July for its nine-day San Fermín festival, originated in the 14th century. The daily Running of the Bulls, so dear to Hemingway, is its highest profile event. With is simple yet refined mechanics, Pamplona – Viva San Fermín! Faithfully reproduces the run in all its aspects: bravery, euphoria, adrenaline, but also tactics and management. Players must run all of the 4 sectors of the race, escaping from the opponents' bulls and steers, while trying to gore or trample the opponents using their own. Pamplona – Viva San Fermín! is not a common race. The winner is not necessarily the first runner to cross the finishing line, but the one show shows the most courage.
All members of the family love this box!  We think it's a fun family-centric box whether your family includes kids and pets like our, or is just the two of you – or even if it's just friends or roommates. I would have loved to have subscribed to this in grad school. We always needed some stress relief! We remain impressed by this box and think the value is excellent, plus it includes very hard to find games!
Visit Awesome Pack to subscribe or find out more. Use code Hellosubisawesome to take $5 off your first pack. Exp 6/15.  You can see more Geek, Gamer, and Nerd boxes in the subscription box directory.
The Subscription
:
Awesome Pack
The Description
: Awesome Family Fun time that is customizable to your family's size, ages and genders. There is a Board game in every pack! Every pack contains Awesome games and activities handpicked for each family to offer hours of fun! We also offer a pack for families without kids. We offer free shipping to the USA and to Canada.
The Price
: $44.99 per month
The Coupon
: Use code
Hellosubisawesome
to take $5 off your first pack. Exp 6/15.