Angels' Cup is a subscription coffee sampler.  For eight bucks, you get four coffee selections.  I find that each 1 oz package is just right for making a batch in my French press (which is 2 giant mugs or 4 conventional servings).
Each package contains a menu with info about the selections.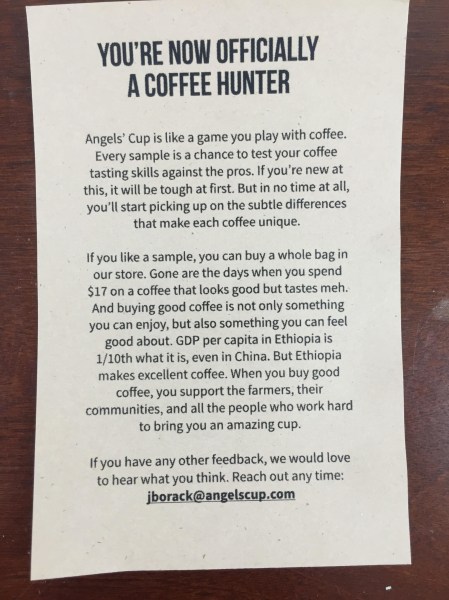 Angels' Cup reminds you that searching out coffee from small lot producers provides income to those farmers — and it pays pretty well compared to other options they may have.  So you get gourmet, limited edition beans, and you help out some of the poorest regions in the world.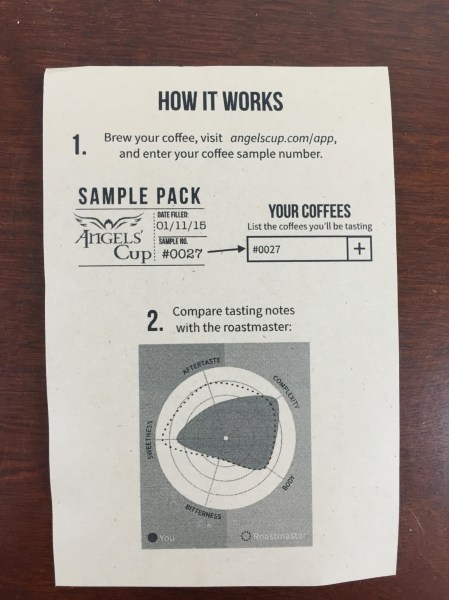 I always like to see if the tasting notes match what my palate says I'm drinking.  Angels' Cup has made a game of it.  You make your notes and then look up the coffee by batch number to see what the official line is on it.  They use an unconventional chart, noting intensity of attributes rather than naming flavor notes.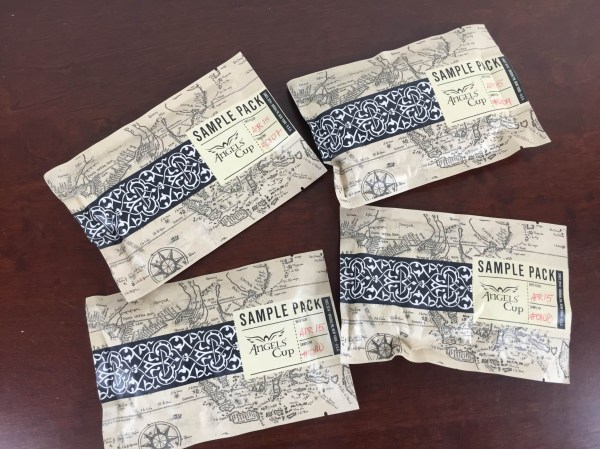 The four 1 oz samples, dated and numbered for reference.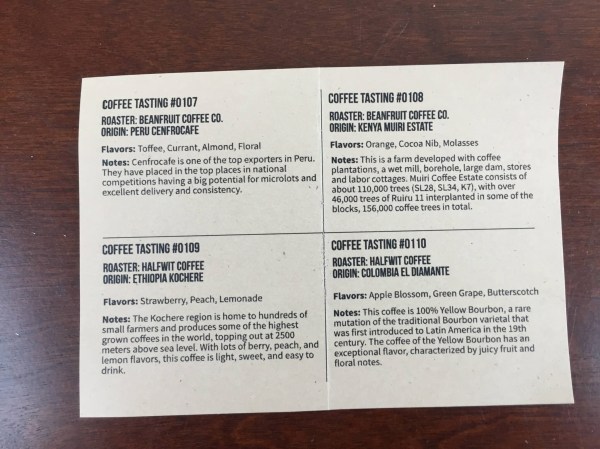 The tasting notes (which you can keep secret or use them to figure out your flavors).  I found them to be spot-on.  I was able to detect all the flavors noted, even if I would characterize some of them slightly differently.  I highly recommend this subscription, based on the quality of the coffee in this shipment.  Each had pronounced, unique flavors, but all were nicely roasted and very easy to drink.  I thought they did a good job selecting interesting beans:  the Kenyan and Ethiopian were fairly characteristic of their regions, but each exhibited bright and bold flavors, showcasing the characteristics that make coffee from these regions highly prized.  I don't see a lot of Peruvian selections, so I'm glad they made the cut, and kudos for going with a rare varietal for the Columbian selection.  At $8 a shipment, the price is pretty good too.
Visit Angels' Cup to subscribe or find out more.  You can also check out more coffee subscriptions in the directory.
The Subscription
:
Angels' Cup
The Description
: Coffee tasting experience. Every tasting flight features different roasters and different origins, making every cup special!Flights include four 1oz samples of coffee. You can order just one or subscribe.
The Price
: $7.99 per delivery (weekly, bi-weekly, or monthly)