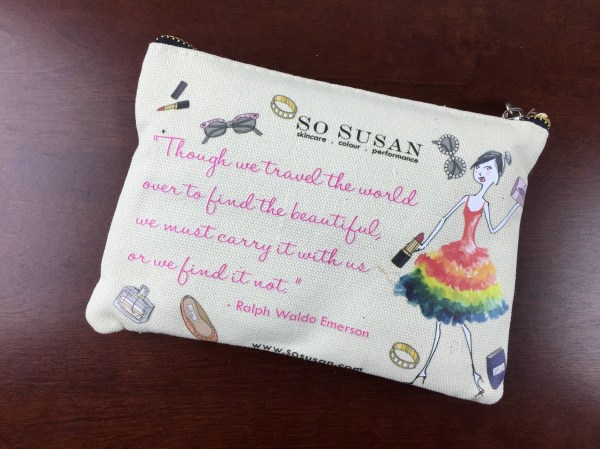 So Susan Lip Love is a brand new monthly lip product and makeup beauty subscription. I think it's just the cutest thing and it's definitely a new fave! Every bag includes 4 items: 3 for lips plus one for another part of your face! You can also see the preview for the next month's bag and skip if you're not interested. I am just crazy excited about this super fun subscription!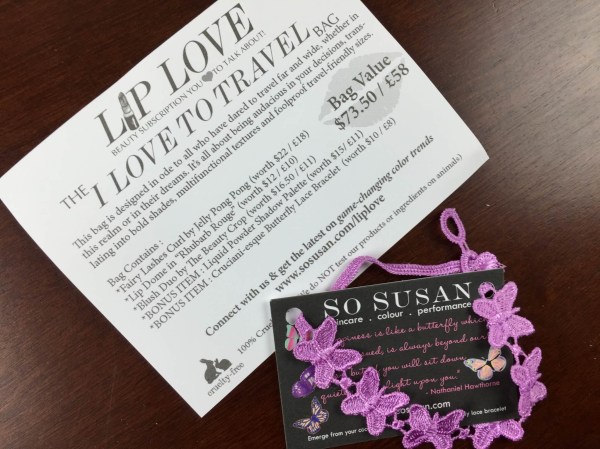 The March Lip Love bag is all about travel! The bag included a Cruciani inspired butterfly lace bracelet.
This bag is designed in ode to all who have dared to travel far and wide, whether in this realm or in their dreams. It's all about being audacious in your decisions, translating into bold shades, multifunctional textures and foolproof travel-friendly sizes.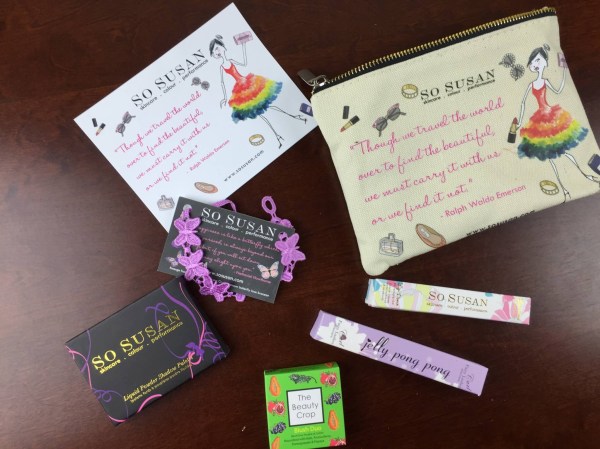 I love love the darling bag. I can imagine subscribing and collecting them all – then gifting to your girls for a special occasion – everyone would have something matching but different!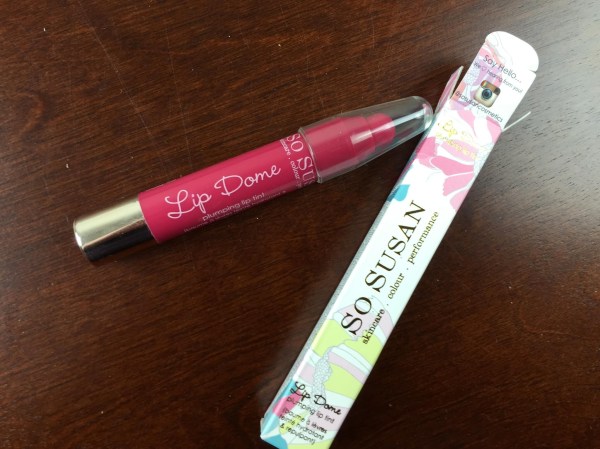 Lip Dome in "Rhubarb Rouge" (worth $12 / £10) I adore the Lip Dome tints and this is such a great color! I have this in multiple colors and it's absolutely one of my favorite lip products!
Fairy Lashes Curl by Jelly Pong Pong (worth $22 / £18) I received this in the supergreat February Glossybox this year. Great formula!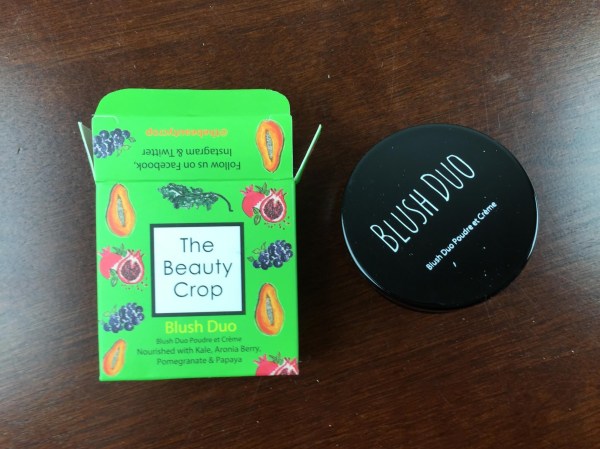 Blush Duo by The Beauty Crop (worth $16.50 / £11) I love the little compacts that have been in both bags!
This blush duo featured a wonderful cream to powder blush plus a super shimmery pinky blush. Oh and I have the cutest mani!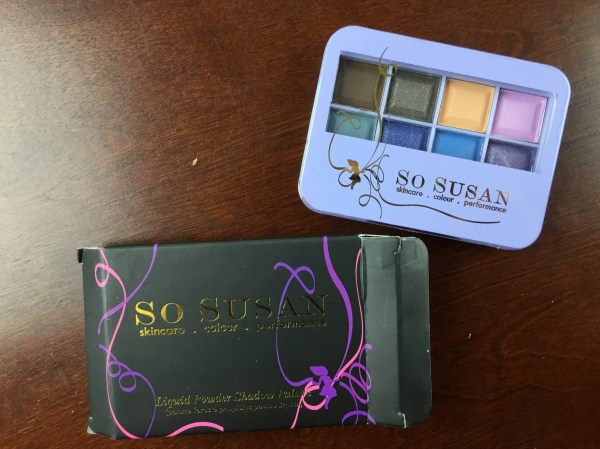 BONUS ITEM : Liquid Powder Shadow Palette (worth $15/ £11)  The name of this palette is "Gatsby Girl"!
This is a liquid to powder formulation, so it's not pressed. I didn't notice it when I tested it out but I just went back and sure enough these shadows are pretty creamy.
You can see the preview for the April bag here! The theme is "I Love Flowers In Spring." The bonus items are technically while supplies last, so I am not sure how that will shake out (are they really going to send the bags without bonus items?). My March 2015 So Susan Lip Love bag had around $70 in value, which is totally insane!
Visit So Susan to subscribe or find out more. Use code Z4pzJ1ax to save 20% on your first bag! Check out all our So Susan Lip Love Reviews or see more beauty and makeup subscriptions in the subscription box directory.
The Subscription
:
So Susan Lip Love
The Description
: Every month get 4 So Susan cosmetics products: 3 lip items and 1 bonus item for another part of your face. Bags are available to view before shipment and you can skip the month or send to a friend.
The Price
: $15.95
The Coupon
: Use code
Z4pzJ1ax
to save 20% on your first bag!