The collection launches at 3am Sunday! Check here to see if it's up!
Get ready to experience the Lilly Pulitzer party at Target! Wheeeee! Lilly Pulitzer at Target launches Sunday April 19 with a collection of 250 resort-inspired pieces in super fun summer prints. All items range from $2 to $250 and can easily go from daytime chic to night-time glam. Palm Beach, I am here!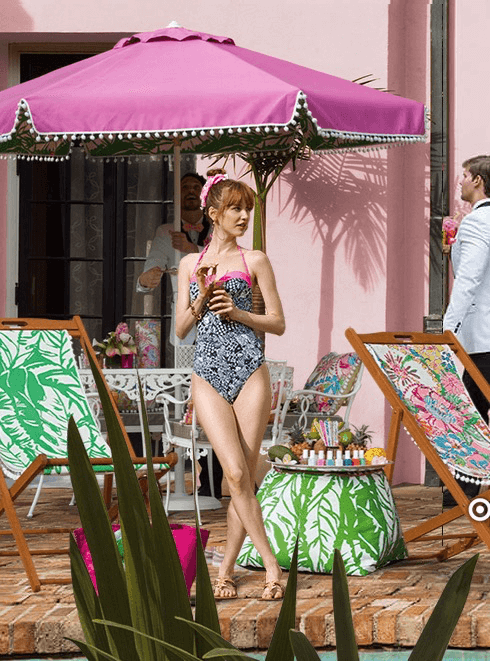 There are definitely a few key must-haves in this collection! And before I get rolling, I poked around in the preview the other week and wanted to let you know that a great many of the women's clothing items will be available in plus-sizes! You can also go check out the collection now and "heart" all your favorite items to save them for when the sale launches! And there are so many great items!
Pieces in this collection include:
Accessories

: Fun, whimsical, and beachy pieces from my favorite pineapple sandals to a fun giraffe necklace (yes, these are on my heart list!).

Exclusively curated cosmetics

: An assortment of exclusive L'Oreal lipsticks and Essie nail polishes only available for this collaboration!

Beachwear

: Clothing for women, women's plus, girls, and toddler girls. I love the kaftans and kimonos, but there are every-day choices too!

Glam Barware

:

Bags & Clutches

: Adorably matched to all the great clothing items!

Swimwear

: in every pattern!
Target has also put together ready-to-go looks in case you've forgotten how to wear fun, beachy, resortwear after that terrible winter!
If I can help it, my daughter will be wearing all of these! They are really affordable, too! I have a shirt on my list for only $14.
Would it be too much if I said that I might hip check someone if they get between me and that pineapple?
Visit Target to see all of the looks and put everything you want in your "heart" list so you're ready to check out when the collaboration launches!