Koofsa is unique and special box from Israel, featuring artisanal products from Israeli producers. It's a box different from all other boxes! The name itself is a play on the Hebrew word for box, and is designed to arrive before 3 major Jewish holidays, plus one in between to make it a quarterly box. You'll get a box for Passover, Summer, Rosh Hashanah, and Hanukkah. Each hand-packaged box will include at least 5 of our chosen artisanal products (full-size) together with the producer's stories, recipes, and pictures for you to collect. Whether you're Jewish or just enjoy discovering products from around the world in a box, this is a great box.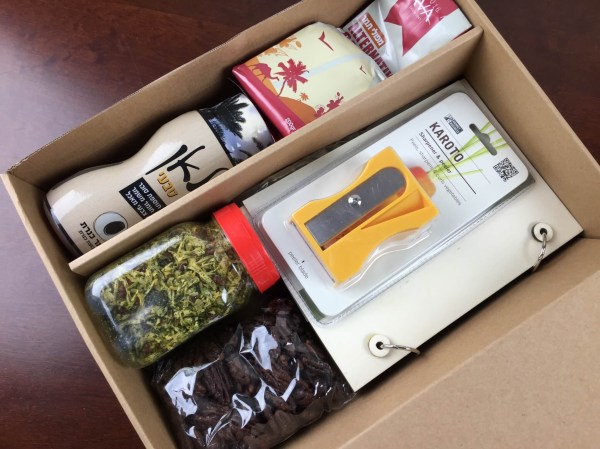 The box is shipped from Israel and ours arrived via International Express mail. This was a slide out from the main box and a neat presentation.
All the items in the Koofsa box for Passover. This box is a little pricey at $360 for the year, but you really won't be able to get many of these items in the states. For subscribers there are recipes, stories, and videos in the members section of the website. This is a great way to connect with your cultural heritage.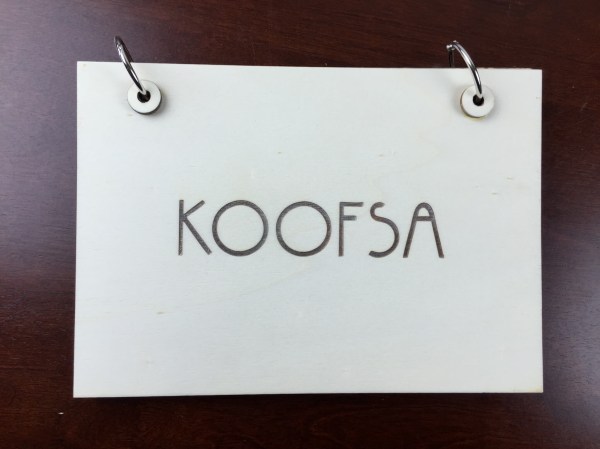 The information cards are inside a wooden organizer, which is neat.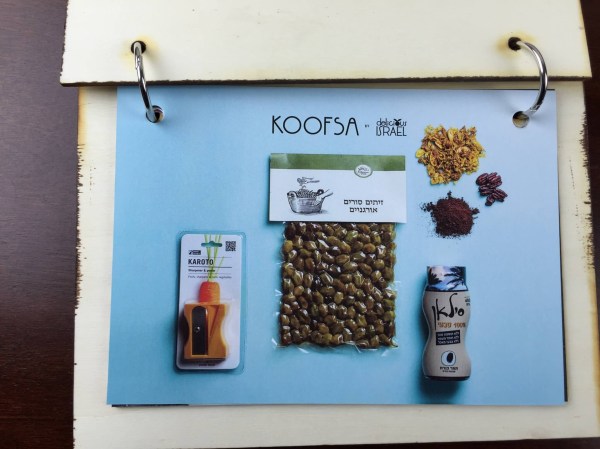 I think I should put the Koofsa folks in charge of my photos! So pretty.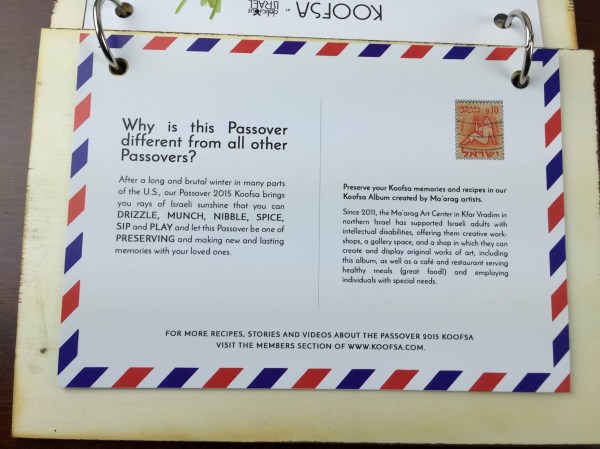 This box includes items to Drizzle, Munch, Nibble, Spice, Sip, and Play. Koofsa would like you to "Preserve" your memories this Passover too 🙂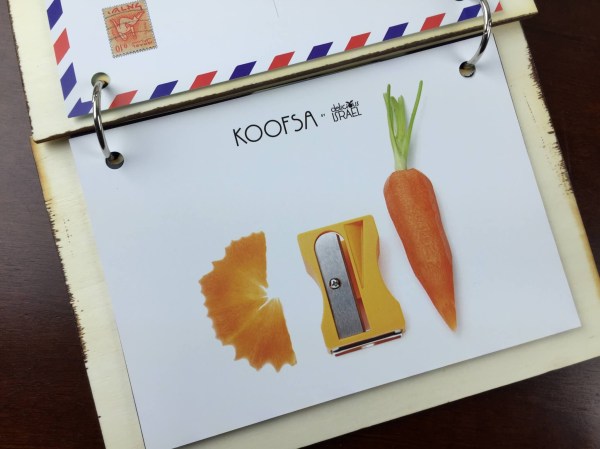 The front of one of the information cards.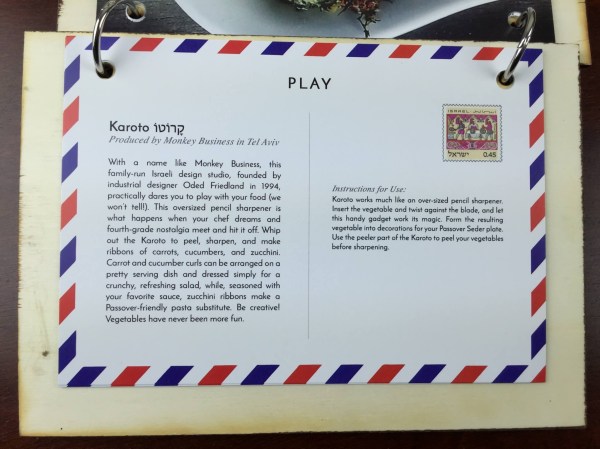 And the back. It has information about the producer as well as instructions and recommendations for use.
The Album is created by the Ma'arag Art Center in Kfar Vradim in Northern Israel, supporting Israeli adults with intellectual disabilities.
MUNCH: Honey Crunch Pecans from J&G Pecans in Caesarea –  I honestly didn't know that Pecans really grew outside of the deep south.  Unlike the kind you make at home, these are bathed in honey and sugar but not coated in it (does that make sense? they're not like a candied pecan). They are deeply roasted giving them a rich mahogany flavor. We all loved these, including the children. J&G Pecans is the largest nut producer in Israel.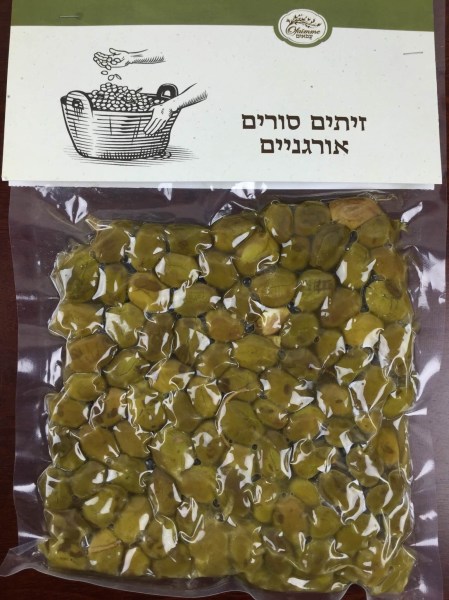 NIBBLE: Organic Souri Olives from Ofaimme Organic Farms I was absolutely thrilled with this gigantic package of olives. Ofaimme Farms uses only sustainable and organic growing practices, and picks all olives by hand. These are fruity olives with a bitter tone, so you can replace the bitter herbs with these for an artisanal Israeli twist.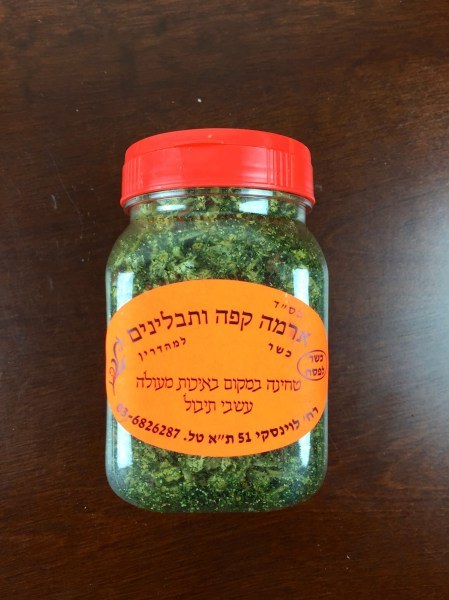 SPICE: Quinoa and Rice/Bulgur Seasoning from Cafe Arama in Tel Aviv – This one comes with a super easy recipe to cook up quinoa without having to work hard at all. If you buy quinoa with the special symbol indicating that it's kosher for passover, you're golden. It's kosher for passover because it's a grain that is not (it's really a seed), but you can't get the stuff processed in proximity to grains.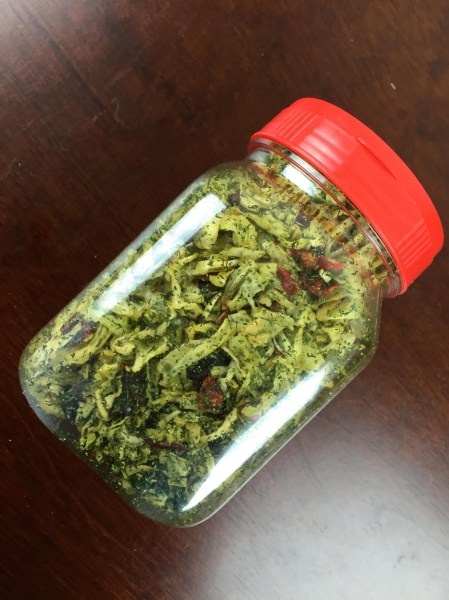 You can use this with any grain but I'm going to try it in the spirit it was intended in this package, in quinoa. Yum!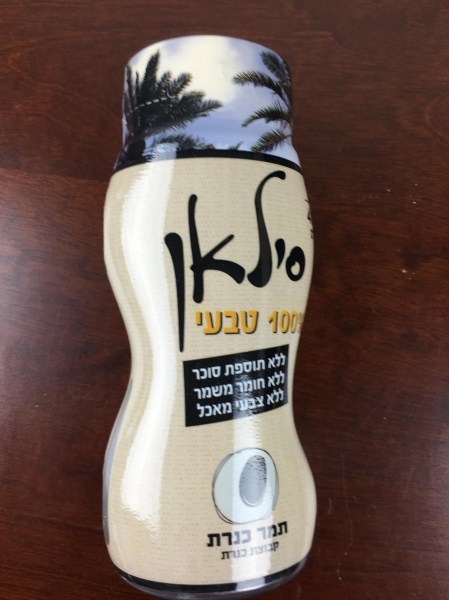 DRIZZLE; Silan (Date Syrup) from Kvutzat Kinneret in the Galilee – This is a sweet rich syrup made out of dates, which you can use to sweeten the traditional Passover Charoset. This is pure date syrup pressed from freshly picked dates, and you would use it just as you would any honey, to sweeten tea and other drinks, granola, or over a nice Israeli yogurt.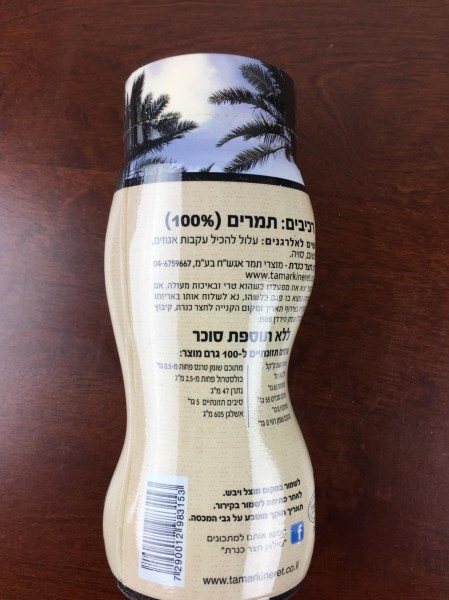 As you can see with all of the items, unless you remember everything from Hebrew school, you really need the information cards.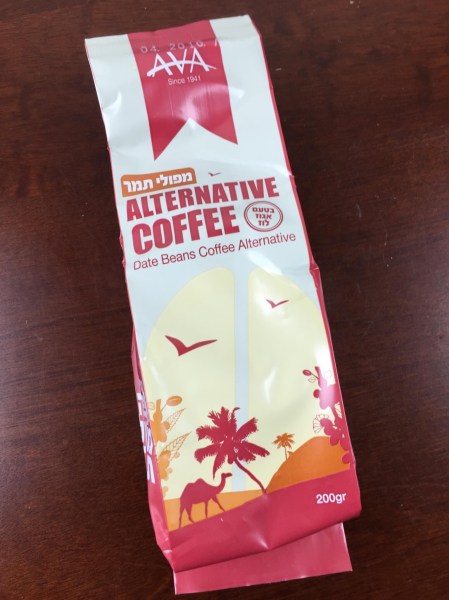 SIP: Date Bean Coffee from Ava Coffee in Haifa – This is a low-caffeine alternative that uses the discarded date beans and transforms them into a sustainable beverage. The date beans are otherwise just thrown away. It's loaded with antioxidants and minerals and is a traditional drink among the Bedouin tribes in the Sahara and across the Middle East. It still has caffeine because it includes a small amount of regular coffee for taste. I think this is a neat product!!
PLAY: Monkey Business Karoto – Produced by an Israeli design studio, this is a giant Carrot Sharpener to make decorations for your Seder plate!
I thought the Passover Koofsa was an amazing box and it was full of items I wouldn't have even dreamed of! Everything was premium and perfectly curated around this holiday. I am not Jewish but I thought this box was fantastic. I think it would be a great way to connect to your roots during the holidays, in a totally non tacky way (no grocery store Passover here!). Checking out the Facebook page made me really want to visit Israel someday (and FYI, this box is produced by Delicious Israel, an Israeli foodie tour company)! This box really gave the flavor of local cuisine. I am certain if this box showed up for Passover everyone would be pretty excited. As I mentioned earlier, it's spendy, but it's also quite unlikely you'll find these items in a Kosher grocery, even if you have one. We previously lived in an area with large Kosher grocery stores and they didn't have artisanally produced items like these. Pesach Sameach!
Visit Koofsa to subscribe or find out more. You can see more international food themed subscription boxes in the directory.
The Subscription
:
Koofsa
The Description
: Artisanal Foods from Israel. Each box is curated with the finest spice blends, hard-to-find sauces and oils, fun snacks, and other premium products that reflect the diversity of Israeli cuisine.
The Price
: $360 for 4 quarterly boxes