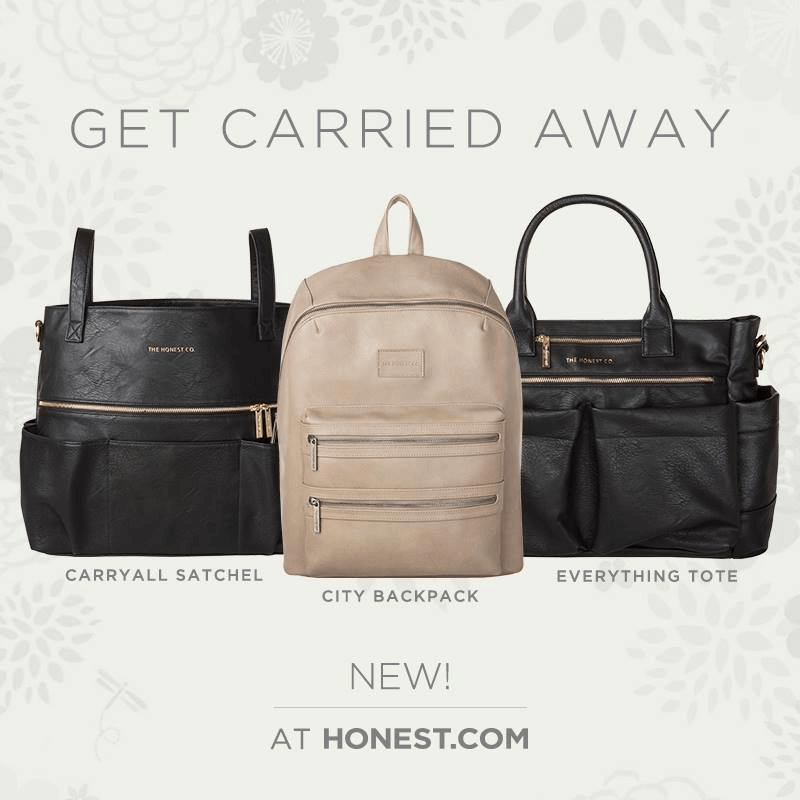 Honest Company recently released 3 neat additions to their line: the Everything Tote ($169.95), the Carryall Satchel ($179.95), and the City Backpack ($149.95)! We picked up the Everything Tote and the City Backpack. You will be able to save 25% on any or all of them by adding them to a bundle – I forced a diaper bundle to ship early so I could get mine at a discount, no coupon needed! If you are a new customer, use coupon code GET10 to save $10 off of $25 (but don't use it on this, add it to the bundle because your savings will be so much more!).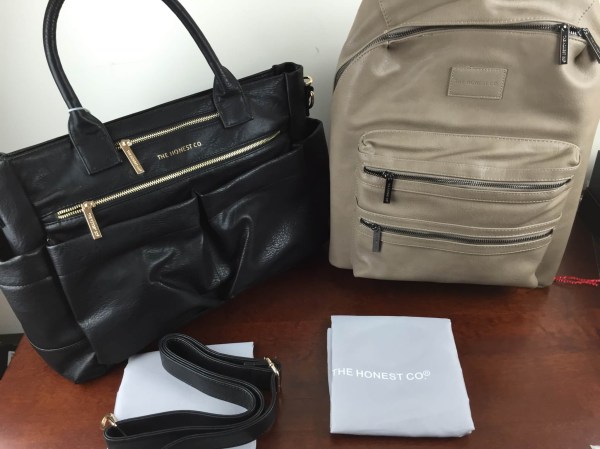 For reference, these are all very large items. The dimensions are: The Carryall Satchel is 13″H x 19″W x 4.5″D, The City Backpack is 19″H x 16″W x 5.5″D, and The Everything Tote: 12″H x 19″W x 7″D.
All the bags are made from 100% polyurethane vegan leather— NO toxic foams or PVC. They use wipeable PVC-free polyester lining (and the everything tote also features an EVA lined pocket – you'll see this awesome feature below).  They are very structured, sturdy bags, and the vegan leather is extremely thick and high quality.
Honest Company City Backpack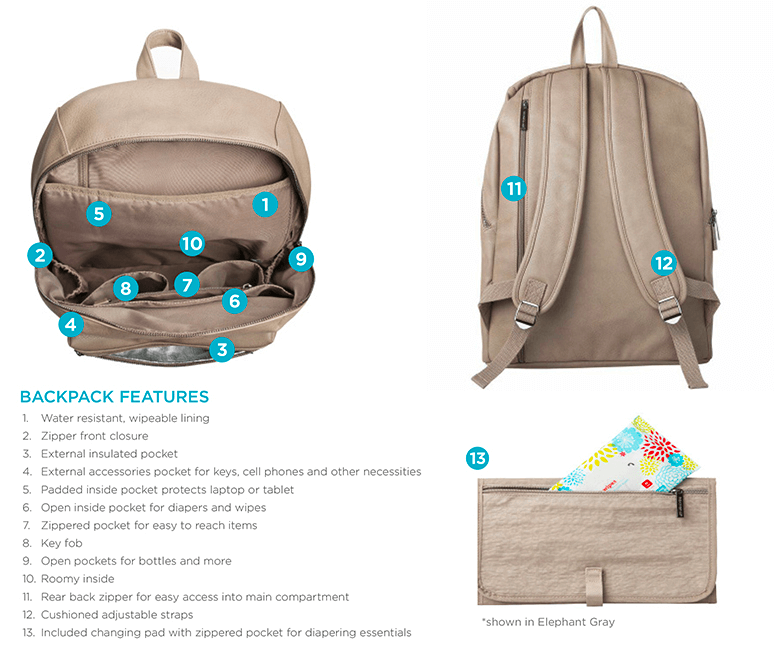 I have included the photos from Honest Company for reference, you can see the complete details there, too.
The new bags come in two colors, elephant gray and black. My husband chose the elephant gray for his backpack. It has a great back zipper feature that you can access the main compartment with.  This bag may get a little warm with all day wear.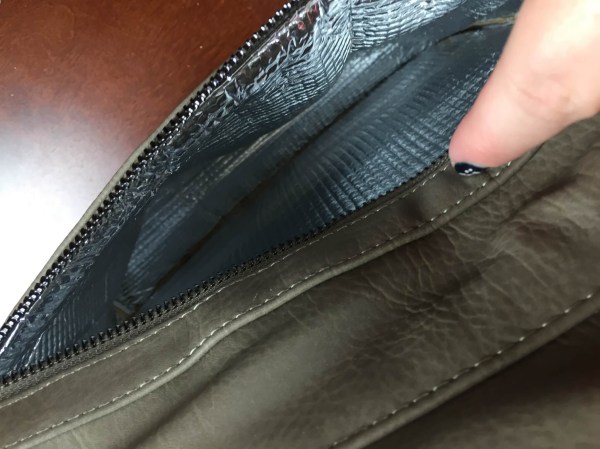 The large outside front pocket has insulated lining.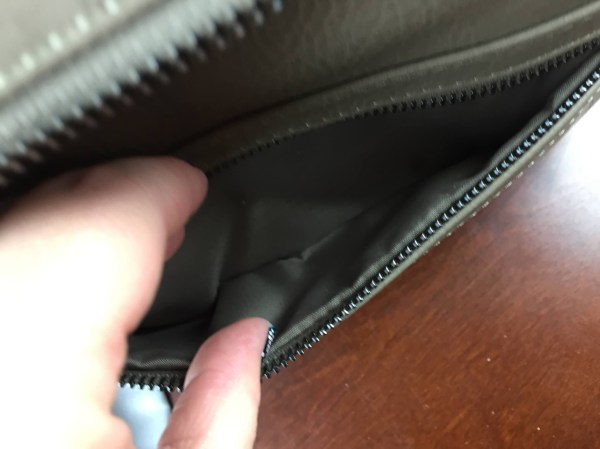 There is a smaller front pocket. It is deceptive and does not extend all the way down. I think this was a poor design choice.
This photo is super deceptive. An iPhone 6 will not fit in the front pocket, even sideways. It doesn't make it a bad backpack, just FYI.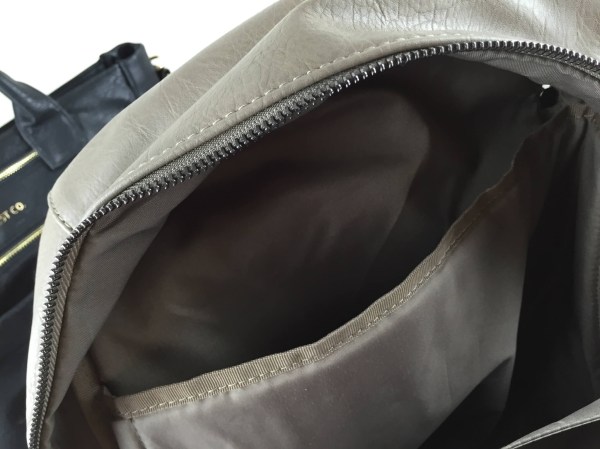 The area where the back zipper is located is separated from the rest of the main part of the backpack by a divider.
There are two side elastic pockets on the inside.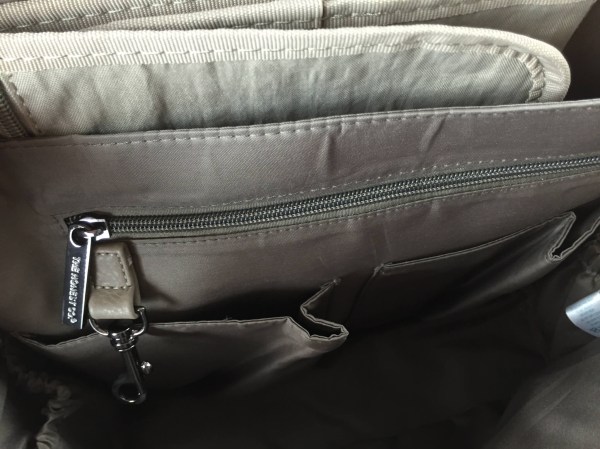 The front part of the bag also contains two organizer pockets, a zipper pocket (about 5″ deep), a key hook (wish this was longer like the tote, see below), as well as the area for the changing pad (plus the changing pad itself).
The Honest Company City Backpack is $149.95.
Honest Company Carryall Satchel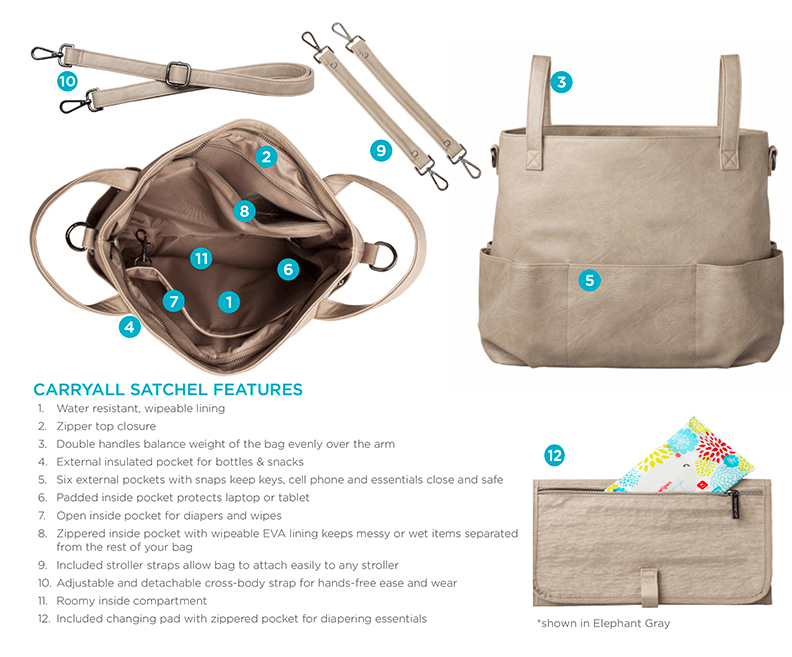 We did not purchase the Carryall Satchel but I'll go over it briefly! While the Carryall Satchel is multifunctional, it's really designed as a stroller caddy, but you can carry it with the straps or longer included strap (#10 above). The interior zipper pocket in the Carryall Satchel is lined with EVA (and you can see an example of that below).
I think this is a bit silly to carry this bag like this. The front zipper pocket is insulated, and I'm not sure how deep it is.
I would personally only purchase this bag if I intended to use it on a stroller.
The Honest Company Carryall Satchel is $179.95.
Honest Company Everything Tote
All the features of this tote.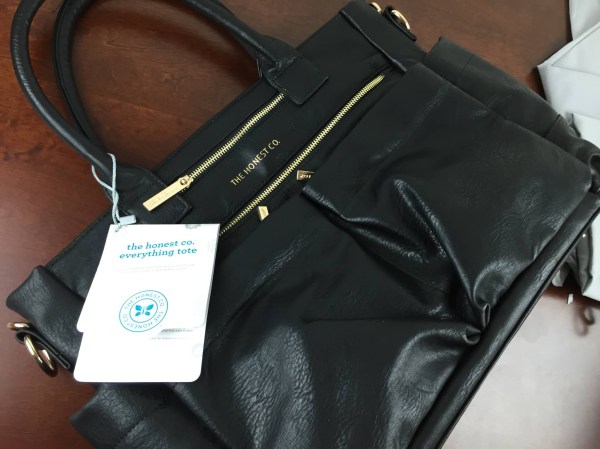 I love love the styling of this bag! If they had it in more colors, I'd probably buy another one too!
The back pocket holds the diaper change pad. You can remove it if you don't need it (the other diaper bag friendly features make this an awesome tote even if you don't have a baby!)
There are two front zipper pockets (as well as one on top of the Honest Company logo – fits iPhone 6), and a large EVA lined (waterproof) pocket for putting wet and/or nasty things in!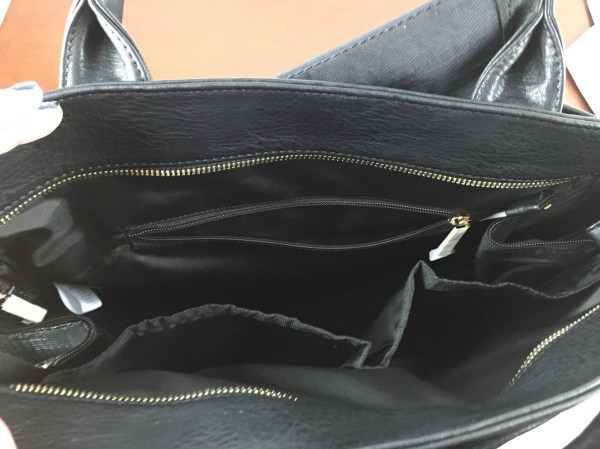 The inside features two side zippered insulated pockets, two open organizer pockets, and a zippered organizer pocket.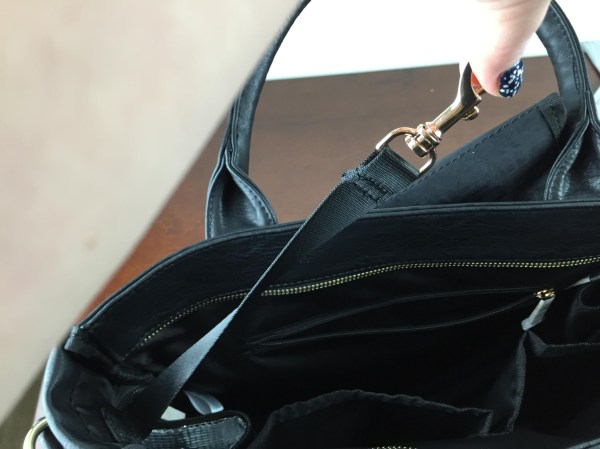 Love this key fob and the long strap!
All of the bags come with a nice drawstring dust jacket (plus a matching diaper change pad!).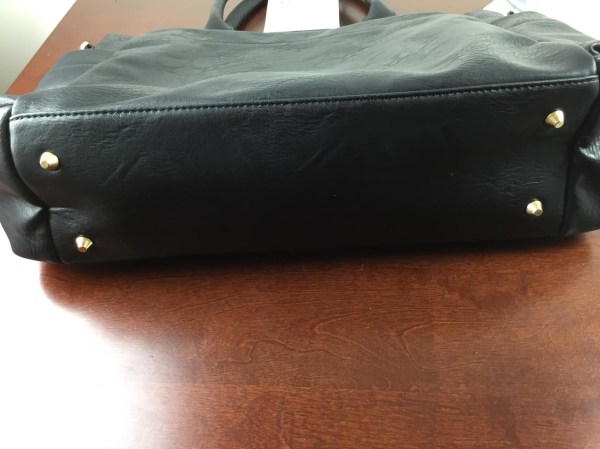 The bottom of this tote features nice studs so it doesn't get scratched up. I think that is limited to this bag.
The Honest Company Everything Tote is $169.95.
You can purchase any of these bags at Honest Company! I'm very happy with my purchase – I think the Everything Tote has the best style and features out of any of the bags, but if you want a stroller bag, go for the Satchel. Dads will appreciate the backpack and moving the diaper bag contents into his new backpack is at the top of my husband's to do list.