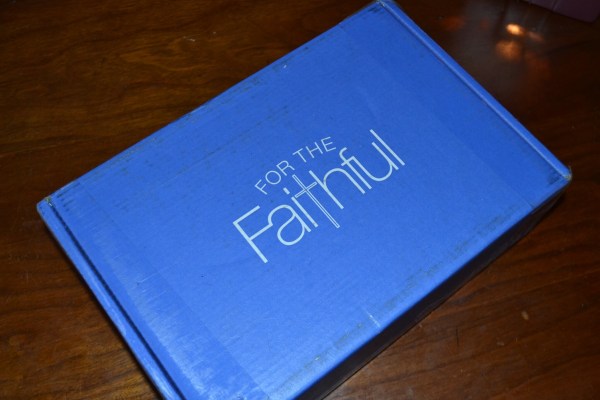 For the Faithful is a monthly subscription box full of Christian products delivered right to your door. You may receive items like books, DVDs, items for the house (or even garden), something brilliantly inspirational, or things for the kids.
I want to start out by saying I absolutely love everything about these boxes! This is my second For The Faithful Review and I am honored to be given such great little gifts and tokens to talk about.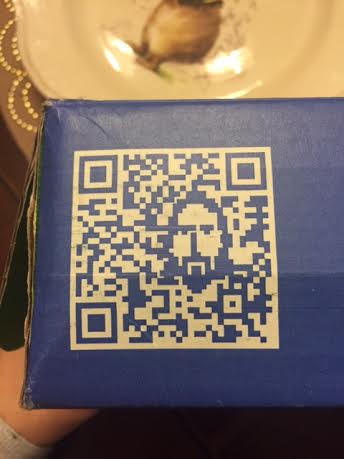 When I finished my first review last month, I didn't realize that I had left one important detail out! The gifts inside this box are not just pretty and fun but the box itself holds a secret surprise. Located on the back of the box is a bar code. This bar code however, is far from regular. If you look closely you can see the image of our Lord and savior! At first I did a double take and thought I was seeing things, but His face is actually inscribed in the bar code! Let's just say there was laughter and smiles all around!
Another thing I wanted to highlight was the actual box! I absolutely love that there is such detail!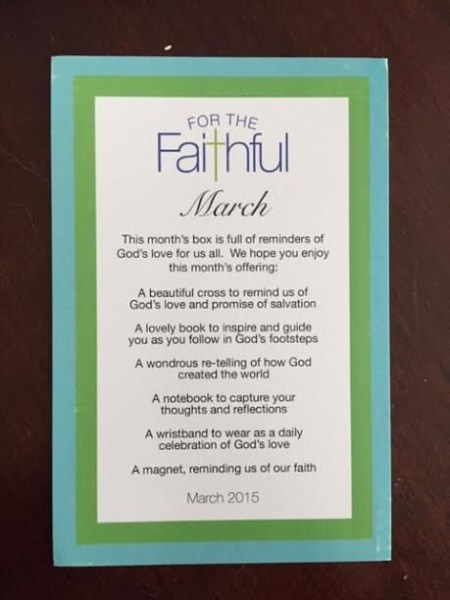 The information card for For the Faithful was great also! It told you what was in the box, and instead of just including the product, they wrote a bit about it!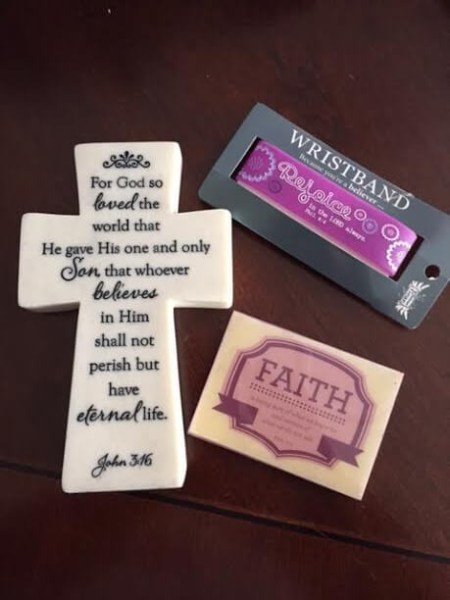 Starting with product number one, a beautiful ivory cross with one of my favorite scriptures. This came to me during the perfect time, Easter! Next was a beautiful little magnet with another lovely scripture about faith. It's now perfectly placed on my refrigerator so that I can be reminded of Gods faithfulness every day and when i go for my late night snack!Last but not least, the cute rubber wrist band with encouraging words on it. I was hoping to wear this around but my two-year old daughter thinks it matches her wardrobe better. She won't take it off! I am happy to share God's love with her.
In March's box was a dvd titled, The Creation, narrated by Amy Grant (who I love). This dvd is a retelling of God creations through poetry and illustrations. I watched this, and loved every minute of it.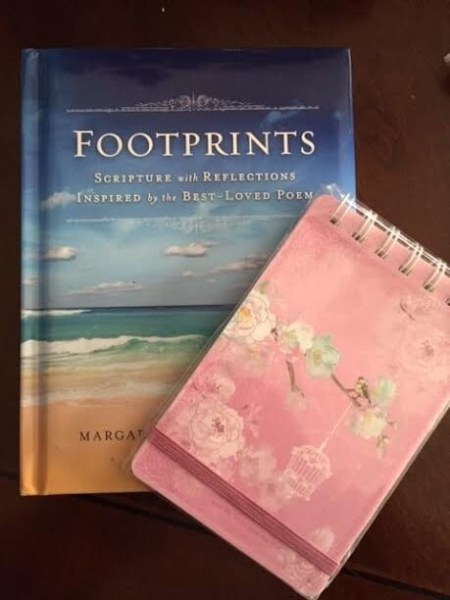 I love the little notebook that was included in this box. It is perfect for my pocketbook and has a pretty spring look. I was also very impressed when I was digging through this box mainly because of the quality of the products. One of the nicest things this month is the book Footprints. This book is about scripture and reflections based on the poem itself! The photos inside are beachy and beautiful!
All in all, this was another great box filled with inspiration and love.
What I liked most about this box For The Faithful was the feeling of happiness and peace it gave me when I first saw the products. As a Mother, it is nice to take a few quiet moments and to receive a gift(s), that makes me feel like I'm going to be ok! A gift that tells me God is with me. I would give any of these products to my family and friends and I love having received them myself!
Visit For the Faithful to subscribe or find out more! You can use coupon code hello$ave to save $5 on your first box! See all our For the Faithful reviews.
The Subscription
: 
For the Faithful
The Description
: For the Faithful is the monthly subscription box for today's Christian family. Each month, we hand-curate a gift box filled with great Christian and family friendly products from world-class brands and deliver it right to your doorstep
The Price
: $21.99