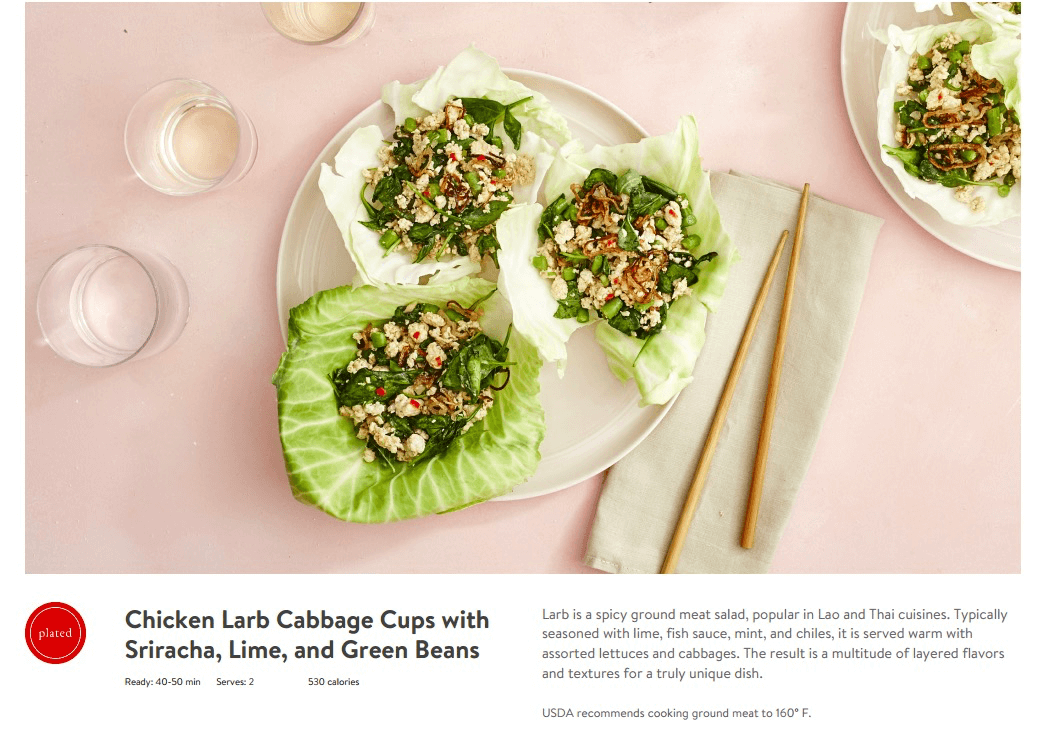 Larb is one of our favorite dishes, whether it's the Cheesecake Factory version or a mound of super-spicy ground chicken in a small Thai joint, so we were super-psyched for this Plated to arrive.  The recipe card received a makeover.  It still has a list of ingredients, items you may need to prepare the dish, and cooking tips.  The tips have moved to the back of the card to make room for a larger picture of the dish.  The big change is a clean-up of the font — they lightened the general font and highlighted ingredients within the instructions to make it easier to follow at a glance.
Plated delivers ready-to-prepare meals to your doorstep.  It's perfect if you want freshly-prepared meals using top-quality ingredients.  With just a little chopping and stirring, you have a restaurant-quality meal that you can brag about. You can always preview menus ahead of time, so you can pass on selections that don't move you. This is usually not an issue — some weeks we order a half dozen meals because the selections are so appealing.  The portions are generous, and we usually have enough that we can let the kids experience some great new flavors too!
When you sign up for Plated with this link or use code b0c635, you'll get 2 free plates with your first order. Sometimes we order and sometimes Hello Fresh. It just depends on what meals we're interested in. [Hello Fresh: Take $40 off your first box with coupon code 7UT7K8]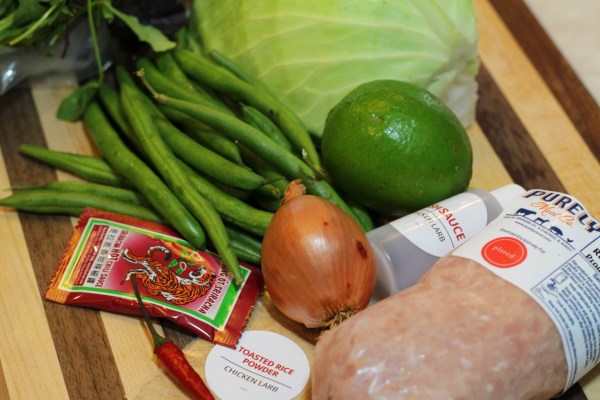 Chicken Larb Cabbage Cups with Sriracha, Lime, and Green Beans:  This dish was delicious and flavorful, bright and spicy.  We love larb, but this version was a little heavy on the raw veg, so we cooked the green beans and raw shallot with some of the inner leaves of the cabbage not called for in the recipe.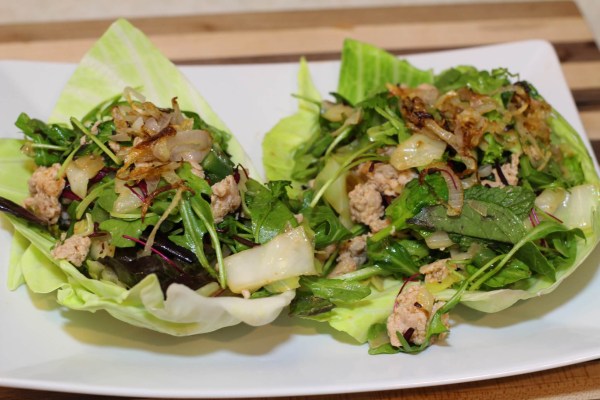 We got a bigger plate of food out of it (picture above is one of two heaping plates), and the seasonings were flavorful enough to season the expanded dish.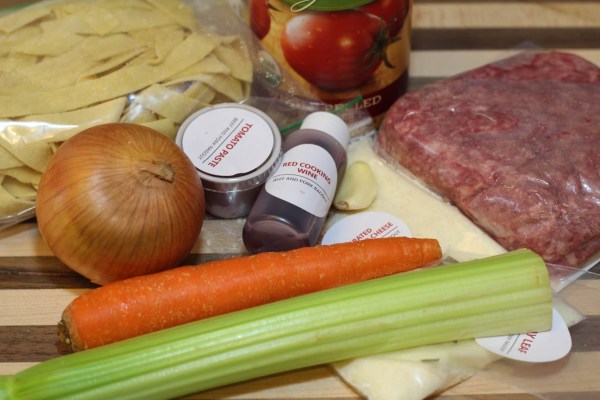 Beef and Pork Ragout over Pappardelle:  The beef and pork mixture came ground to together and added a great flavor and texture to the dish.  The pasta was spectacular and worked well with the thick "sauce."  Instructions had me discard the juice from the tomatoes, and I would have preferred a little more slurpable sauce, but it was delicious and hearty nonetheless.
Ragout, derived from the French word "ragoûter," meaning "to stimulate the appetite" describes a rich, hearty stew with any combination of meat or vegetables. Simmered for a long period of time to develop flavor, it is similar to the Italian ragu, which is a thick meat sauce typically made with pancetta and milk or cream.
Chocolate Chip and Ricotta Cannolis:  These were a hit with the kids.  The shells held their crisp, even though we made them several days after receiving our box.  The cream cheese smoothed the ricotta a bit and made a silkier filling.  The recipe card redo with highlighting is particularly helpful for recipes like this where you reserve a portion of ingredients (e.g. some chips went in the filling while others decorated the ends of the cannoli).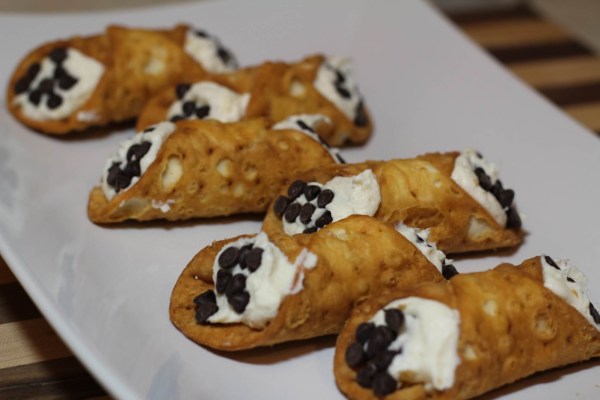 So that's what we made with our box this week!  You can use code b0c635 to sign up for Plated and get 2 free plates with your first order!
Each meal includes easy-to-follow directions, and almost everything you need is included:  from the often organic meats to the fresh herbs.  You need only contribute the most basic of culinary skills, and Plated will walk you through the rest.  Have on hand basic kitchen utensils and you can transform the contents of your Plated box into a photo-worthy culinary masterpiece in under forty-five minutes (usually less).  I love the way each meal incorporates only a couple key herbs or spices; the flavors shine through, and the recipes remain easy to follow.
If you haven't joined up, visit Plated to find or more or to subscribe. You can see all the meal subscription services & dinner kits in the directory plus all our Plated Reviews!
The Subscription
:
Plated
The Description
: Ingredients for chef-designed meals delivered to your door. You select the chef-created recipes on the Plated.com website and Plated sends you a box of food and recipes.
The Price
: $60 per week