I saw these new modern Scentsy warmers and I said to myself, whoah, those are Scentsy?? Don't get me wrong – I adore Scentsy, I love scenting my house without burning things all the time, but to be honest, they aren't exactly known for anything besides standard midwestern and country decor (they have a pink camo warmer if that's your thing).  But this? Well, it's kinda sorta my jam. Above, Urban Luster, Goldsmith,  and Parlor warmers.
The new Parlor Warmer by Scentsy ($40) features an Edison-style bulb, a smoked glass casing, and a cement base.  Totally my style.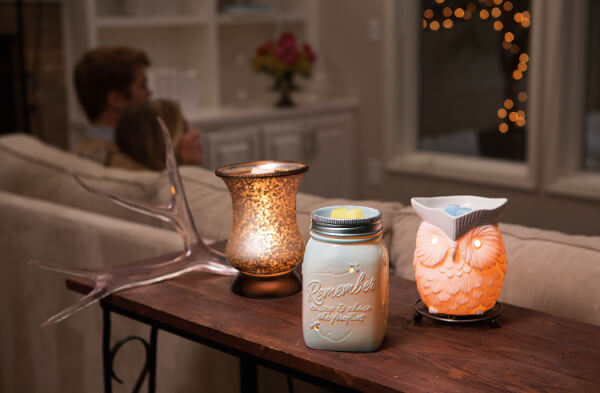 So cute, and I love this fresh take on country decor to take it out of the 80s and into the '10s! Modern and sleek without being overblown country. I just got the Fireflies warmer and it's super darling (it says Remember to stop & chase the fireflies)! Note, this one isn't available for ordering until April 1.
Under the Shop section of the Scentsy website, be sure to check out the New Releases area under scents. I see bunches of modern and fresh fragrances like Blond Wood & Moonflower and Coconut Flower – perfect for welcoming spring!
You can also "Combine & Save" a new warmer with a set of bars. Find the warmer you like first, then visit the Combine & Save section to pick out your warmer combination pack.
Scentsy Subscriptions
One more thing – did you know that Scentsy offers subscriptions?  You can order your bars and other fragrance items for every month or every 2 or 3 months.  Change, cancel or skip anytime!
The Scentsy Fragrances that are part of the program include Scentsy Bars, Scent Circles, Scentsy Room Sprays, Scent Paks, Travel Tins, Light Bulbs, and all Scentsy Layers products, including Laundry Care, Bath & Body, Sun Care, and Purse & Pocket. You will receive one "point" for each dollar spent in the program. Orders of $60 or more will earn an additional 12 reward points. When you collect 200 points you may redeem them on one half price item!