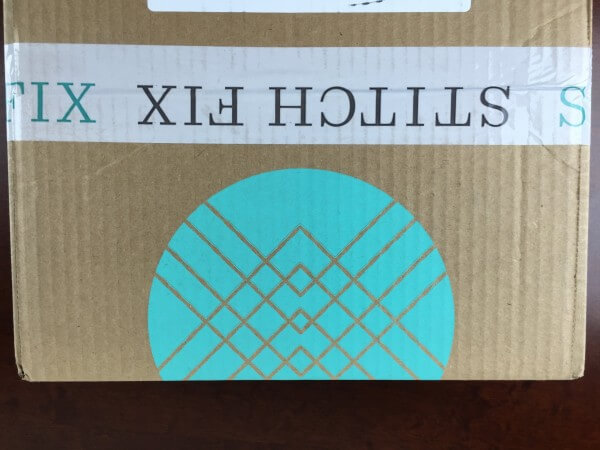 Stitch Fix just sent me the most amazing set of clothes for my March fix!!! Stitch Fix is a personal styling service. Your stylist will send you 5 pieces based on your profile for you to try on at home and hopefully fall in love with. There are no coupons for Stitch Fix but if you hit the jackpot and keep everything, you save 25% on your whole fix (read below for details).
Update: Use coupon code riskfreemarch to get $20 credit on your first box – this will go towards your styling fee to make it risk free! Exp 3/31.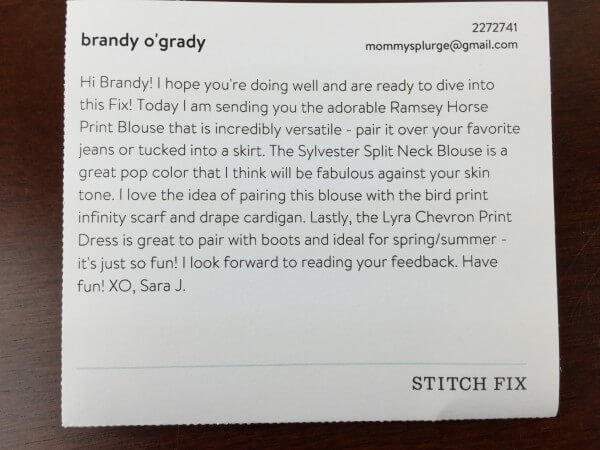 I recently set up a pinterest board of items I love to give my stylist a better idea of what I'm looking for. I had a couple dumpy fixes and my new stylist was able to sort out what I wanted. I can pin items that are the general style I want, but I definitely have a hard time articulating it.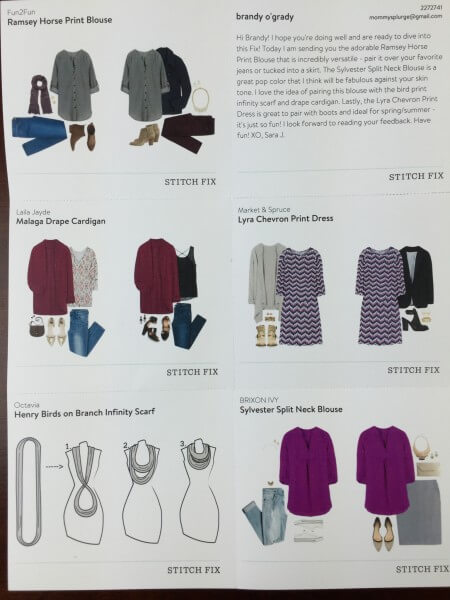 Every box includes a set of styling cards with suggestions on how to wear the particular item. There's usually a dressed up and dressed down version for each piece of clothing.
Here's how Stitch Fix works: fill out your style profile! This includes style, budget, what you're looking for, and you can get as detailed as you want with the notes to your stylist. It really really does help to provide notes to what you're seeking, and a Pinterest board if you have one! You will be charged a $20 styling fee and shipped five items to try on at home. If you keep anything your styling fee will be applied to your order, but if you don't, you will pay the $20 fee. This is so worth it. If you keep everything you get a 25% discount, so it pays off to be specific. You will check out and get charged through your Stitch Fix account.
Brixon NY Sylvester Split Neck Blouse ($54) I was so pleased with this vibrant fun color! It was very similar to some of the shirts that I'd received but this one worked because of the color and the neckline was high enough so that my bra didn't show (my chief complaint with the others). This shirt is very me.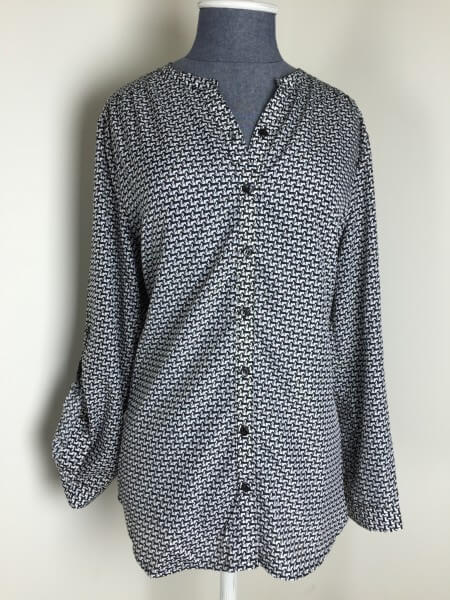 Fun2Fun Ramsey Horse Print Blouse ($44) This wasn't quite what I had in mind when I say I love critter prints, but it's a super fun take on a houndstooth print, so I'm keeping it. The fit is great and it's super versatile.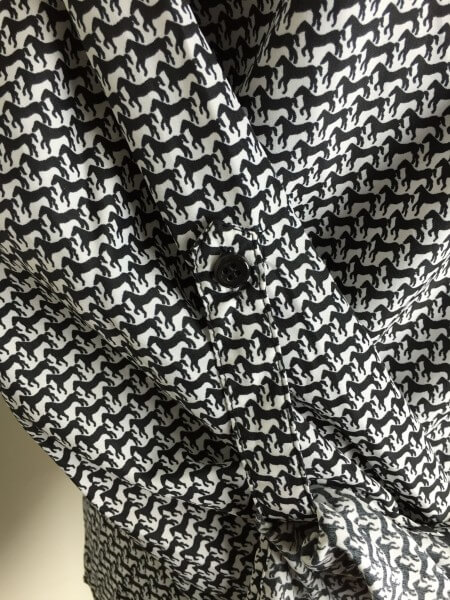 A close up of the horseys, and the roll-up button sleeve.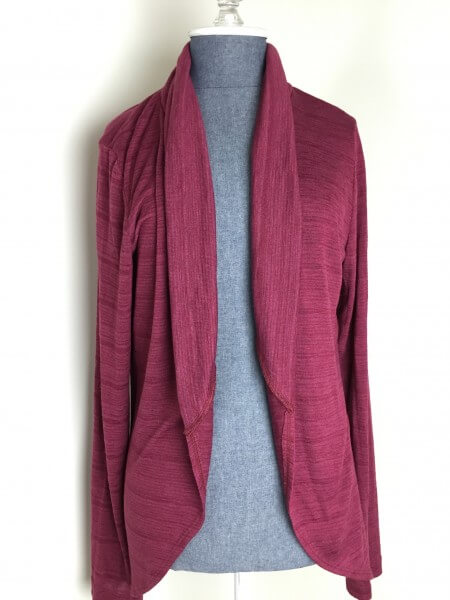 Laila Jade Malaga Drape Cardigan ($48) I mentioned to my stylist that I always wear a cardi. My office is super cold and I generally feel more comfortable with an outer layer. I think it's great to have lots to choose from and I love the silhouette on this one.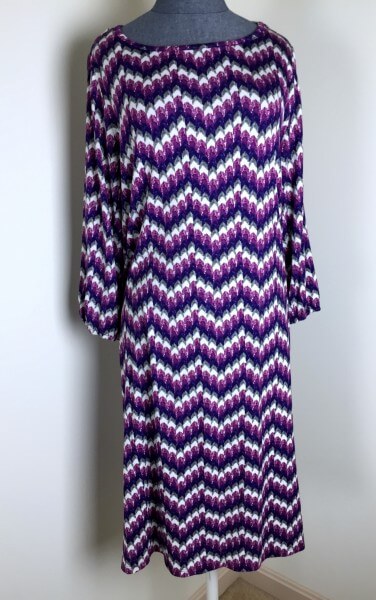 Market & Spruce Lyra Chevron Print Dress ($58) This is just the cutest. It's also perfect for my roundish body type because it doesn't have any sort of doodads at the waist. The print and the style are phenomenal. I'm so happy with it.
O ctavia – Henry Birds on Branch Scarf ($28) This is whimsical and fun and automatically made it in to my top 5 current scarves. I think it's very now plus the black allows me to be a little more comfortable wearing bright tops (because I'm a recovering black clothes only lady).
The other thing I noticed is that my stylist definitely kept to my expressed preference of loving jewel tones. I'm not really into the brown/orange/yellow/green palette at all, I think it makes me look terrible, and all these clothes fit my coloring.
I was honestly shocked at how inexpensive my clothing was this time around. After the styling fee is deducted from the total, the total is $172.50. I kept my entire Fix! Obviously having a great stylist is key, but being able to express your preferences is too. The pinterest board helps with that, so I recommend it.
Visit Stitch Fix to find out more or set up your first box! See all my Stitch Fix Reviews or check out more fashion and clothing subscriptions.
The Subscription
:
Stitch Fix
The Description
: Create your style profile and get 5 stylist selected pieces – clothing & accessories – a month. Monthly "fixes" available.
The Price
: what you buy (~$75/ea) + $20 styling fee credited to order