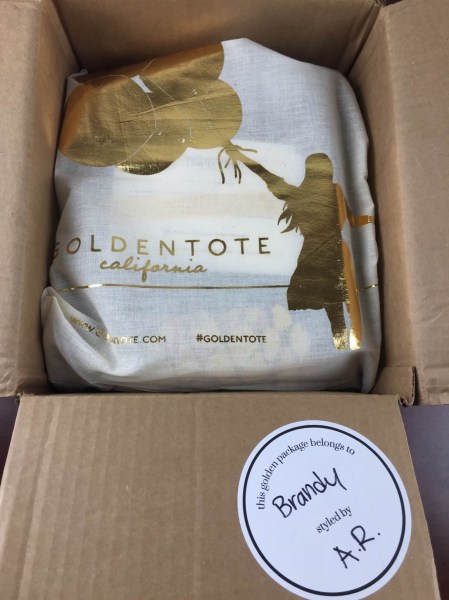 The pineapple is MINE! Told you so! (I mentioned last month that I would have that one!) Golden Tote is a monthly fashion grab bag – Get new pieces monthly that are fashionable, seasonable, and affordable. When you pick the $149 tote you select two pieces and then you get 5-7 pieces with a total value of up to $600! When you get the $49 tote you pick one item and get 2 (or sometimes 3).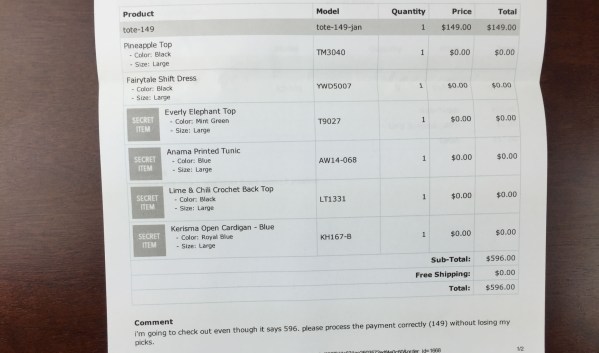 New Packing Slip. I love it, especially because I don't have to figure out the names of these items! Also my tote was not $596. They had some cart trouble but charged me properly.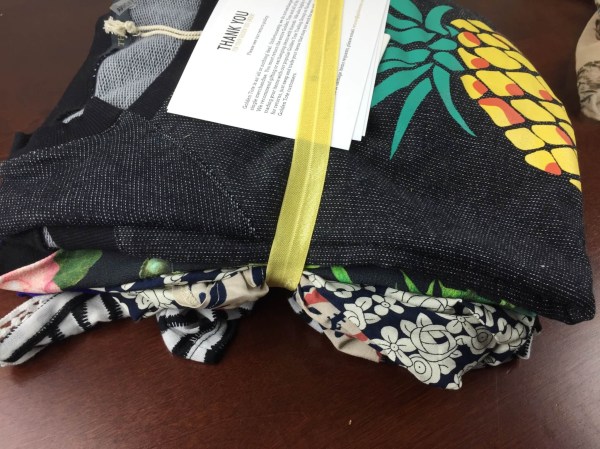 All your clothes come bundled up like so, inside the monthly tote.
This month saw this little note about the care of your items.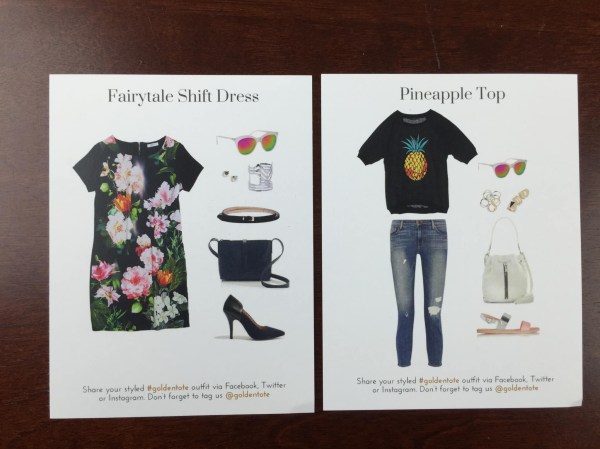 Your chosen items will come with a style collage.
March 2015 Golden Tote Chosen Items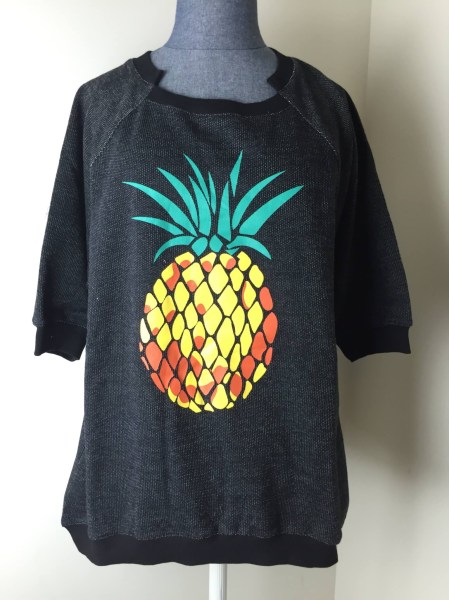 Pineapple Top ($44)  How is this not sold out? It's my favorite! I love the crazy pineapple print, the half sleeve, the french terry, it's the perfect fun & casual shirt for spring!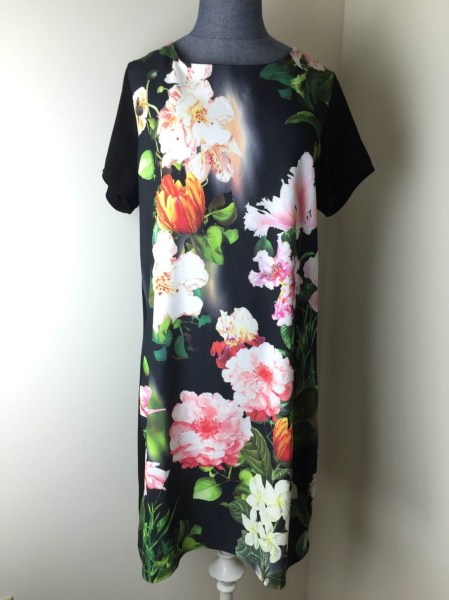 Fairytale Shift Dress – This is pretty but I really wanted the Garden Party maxi. It's a great way to wear black and still feel like spring, so I'm happy to have picked this one!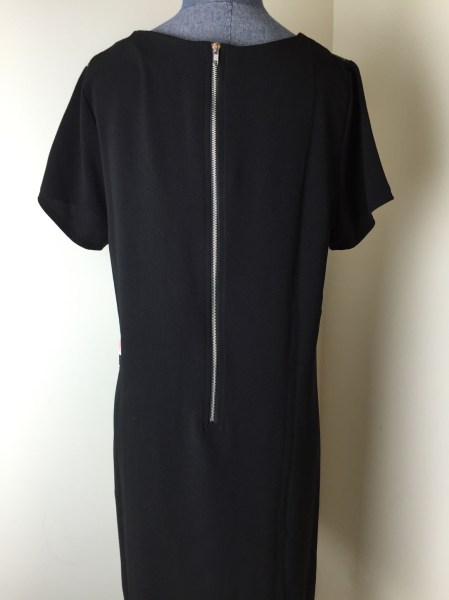 The back – quite a long zipper!
March 2015 Golden Tote Surprise Items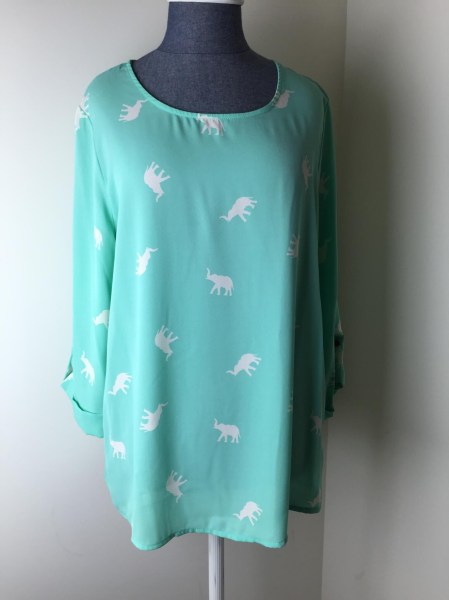 Everly Elephant Top – SQUEEEEEE I love it! The new Golden Tote profile system works because it asks about critter prints, which I love. I love the color and who doesn't love some fun elephants?!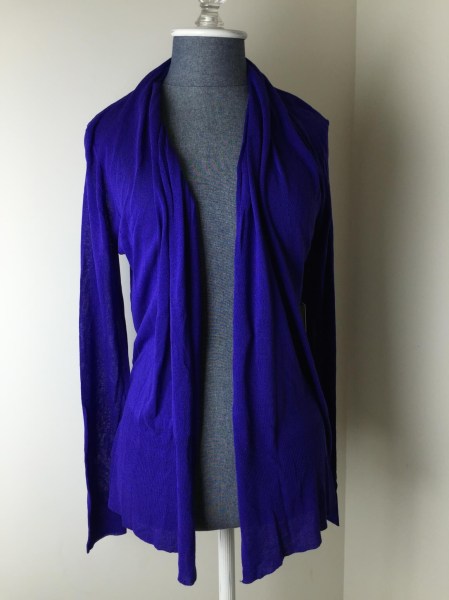 Kerisma Open Cardigan – Blue – This says blue and it looks cobalt in the photo but to my eyes it's more purple, which is even better! Love this super thin cardigan – it's perfect for layering. I specifically noted in my profile that I love toppers/capes/ruanas/cardis/whatever.
Lime & Chili Crochet Back Top – I don't love this one, because I am not sure how to wear it. I guess with a black tank underneath? I don't like layering clothing under my main item or showing my bra.
The crochet is pretty but I don't need to show off my back fat.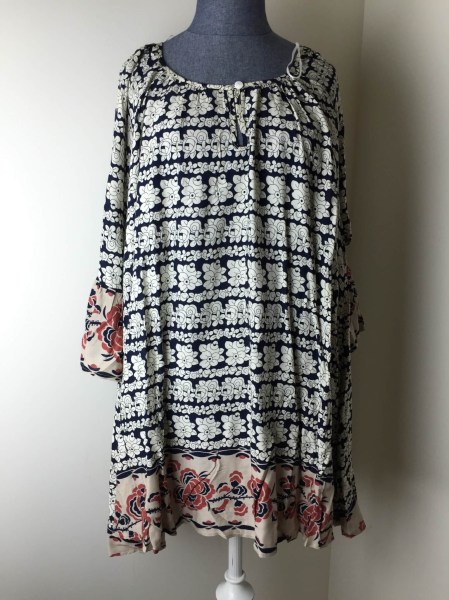 Anama Printed Tunic – Maybe a little too boho for me! But it sure went along with my shape and I'm happy with the improvements in styling based on the new profiles.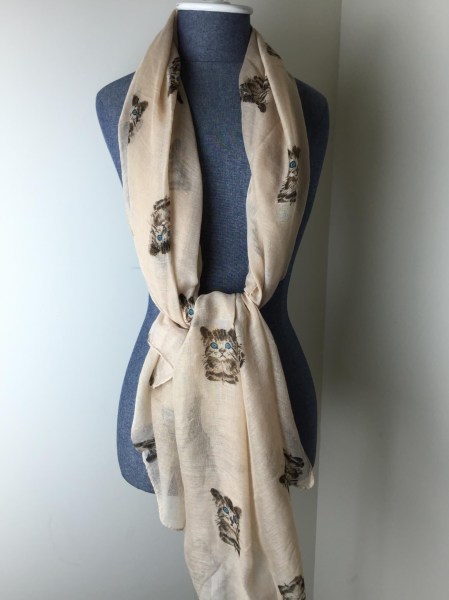 This is my boutique purchase! I think it was $13 and shipped with my tote, you can still grab this at Golden Tote!
My 2 chosen items plus 2 out of 4 surprise items were wins – really not shabby for $149, though I wished I had one more surprise item! I felt that the new profile system worked very well.  Based on the items I received this month I'm going to keep my profile trendy, de-boho it a bit, and add the "isn't bra friendly" to my top anti-preferences (I missed that option the first time around!).  I loved that Golden Tote really paid attention to the loose/oversized preference (I'm still on the larger end but if you are a smaller plus size you can make Golden Tote work with the right preferences!).
The March Tote I believe is going to be available through next week. I would be surprised, though it's still a possibility, to see the April tote open on time on April 6 (they're still shipping March totes!). They may open the tote mid-week after Easter though. Subscribe to my email newsletter to make sure you get the notice!
Visit Golden Tote to find out more (and get on their list so you won't miss the next tote sale). You can also check out all my Golden Tote Reviews and find more fashion, style, and clothing subscription boxes in my directory!
The Subscription
: 
Golden Tote
The Description
: Each month you'll get either 5-7 clothing and accessories picks in your tote ($149) or 2-3 items ($49). Golden Totes are now open all month long, but order early for the best selection.
The Price
: $49 or $149 per Tote. New collections released monthly (not a subscription!).