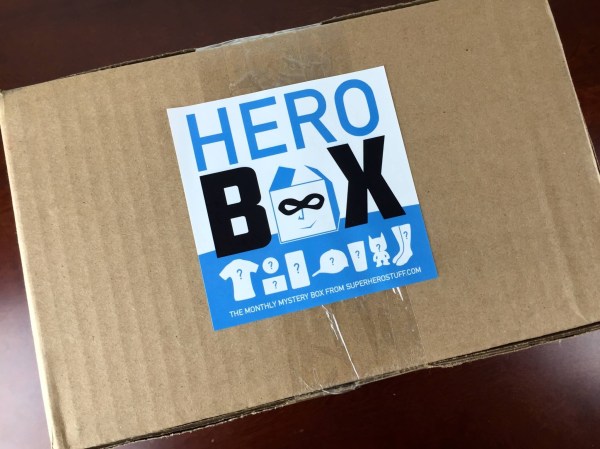 Hero Box is a Geek & Gamer Box – it's not a subscription box however. A new theme released monthly, purchase that theme or one of the available franchise-based themes! This box is a little more spendy at $49 plus shipping, but it is a huge box of fun Super Hero Stuff and promises $70 in value. Actually I'd like to not call it a geek box, but a fan box, but that's what we're calling these things!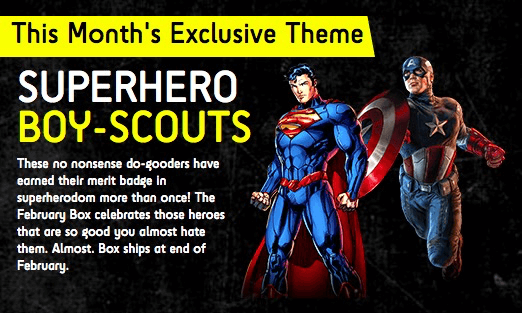 February's theme is SuperHero Boy-Scouts:
These no nonsense do-gooders have earned their merit badge in superherodom more than once! The February Box celebrates those heroes that are so good you almost hate them. Almost. Box ships at end of February.

If you don't select the monthly theme, you can pick from one of the franchise themes, but the previous months' boxes aren't available.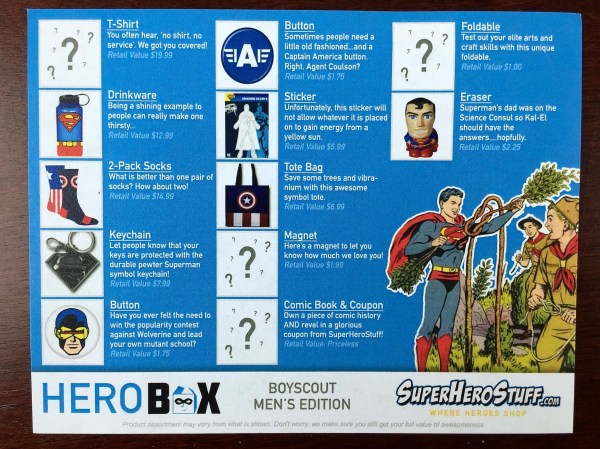 The information card. The items with question marks are variable items I believe. This is a lot of stuff. I found the short one sentence descriptions very funny and perfect.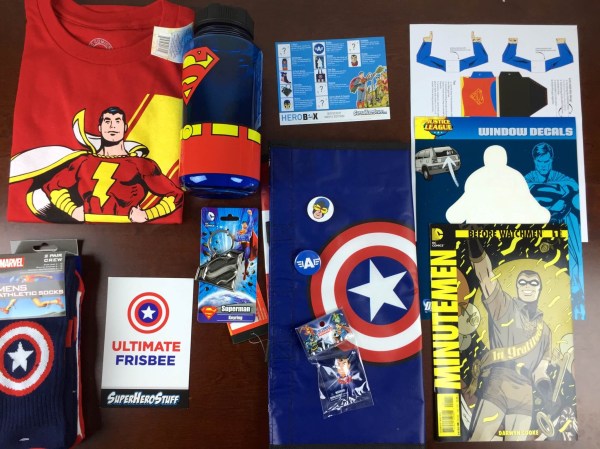 This was really truly a significant box. My husband could barely wait until I finished taking the photos.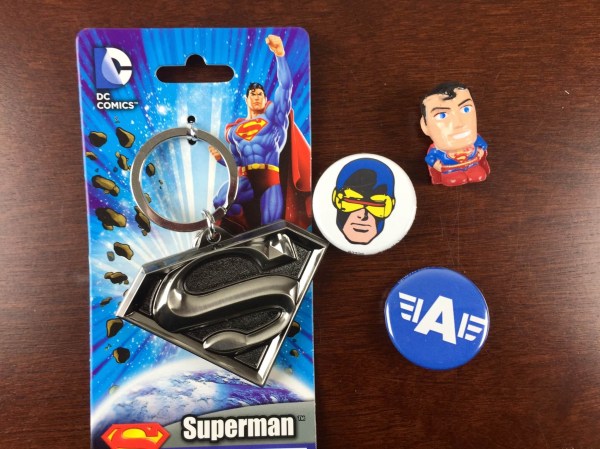 Superman Keychain ($7.99)
Buttons ($3.5) Cyclops and Captain America
Superman Eraser ($2.25)
This is a serious keychain. You could take somebody out with it.
Captain America Socks 2-Pack ($14.99) My husband was absolutely thrilled with these socks. His favorite subscription box socks ever.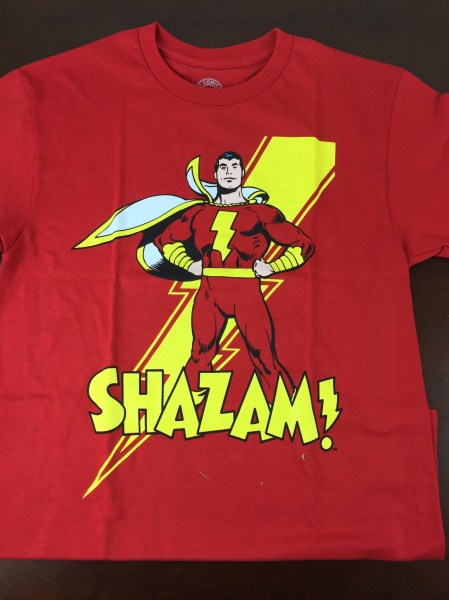 Shazam T-Shirt ($19.99) I ordered this box in a men's small, so I'm not sure if the women's tees are different.
Captain America Tote Bag ($6.99) A tote bag that my husband will willingly carry!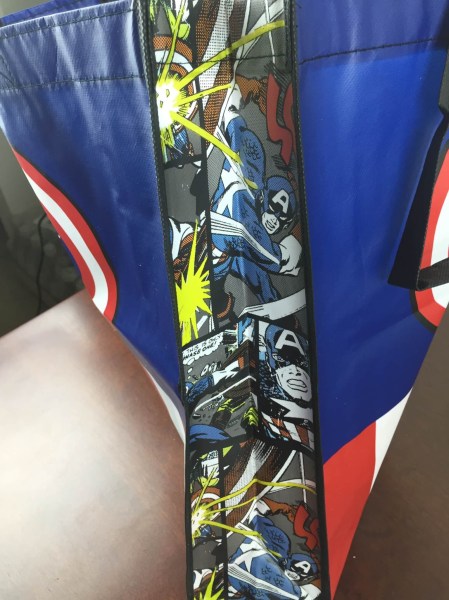 I liked the traditional Marvel comic panel inset on the sides.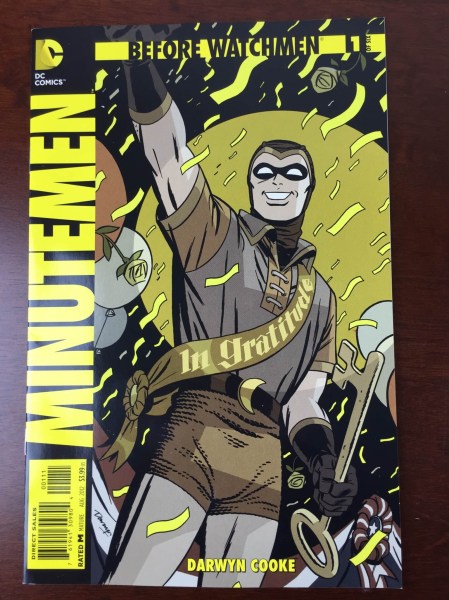 DC Comics MinuteMen – Before Watchmen ($3.99) My daughter says that she loves comics and she came and plucked this one right after I took the photo. Good for her.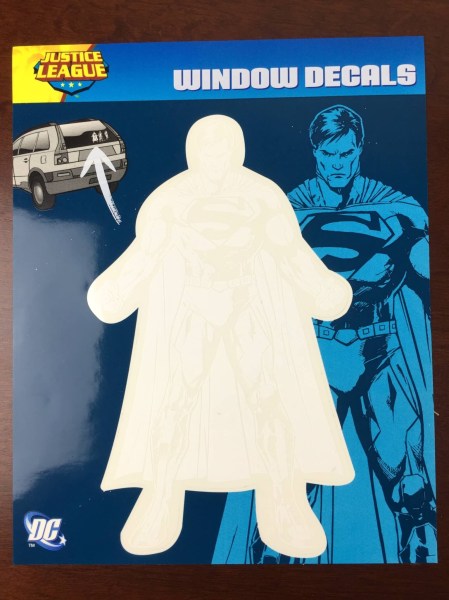 Justice League Window Decal ($5.99) My fave item for sure. This is going on my car.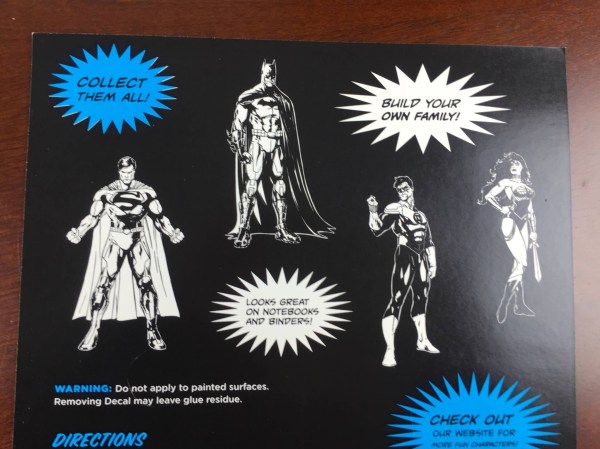 I'm strongly considering getting all of them.
Superman Water Bottle ($12.99) This is BPA free. I know my husband will use this. He's really a hero fan.
Foldable ($1)
My husband took this and put it together right away! He's so happy with this box and so is the rest of the family!
The total value of the February Hero Box is $79.68. I think some of the prices are a wee bit inflated (the magnet above is supposedly $1.99, but I didn't include it because it's SHS branded as well as not being officially licensed).
When I started searching for items, I pretty much only found SuperHeroStuff.com. They're the megastore for these type of items. You can assume that you can always get 10% off there, I think, so even considering their usual order discounts, you're still picking up $70 worth of goods.  It's definitely a fun themed box.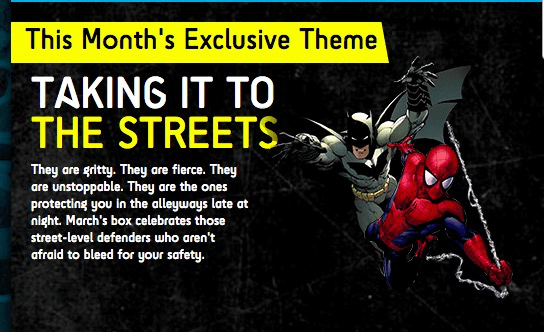 March 2015 Hero Box Theme – Taking It To The Streets:
They are gritty. They are fierce. They are unstoppable. They are the ones protecting you in the alleyways late at night. March's box celebrates those street-level defenders who aren't afraid to bleed for your safety.
I love that this box combines the major franchises (DC & Marvel together, awwww). It's a really huge box and I think it's great for a special gift. I don't know if you'd want to get it monthly. Then again, my son is a huge Batman & Spiderman fan!
Visit Hero Box to subscribe or find out more! You can also check out more Geek, Gamer & Nerd Subscription Boxes in the directory!
The Subscription
:
Hero Box
The Description
: Get a true superhero thrill-ride without ever leaving your desk! Every box is jam packed with $70+ of SuperHeroStuff plus a few exclusive bonus items you won't find anywhere else! There are 10 themes to choose from including 9 of your favorite heroes PLUS a themed box that changes every month!
The Price
: $49 + shipping