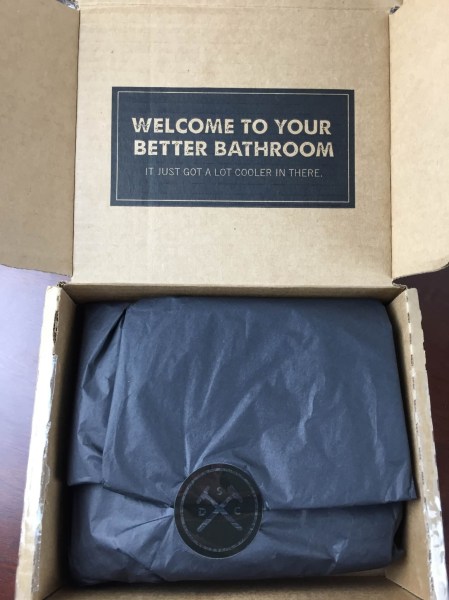 Her: Much to my husband's chagrin, I often steal his shaving items, so we thought it'd be fun to do a his & hers review!
Dollar Shave Club is a men's shaving monthly subscription, though there's nothing stopping ladies from using their blades. You can get a twin razor for $3 per month (see my review of the Dollar Shave Club Twin Razor), the 4x (seen here) for $6 per month, or the executive for $9 per month. Your monthly shipment is generally just a package of blades, but you can add on a variety of shaving products and if you switch the blade or start a new subscription, your handle will be included in the box.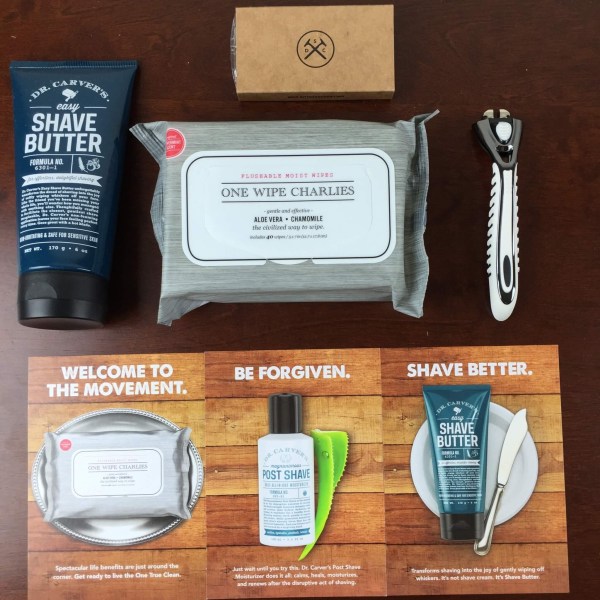 Along with a 4X razor, we got some One Wipe Charlies and some Shave Butter to check out.
4X Razor ($6 per month) 90-degree pivot head, open back for easy rinsing, good for both genders.
Him: The handle on the men's razor had a curved end for pinky control; it's comfortable to hold, but this isn't as huge a deal for a man's razor, as we are less likely to use it in the shower.  The blades were truly sharp.   This razor cut well from start to finish and didn't even tug on my tough side-chin whiskers. Often, multi-blade razors use too-thin of blades, relying on strength in numbers.  The result is a razor that nicks and tugs (meaning, respectively, that it's bent or dull).
Her: I love love love the ultra grippy handle on this razor. It's super comfortable in my hands. The lubricating strip works well, but the blades are really sharp. I recommend using it on your legs before your armpits for a few shaves.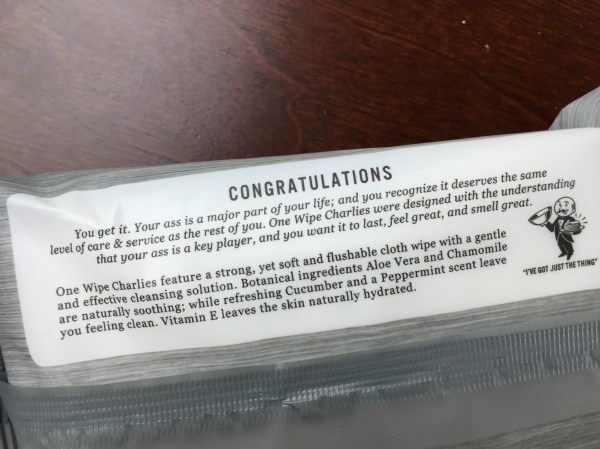 The One Wipe Charlies are a flushable cloth wipe with aloe vera, vitamin E, chamomile, cucumber, and peppermint. You can add them on to your box for $4 for a 40 pack or $7.50 for 40 individually wrapped wipes.
Him:  The name is a bit misleading, as rarely is one-wipe with anything sufficient.  These worked as well as any wet wipes I've tried.  Give it a couple minutes for the tingle to commence.  That might be refreshing when used on man-parts but it wasn't my preference for the job. If you want to go for the tingle, try them out.
Her: These were… bracing. I didn't really expect the peppermint kick at the end. I think they're definitely for men.
Dr. Carver's Easy Shave Butter ($8 full size). In addition to the shave butter, you can pick up Post Shave, Repair Serum, or travel size Shave Butter
Him: Really liked this product.  It's scent is a bit of both the menthol and the lanolin ends of the shave lotion spectrum and is pleasant.  It spreads easily (non-foaming), and, most important, I had absolutely no razor burn or irritation after using it — even on my neck shaving a couple days' growth.
Her:  I love this as a shave cream. The razor's strip works fine but this really made my legs soft.
Every Dollar Shave Club package includes the monthly Bathroom Minutes
Him:  You always need something to read in the bathroom, but you don't want t so long that your legs fall asleep.  This was just right.
Her: this is funny. My husband would like this.
We definitely think that it's worth it to start with the 4X. We're going to try the executive razor soon to see if there are any performance differences.
Visit Dollar Shave Club to subscribe or find out more. You can see all our Dollar Shave Club Reviews or check out more men's shaving subscriptions or women's shaving subscriptions in the directory.
The Subscription
:
Dollar Shave Club
The Description
: Pick out a handle and get your razor cartridges each month for one tiny fee. Add on extras like shave butter and flushable moist wipes
The Price
: $3-9 per month, depending on selection