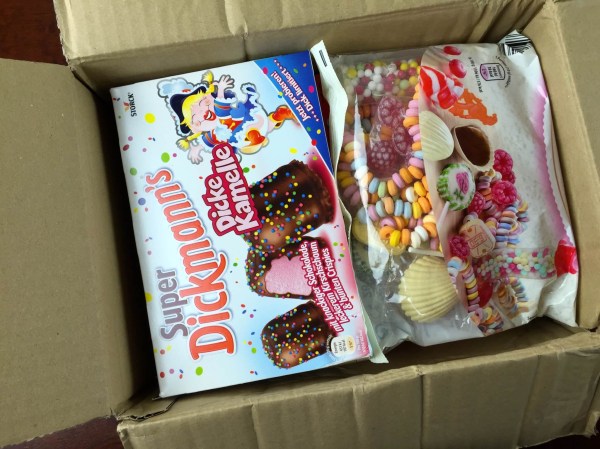 Candy German is a totally unique subscription box. Each monthly delivery contains 6-8 German candies, shipped straight from Germany to your door! Every box is curated around a theme and the February theme for Candy German was "Candy German Says Alaaf!" Everyone shouts Kölle Alaaf during Carnival in Cologne. The greeting for Carnival is region dependent!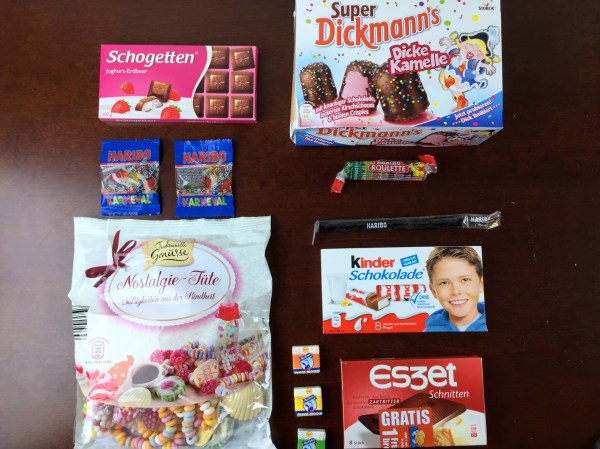 There is no information card but you can read the delightful informational materials on the Candy German website. My kids were delighted to find that during Carnival, German kids are allowed to eat candy until they get sick.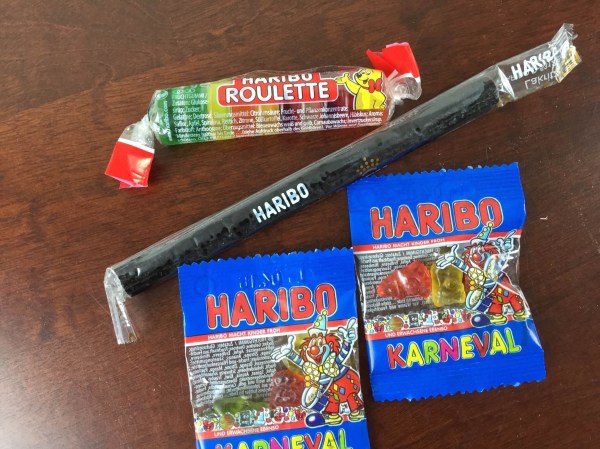 Haribo Roulette, Karneval gummis, and Bonner Gold – I say this every time, Haribo is German, not Japanese (and someone invariably comments that they thought it was Japanese!). Yes it's a German manufacturer and we love them! The Bonner Gold is licorice and the rest are standard gummis in fun shapes.
Ahoj Brause-Brocken – These are tangy fun fruit flavored candies (you can tell by the carbonation on the label that they "sparkle"!).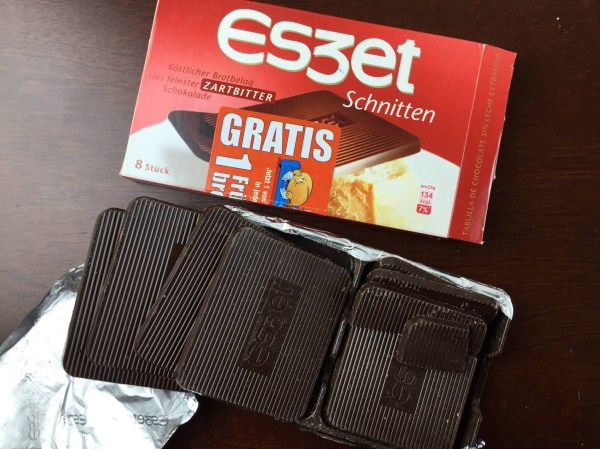 Eszet Schnitten – This is breakfast chocolate, like for a croissant, but it was so delicious it never made it downstairs to try it that way. Please send more!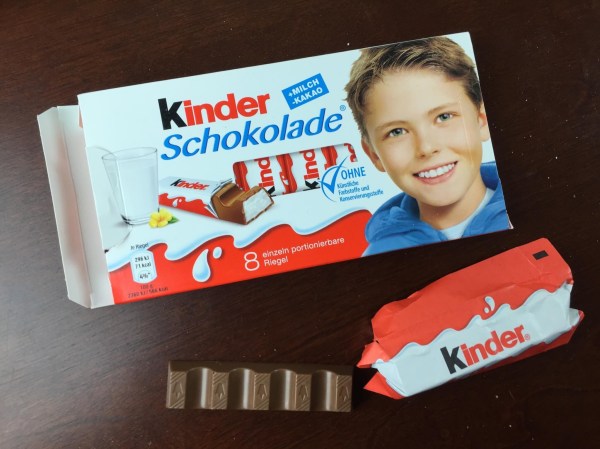 Kinder Schokolade – This is the most popular German candy, which I've eaten before, and it's so yummy. I love the filling. I'm not a milk chocolate fan but I love this one!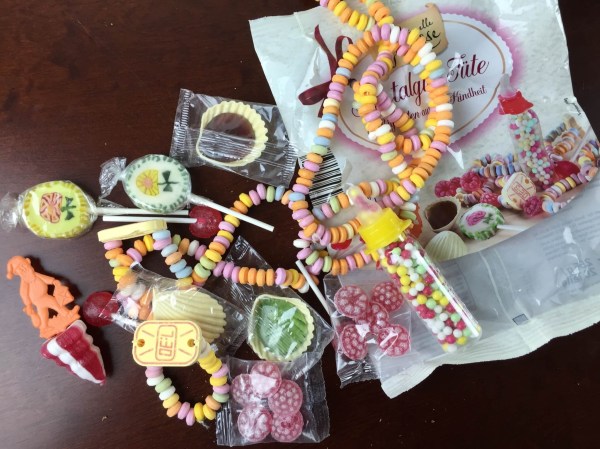 Nostalgie-Tüte Süßigkeiten aus der Kindheit – This is basically throwback candy for Germans, and my kids went wild. This is definitely a childhood candy treat when you're just into pure sugar. This was fun and I noticed some beautiful items like the hand-rolled lollipops and the seashell candies.
Schogetten Joghurt-Erdbeer – So, I had set this delicious strawberry yogurt filled milk chocolate aside (one of the reasons I love German candy so much is that their milk chocolate is really crafted to very high standards)… And I came home the other night and it was all gone. Those stinky stinkers stole my candy and told dad they could have it. I had a few glorious pieces.
Super Dickmann's Dicke Kamelle – Ok, I'm going to put this out there that this has the best candy name we've ever seen. That frau is awfully excited! Candy German says that Dick means thick in German, and that doesn't make this name much "better." Ahem. I believe they deliberately play this up on their site
Since 1985, Super Dickmann's has been big among chocolate foam kisses.

Under the motto "Man, they are Dickmann", Super Dickmann's from Storck quickly became Germany's most popular chocolate foam kiss. This hasn't changed: Today, they are still super big and super yummy, with a crunchy chocolate coating and a super foamy filling – and the unmistakable "D" on the crispy waffle. In other words: "No other is so Dickmann!"

1990 Mini Dickmann's stormed onto the market. Together with their big brother, these little foam kisses provide for joyful candy fun in Germany and its neighbouring European countries. In 2009, the Minis were relabelled and are now offered as Dickmann's Schoko Strolche – the maximum pleasure for big and small.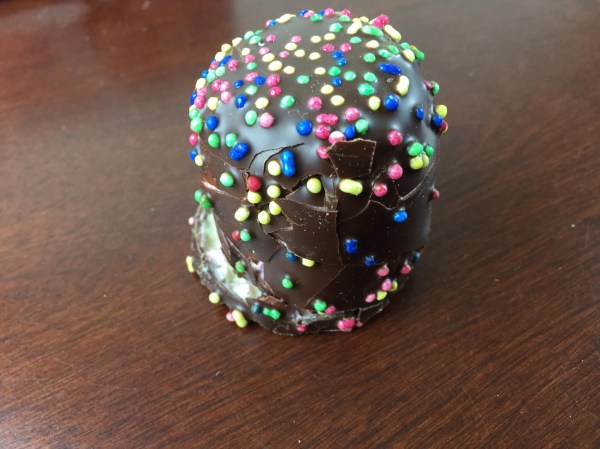 This is a special edition of this very popular candy, just for Carneval. It is difficult for even Germans to get their hands on. Usually they are plain white foam with no sprinkles. This is a delicious cherry foam! This was an amazing inclusion in this box and it was great for the whole family.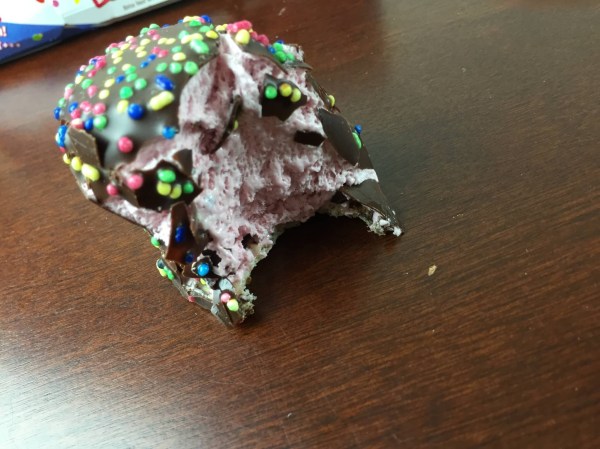 I loved the February Candy German box!! I thought it was amazing and really highly recommend it if you love Germany, candy, or both! It was very well curated around a theme, which is somewhat difficult to do with candy, but not German candy, because there's so much of it! And it's all good!
Visit Candy German to find out more about this box or to subscribe. You can also see all our Candy German Reviews, more candy subscription boxes in the directory or find more internationally themed food boxes.
The Subscription
:
Candy German
The Description
: Every month you will receive a box with round about 6 to 8 carefully selected German candies. Boxes include anything from chocolate, wine gums, drops and cookies to gingerbread, licorice, marzipan and much more surprises (up to 1 kg).
The Price
: 29 Euros per month