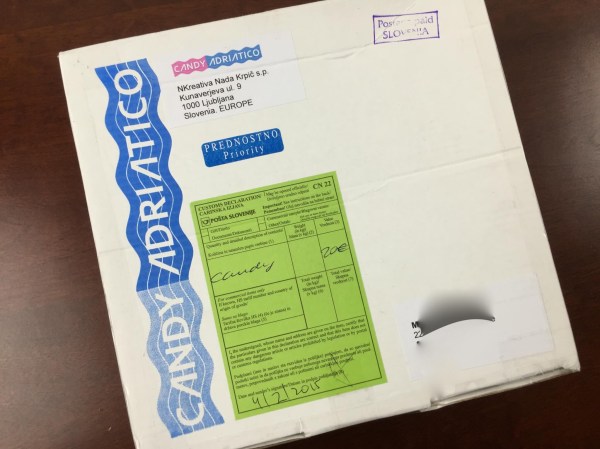 Candy Adriatico is a new subscription box sending handpicked treats from the Adriatic nations: Italy, Slovenia, and Croatia! You can pick any combination of countries but I don't see why you'd want to leave any out! I love subscription boxes like this that include treats I wouldn't find anywhere else!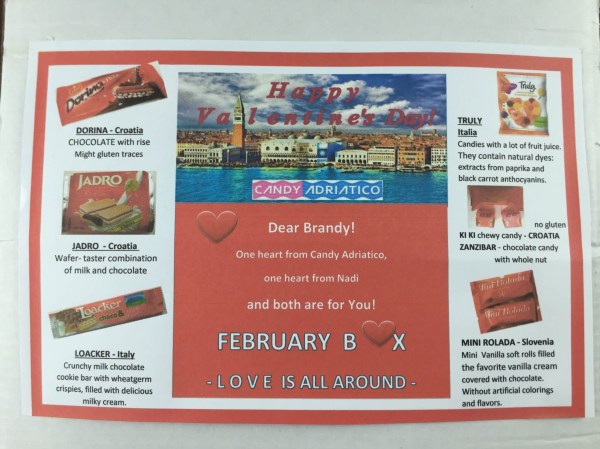 The February box arrived in March – in perfect condition. You can see by the customs slip above they were shipped in time for Valentine's day, but somewhere between here and Ljubljana, they got held up. I honestly think they got stuck in some Croatian postal office in a corner and someone finally noticed them!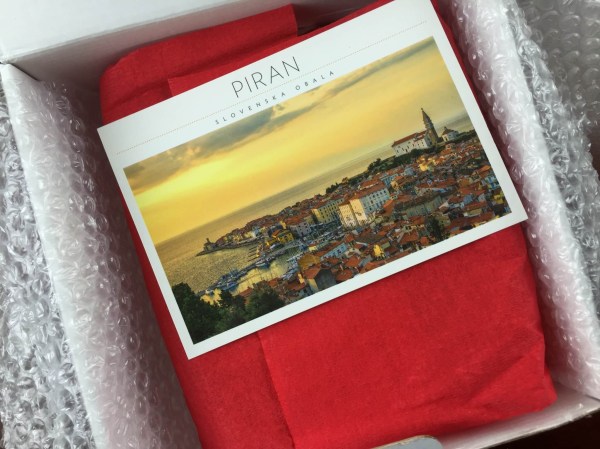 I love this postcard – looks like a great vacation destination. Piran is a waterside town in Slovenia on the Adriatic Sea. Read more about it here.
YUM!
I was happy to see so much chocolate for Valentine's Day!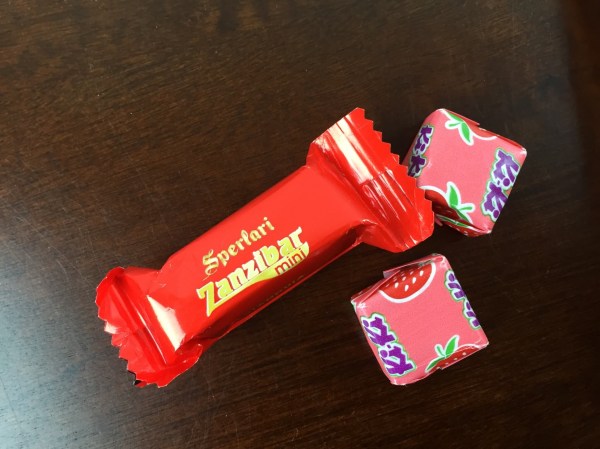 KiKi Chewy Candy (Croatia)  These are super popular in Croatia and they are called fruit caramels or toffees but they are like Starburst!
Sperfari Zanzibar Gianduia Candy – Gianduia is the generic word for what we call Nutella – but as much as I like Nutella, authentic gianduia is so good. This had whole hazelnuts inside. SO good. Also, I ate all the chocolate in this box (without sharing). Everything was fresh and delicious.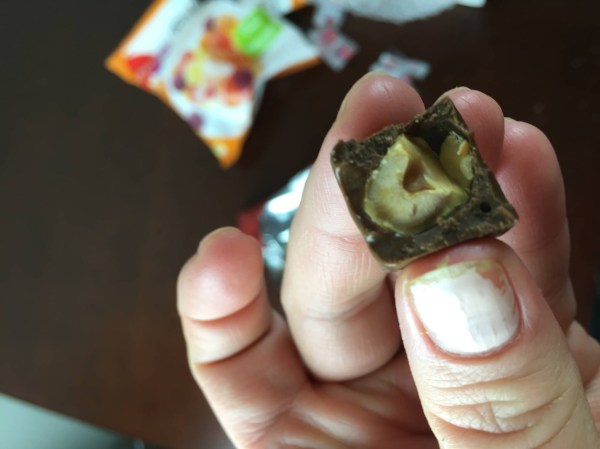 Sperfari Truly (Italia) These are sort of gummy candies with real fruit juice and they were absolutely delicious. So high quality. I loved them (and especially that they were individually wrapped).
Loacker Choco & Milk Cereals Bar (Italia) We don't have anything like this here at all! Milk chocolate wafer bar with wheatgerm crispies. I let my husband try it and we agreed that we loved the wheatgerm flavor with the creamy filling.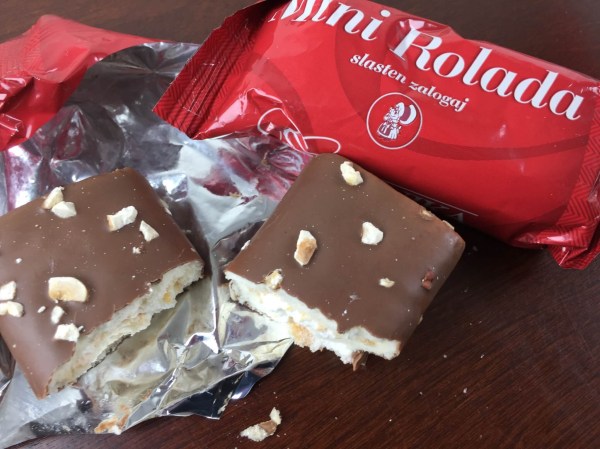 Mini Rolada – Slasten Zalogaj (Slovenia) These are sponge rolls with creamy vanilla filling covered in chocolate and if you've had the Little Debbie kind those are like plastic food compared to these!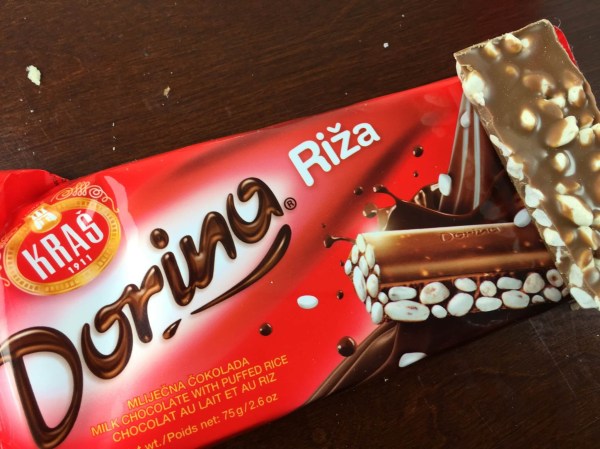 Kras Dorina Riza (Croatia) Not like rice crispies, Japanese candies also often include puffed rice like this. I love it – It really sets off the flavor of the high quality chocolate. I don't like many American milk chocolates but tend to love all of the European ones I've tried – they really are that much better.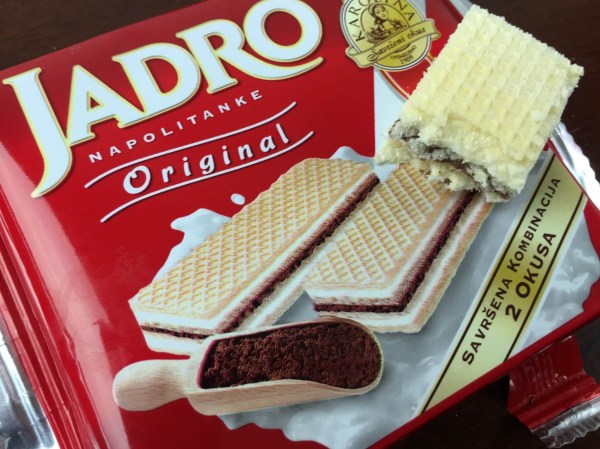 Jadro Napolitanke Original (Croatia) This was a nice substantial pack of Napoleon wafers – and the chocolate inside was high quality cocoa based and delicious.
I loved this box – everything was totally top notch and I think everyone should try it! The prices are in Euros but they are currently roughly equivalent to the dollar (waaah). I think it would be fantastic to pick up a 3 month subscription to get a better sense of the regional differences between the candies of the 3 Adriatic nations (especially considering how high quality the sweets in this box were!).
Visit Candy Adriatico to subscribe or find out more. See all our Candy Adriatico reviews or more candy subscription boxes in the directory.
The Subscription
:
Candy Adriatico
The Description
: Monthly subscription of high quality candy picked by hand from Italy, Slovenia and Croatia in one box or you can mix your Candy Adriatico box (select by countries). Each box is a surprise, about a pound + Original postcard!
The Price
: $24.50 per month