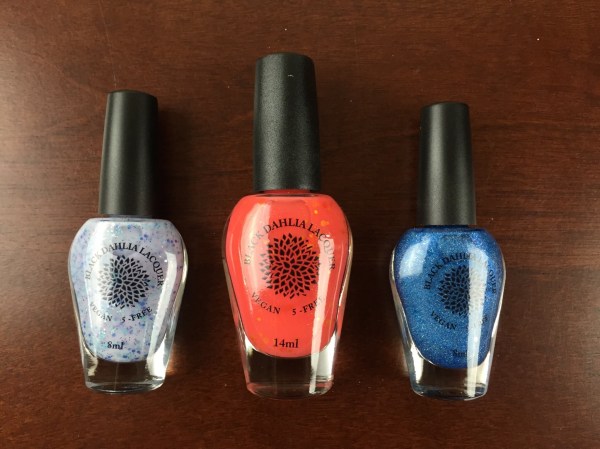 Black Dahlia Lacquer is an indie nail polish brand with hand-crafted, vegan, and 5-free nail polish! Each vegan polish is composed of materials that are sourced only from cruelty-free businesses and are free of camphor, toluene, formaldehyde, phthalate (DBP) and formaldehyde resin. The polishes are mixed and poured by hand.  They make gorgeous glitters, holos, and flakies (indie polishes are best for these!) and I was excited to try out this subscription!
The monthly bags include two 8 ml polishes and one 14 ml polish that are exclusives or previews from upcoming collections. They do not include already-released polishes!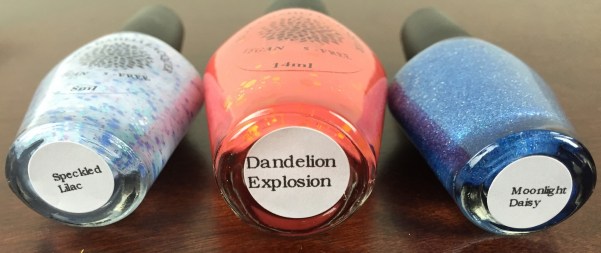 For March we have 3 polishes from the upcoming Spring collection.
Speckled Lilac – speckled lavender crelly (cream jelly) with light blue, periwinkle, and mint glitter
Dandelion Explosion – bright coral orange with orange and dandelion yellow glitter with hot pink hex accents
Moonlight Daisy – bright royal blue with silver and aqua micro glitter, blue & red glass flecks with scattered holo finish
The brush is flat and there are 2 mixing balls in each size.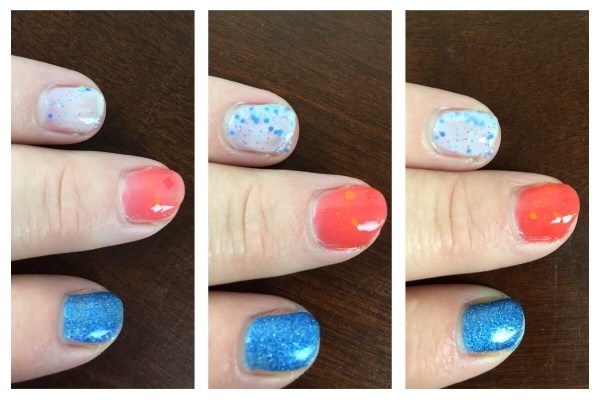 From left to right – 1, 2, and 3 coats. 3 coats was too many for the Moonlight Daisy (bottom). It has a great sparkly but not shiny finish. I felt between 2 and 3 was spot on for the other two.  Beautiful translucent finishes for spring and these colors are gorgeous. The Dandelion Explosion is really a coral red/pink to me, not an orange, and super wearable.  Speckled Lilac is perfect for springtime and calls to mind a speckled egg – when I take off my swatches I think I'm picking that one for my next mani!
Visit Black Dahlia Lacquer to subscribe or find out more! You can see all the nail polish subscriptions in the directory, too.
The Subscription
:
Black Dahlia Lacquer
The Description
: Get 2 minis and a large polish from this 5-free, cruelty free and vegan nail polish company! All of the polishes included are exclusives or previews of upcoming collections.
The Price
: $20 per month