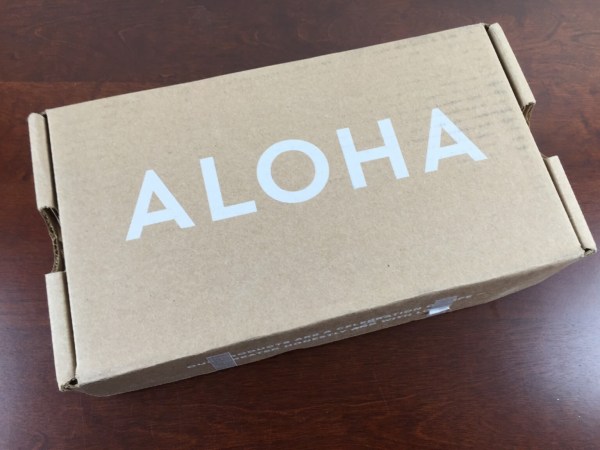 ALOHA is a relatively new nutritional enhancement company offering subscriptions on their unique supplements that help you maintain a healthy lifestyle. ALOHA products are vegan and free of gluten, wheat soy, dairy, soy, nuts and peanuts, GMOs and the Top 8 Allergens. ALOHA doesn't include dyes, sweeteners, natural and artificial flavors, artificial colors, maltodextrin or fillers of any kind. I think the easiest thing to say is that if Honest Company made food, this would probably be it.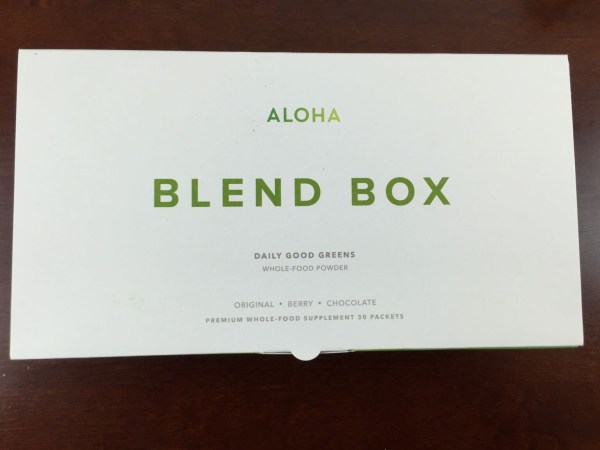 ALOHA
's Product Philosophy
We believe that the best nutrients come from whole foods, but even the most health conscious among us aren't able to get everything our body needs from food alone. ALOHA provides the nutritional support you need to help maintain your already healthy lifestyle — plus a little extra all-natural oomph just for good measure.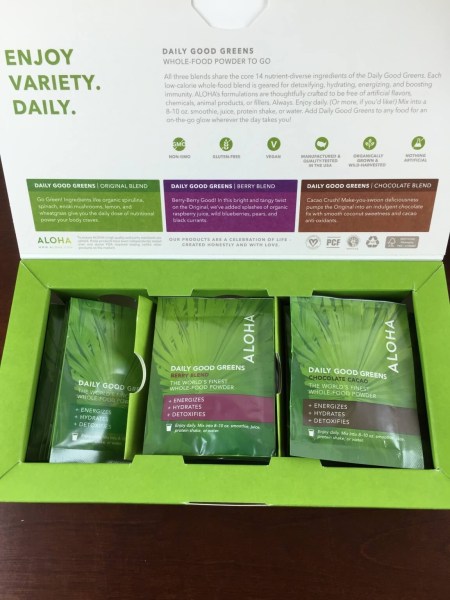 ALOHA currently manufactures:
"The Foundation" – A 5-capsule vegan daily vitamin & mineral supplement including omegas & antioxidants
"Daily Good Greens"- Powdered high quality whole food ingredients and fiber equalling 2 servings of veggies and fruits to mix into your diet. Original, berry, and chocolate flavors!
"Superfood Chocolate" – stone-ground Peruvian fair-trade organic cacao with nutritious superfood greens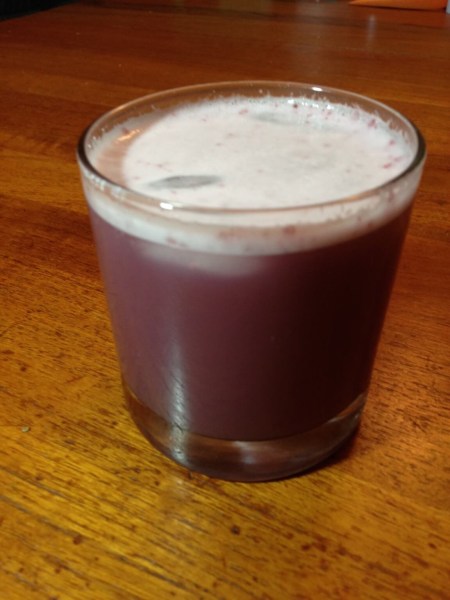 In your free trial you will get 2 packets of the Original ALOHA Good Greens, 2 Berry Blend, and 2 of the Chocolate blend. Yum! Shipping on the free trial is $4.79. Your free trial will automatically enroll you in a subscription, which you can cancel online. I loved how I didn't need a juicer (or a ton of calories) get get whole food supplementation. Good Greens still has all the fiber but no grit. I thought I was going to have to gag this stuff down but was pleasantly surprised that it was drinkable (it's still "healthy" tasting, I wouldn't drink it for FUN) – and the flavor almost totally disappears in smoothies and other foods. It takes virtually no time to add the nutrients in one of these packs to your food or some water, which is a huge plus for me.
You can take the ALOHA packets anywhere so instead of living a high sugar juicing lifestyle that keeps you chained to a blender, you can get all the antioxidants and fiber from whole fruits and vegetables mixed into things you already eat (oh so good in oatmeal!). This is definitely worth a try, especially because you can get the benefits from vegetables that you wouldn't normally think about eating (for me that's wheatgrass, spirulina, and all the mushrooms!).
If you've already tried it out I would love to know how you've incorporated Good Greens into your lifestyle. What's your favorite way to use it?
Visit ALOHA to find out more or to get a free trial of Daily Good Greens.  See all our Aloha Reviews! You can see more free subscription box deals here.
The Subscription
: 
ALOHA
The Description
: Offers a range of super-food based supplements: daily nutrient pack, superfood powder and superfood chocolate bar. No specific diet to follow, can be used to enhance a whole-food based diet that focuses on avoiding artificial sweeteners.
The Price
: varies with selections
The Coupon
: Free trial available –
sign up for it here
. Or get the
free trial of superfood chocolate
.