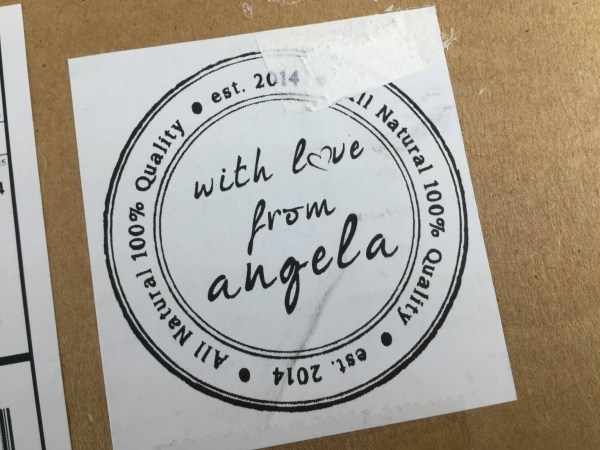 With Love From Angela is a new natural beauty subscription box featuring bath and skincare items! Items are sourced from trusted brands plus With Love From Angela's own brand.
Cute packaging
The information sheet has all the information on each item plus the benefits for your skin.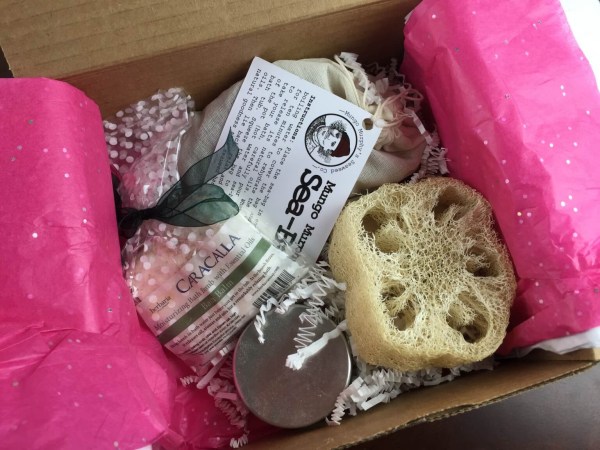 This was an impressive looking box!
Herbaria Caracalla Bath Bomb – The scent of this is "Bath Balm" and it fizzes to release natural scents like pine and eucalyptus. I like that it includes oils to soften your skin.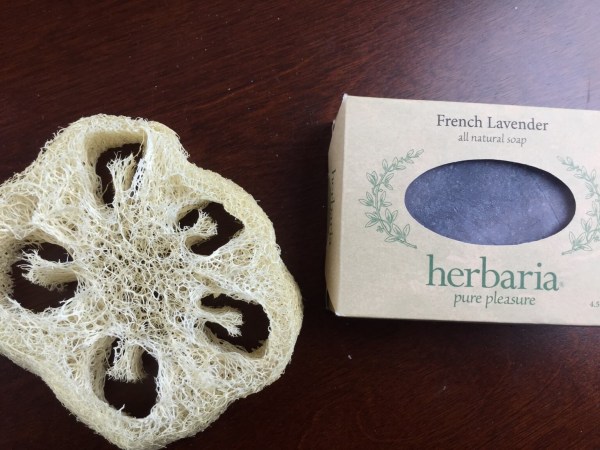 Natural Loofah Sponge – It's great to have a natural exfoliator and perfect to have a new one. You should probably replace it monthly!
Herbaria French Lavender Bar Soap – I was really impressed by both the rich scent and the color on this bar. It's heavily lavender (natural) and naturally colored too!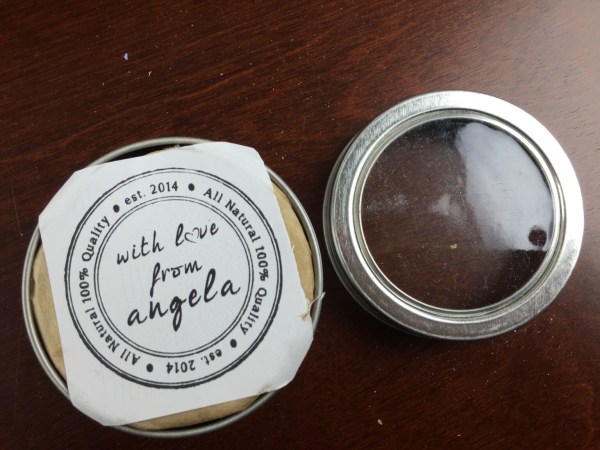 With Love From Angela Lotion Bar – I usually don't look at an information card before I unpack things (it's more fun that way) but I had to refer to it for this one. It's a lotion bar and the tin is so smart.
Only pure beeswax, coconut oil, and cocoa butter. Perfectly natural and portable!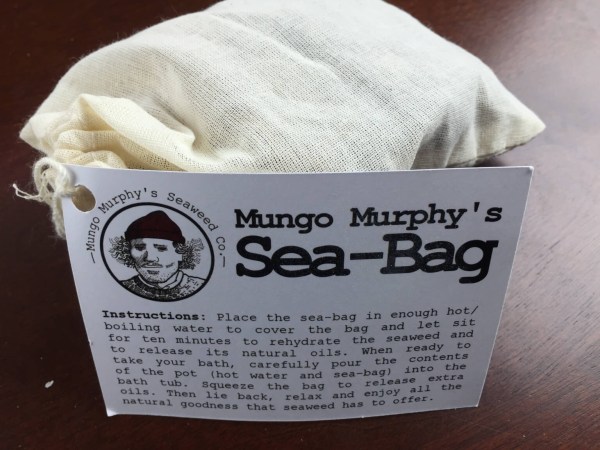 Mungo Murphy's Sea Bag – I tried to get this open but the knot was too tricky for me. This is a bag of seaweed and you place it in your bath for 10 minutes to release the natural oils in the seaweed. This is a totally unique product, I've never seen it before!
With small-produced natural & artisan products it's a bit tough to do a cost breakdown but I thought the value was pretty good for high-quality natural bath items! This box would be perfect for anyone seeking a natural & relaxing bath experience.
Visit With Love From Angela to subscribe or find out more! Use coupon code NEWCUSTY1 to get a bonus item in your first box. You can also see more natural & vegan beauty subscription boxes in the directory!
The Subscription
:
With Love From Angela
The Description
: With Love From Angela delivers all natural top quality skin and bath products to your door each month. If we don't love them first we don't ship them out to you!
The Price
: $24.99 per month
The Coupon
: Use coupon code 
NEWCUSTY1 
to get a bonus item in your first box!