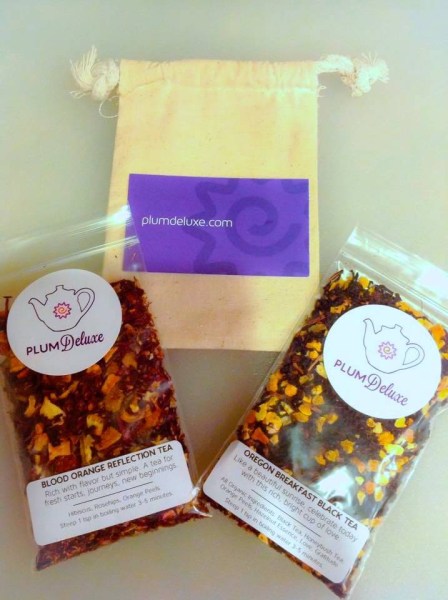 Plum Deluxe offers all-organic, hand-blended loose leaf teas that are blended in small batches. Plum Deluxe's Magical Tea of the Month Club is a fantastic way for tea lovers to discover fresh, seasonal teas that are delivered to you every month. Their limited-edition teas are vegan, gluten-free, non-GMO and their ingredients are from USDA Organic & Fair-Trade Vendors.
You will receive 1-2 oz. of tea, recipes and tips along with a letter from their tea maker all direct from Portland, Oregon.
They offer 2 plans: One Tea per Month (1 oz of tea) $10/month and 2 Teas per Months (2 oz of tea) – $18/month. Plans are billed quarterly and you'll also receive access to their private tea lover's community along with your subscription.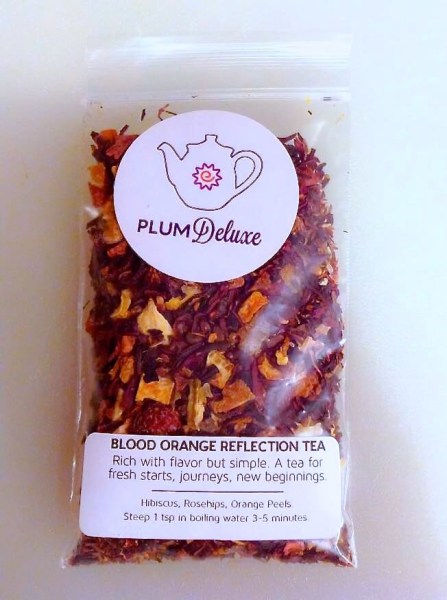 I received 2 teas in my package which were Oregon Breakfast Black Tea and Blood Orange Reflection Tea. I immediately noticed how beautiful the tea looked and smelled in their clear bags. I also liked how they described the tea in such a short, yet vivid description on the front of each bag.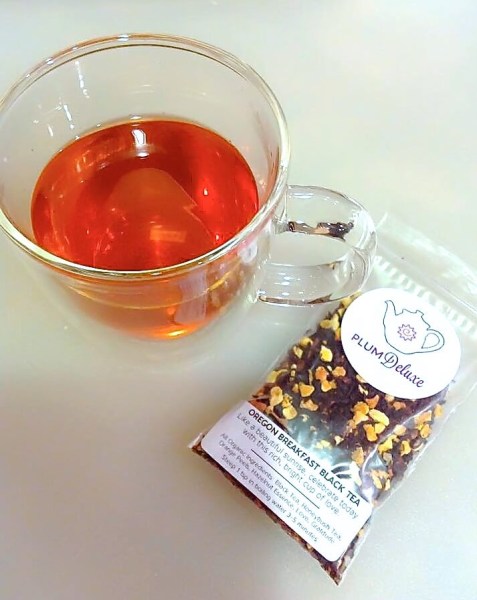 The first tea I tried was the Oregon Breakfast Black Tea. It is made of all organic ingredients: Black Tea, Honeybush Tea, Orange Peels, Hazelnut Essence, Love and Gratitude. This tea is absolutely delicious! It tastes so comforting and it has the most amazing hazelnut aftertaste. The hazelnut provides such an elevated dimension to this tea. I can't wait to try this tea again tomorrow morning with a scone or some toast and jelly.
 The Blood Orange Reflection Tea is a crisp and bright tea that also seems very comforting to me. I am drinking it as I write this and I can distinguish each ingredient. Although, there are only 3 ingredients in this tea, there are many elements to it. The orange peel is very prominent and shines providing a delightful aftertaste. This tea is definitely making me "reflect" on my day and putting a smile on my face.
Overall, Plum Deluxe has definitely made an impression on me with their tea. I love that they put so much care and love into their tea – you can definitely taste it! I highly recommend their Tea of the Month Club if you are looking for the best tea out there that is made with such passion!
Visit Plum Deluxe to subscribe or find out more! You can also see more tea subscriptions in the directory.
The Subscription
:
Plum Deluxe
The Description
: Always have a fresh, thoughtfully chosen, seasonal tea on hand. Each month you'll receive your tea along with brewing instructions and tips for peak enjoyment.
The Price
: $10 per month