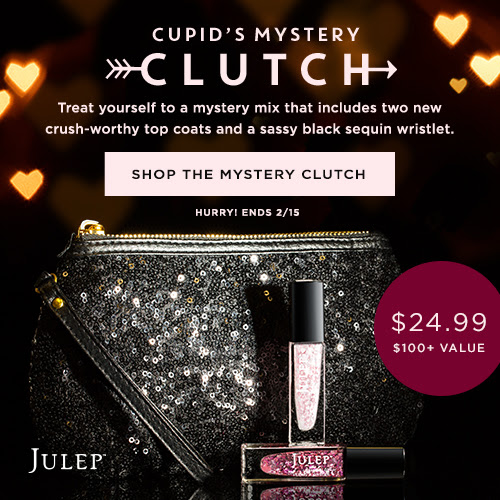 New Mystery Box from Julep!  Each Cupid's Mystery Clutch will include 2 top coats and a sassy black sequined wristlet – and the rest will be a surprise! The total value of the box is $100 and is available for  $24.99. Use coupon code GETCOLOR to get a free full-priecd Julep polish with any order of $15 or more, including this one! Or use CONGRATS after adding the Congrats Wedding Duo – you'll get it free!
Cupid's Mystery Clutch includes the snowy heart glitter top coat Yuki (Classic with a Twist), and pink chevron glitter top coat va-va-Valentina (Bombshell). I'm pretty in <3 with everything hearts so I think I will pick this one up!
Offer expires on 2/15/2015 at 11:59pm PT, or while supplies last. Every Cupid's Mystery Clutch will include the featured clutch and Julep Color Treat in Yuki and Valentina. Other products vary. Purchase of multiple Mystery Boxes may result in polish or product overlap. Offer may not be combined with any other promotional offer or discount (e.g Maven 20% discount). No exchanges or returns are possible on Mystery Box, individual items, or add-ons. Estimated full retail value is at least $100 for all Cupid's Mystery Clutch. Taxes vary by location.