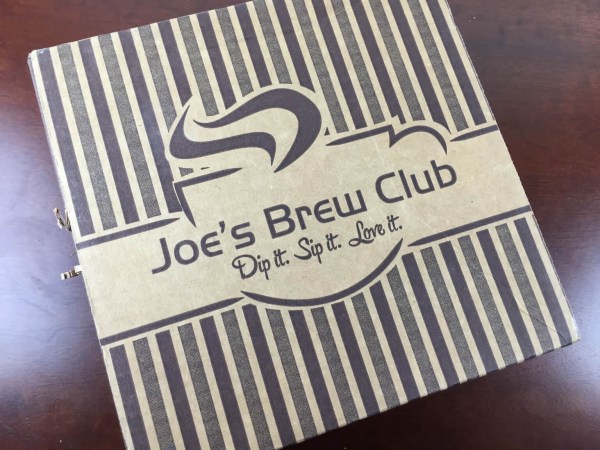 Joes' Brew Club is a new subscription box that scratches all your caffeine itches – coffee, chocolate, and the snacks to go along with. We were actually surprised when we opened the box to find chocolate inside – it had been previously been advertised as coffee and biscotti. We thought the chocolate was a great addition.
Red Rock Roasters Costa Rican coffee.  This blend is a great everyday coffee.  It's very drinkable, with a classic profile.  No out-of-place flavor notes to distract the purist, yet bright, flavorful, and well-rounded.  I highly recommend the coffee, but wish the in-box packaging for this particular offering had a little more background on the beans (you can read-up on RRR's site.)
To complement the gourmet bean selection, you also receive a sampling of biscotti, the quintessential coffee accompaniment, some chocolate espresso beans, and fine chocolate.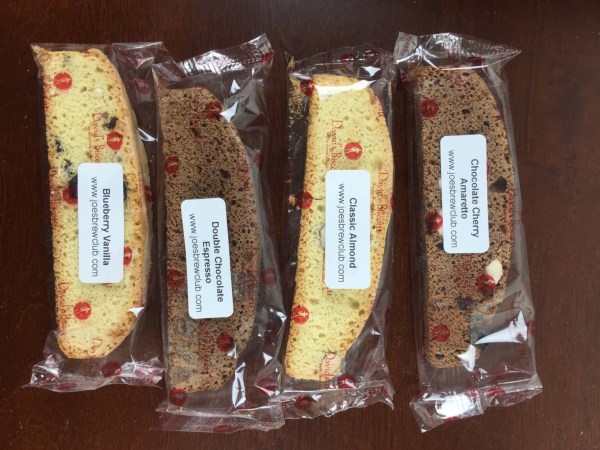 Biscotti: Blueberry Vanilla, Double Chocolate Espresso, Classic Almond, and Chocolate Cherry Amaretto
The biscotti was assorted, and I liked that they included both traditional favors (like almond and [cherry] amaretto), as well as some  new twists (blueberry vanilla and chocolate espresso).  Light and crunchy, these biscotti are more suited to eating with the coffee than they are for prolonged soaking or repeatedly dipping in it.   The light texture does have the advantage of not Cap'n Crunching your gums like the more moisture resistant varieties.  
The Chocolate Cartel Dark Chocolate Espresso Beans – The chocolate espresso beans were a little different than expected.  Rather than being coated in a chocolate glaze, they were covered in cocoa powder.  The result was a bean much less sweet than it's coated brethren. Still pleasantly crunchy and not unduly bitter, they were nonetheless quite bold.
The Chocolate Cartel 73% Dark Chocolate Bar – This was a giant 2.7 ounce chocolate bar.  The chocolate must have been good, as my wife and daughter ate it before I could try it.
Visit Joes' Brew Club to subscribe or find out more. You can also see all the coffee subscriptions in the subscription box directory.
The Subscription
:
Joes' Brew Club
The Description
: Joe's Brew Club is a monthly coffee, chocolate and biscotti subscription service. Each delivery will contain one 12oz bag of coffee, 4 biscotti dippers, and a selection of chocolates.
The Price
: $35 per month
The Coupon
: You can save 20% off your first box with coupon code MOMMYSPLURGE.