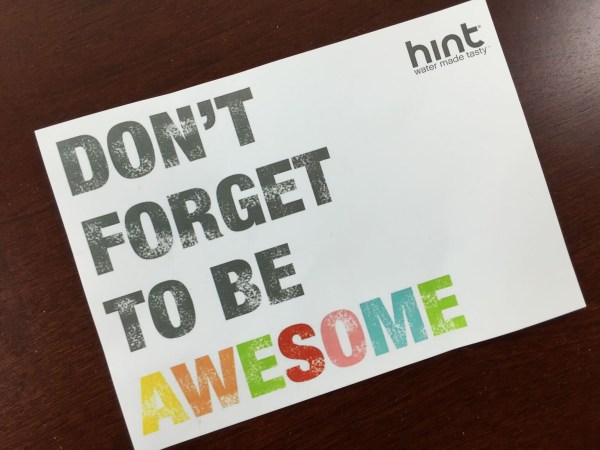 Hint Water is a sugar-free, artificial sweetener-free naturally flavored water. (That means it's just water and flavor people!). It's a somewhat trendy sort of thing so I thought I'd check it out. Hint Water is based out of the SF Bay area and is available in Google offices, so it has somewhat of a following and has grown from there. Hint is available direct from the company, or on Amazon, but you can save half off your first subscription order with coupon code clubhint.
Ingress codes are available underneath the caps and you can find out more about that here.
hint and ingress both want to make it fun and easy to live a healthier lifestyle. we at hint love playing ingress because we like to learn, travel, exercise, hike, walk, and be outdoors!
It's some sort of massive real life RPG.
I ordered 3 cases: a variety case, a grapefruit sparkling case, and honeydew hint.
What I love
I love the grapefruit fizz and the honeydew – the flavors are totally natural and I dig the fizz!
nothing artificial
encourages you to drink more water. My consumption has definitely increased!
FIZZ! Hint just introduced a cherry fizz that I really want to try.
probably not really more expensive than buying fruit to cut up and infuse your water with.
Here's what I don't like:
some of the flavors, like the blackberry, seem tap water tasting to me (hint is purified water so it's basically my taste buds creating a flavor because of the absence of sweet)
i actually would like the flat water to be sweetened with stevia.
if you want to change the flavors of your subscription you need to cancel and resubscribe.
shipping and paying for bottled water
cost, it's pricey!
I would love to see them distribute flavorings to put in my own water, I'd be all over that. You can get water enhancers at the grocery store or on Amazon.
Visit Hint Water to find out more or to subscribe. Or, you can check out the Hint Store at Amazon. You can see more beverage subscriptions in the subscription box directory.
The Subscription
:
Hint Water
The Description
: Get sweetener free flavored water delivered directly to your door! Flat or Fizz. Subscriptions are a 10% savings. Also
available on Amazon!
The Price
: $16 for 12 bottles