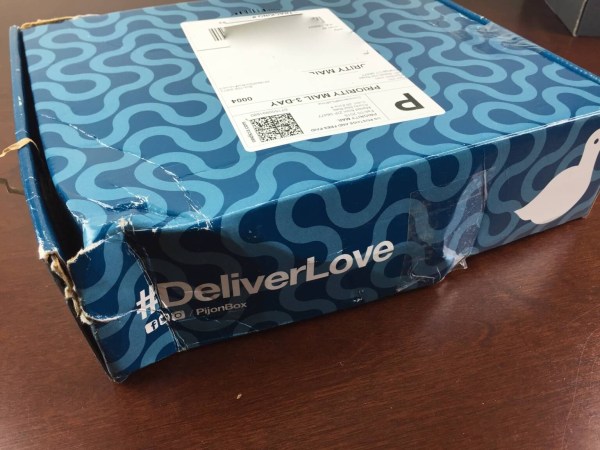 PijonBox is a subscription box for college students and is available for both men and women (it's also great for older teens – especially boys where there aren't a lot of boxes tailored for them – if you're looking for subscription boxes for teen boys, visit here!).
This is one of the worst-mangled boxes (thanks to USPS, not Pijon) I've ever received! Fortunately everything was intact!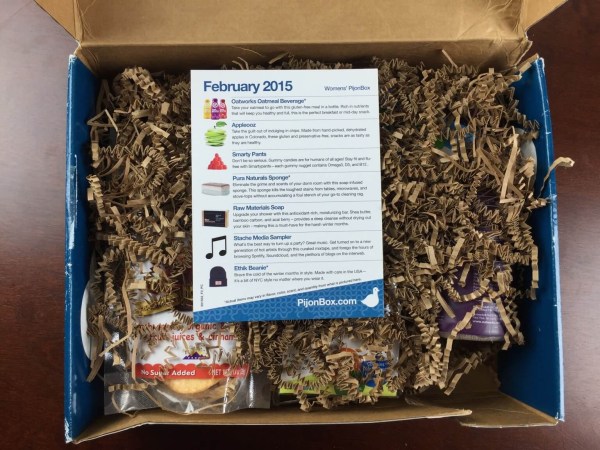 I was impressed that it still looked great when I opened it.
The February PijonBox theme was…. nothing! No more themes! (note that PijonBox doesn't deliver during January because of winter break). No pricing info, which I would have found helpful. However, I did find the info at Pijonbox.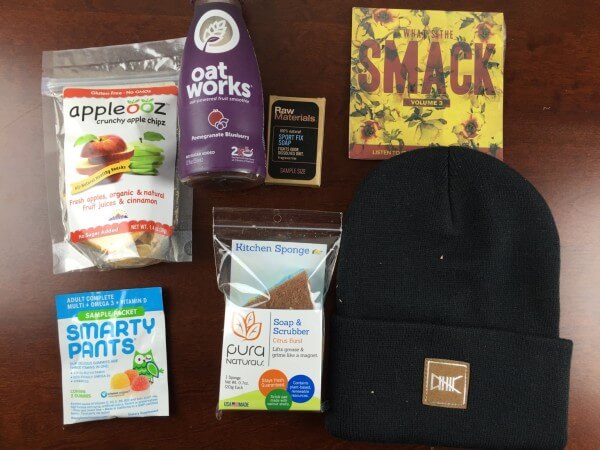 February Box Items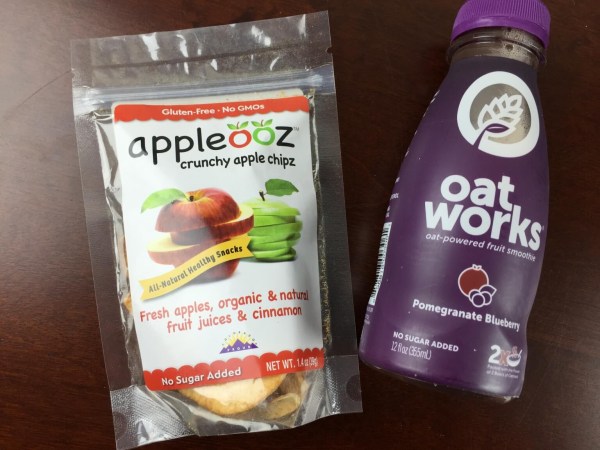 Appleooz Crunchy Apple Chips ($4)+ Oatworks Oatmeal Beverage in Pomegranate Blueberry ($3.29) These are good healthy items for college kids – you can get more in the PijonBox store.
I found this to be a very masculine set of items.
Ethik Beanie ($20)
Raw Materials Soap ($2)
Stache Media Sampler ($10) [lets get real, they'll just listen to spotify for free]
 Smarty Pants Gummies ($1) Ummmm I ate them! I think they're great!
Pura Naturals Pura kitchen sponge with soap and scrubber ($2.99) This was SO unusual I had to pull it out. I am definitely using this. This is a great item because so many college students live in apartments or even have sinks/bathrooms in their rooms. Clean is good.
The value of the February PijonBox is about $33 (I didn't include the value of the music sampler). While this was a good value, I didn't think it was a feminine box at all, but really quite unisex. I would have liked a beanie in a cute color, so I gave this to my husband. However, it got lots of hearts on the PijonBox site, and I will note that while I work with college students, I am not actually one, so what do I know?! 🙂 When you use the promo code media-deal you will receive $10 off your order!
Visit PijonBox to subscribe or find out more about this subscription box. You can also check out all my Pijon Box Reviews! Don't forget to take a look at other Subscription Boxes for College Students.
The Subscription
:
PijonBox
The Description
: College care subscription tailored to needs of recipient plus a delightful surprise every time. Crates are stuffed with fun and useful items, like food and snacks, cleaning supplies, grooming and personal hygiene, and more!
The Price
: $29 per month