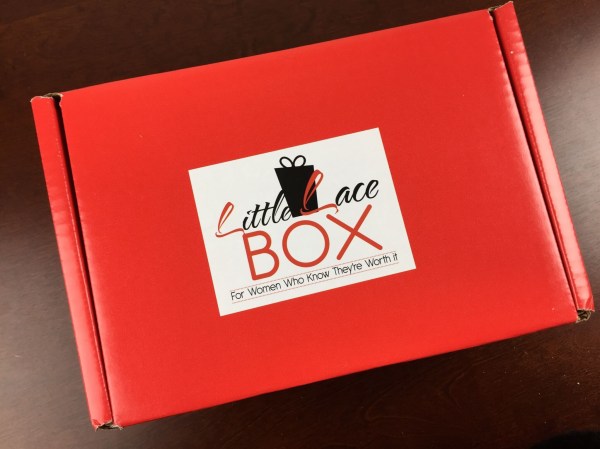 Little Lace Box was hit with some issues for the February 2015 box – including the terrible weather and the West Coast dock strike. But they still curated a fantastic box! Please note – new subscriptions will not open for the month of March while website upgrades are completed and everyone catches up from that nasty weather!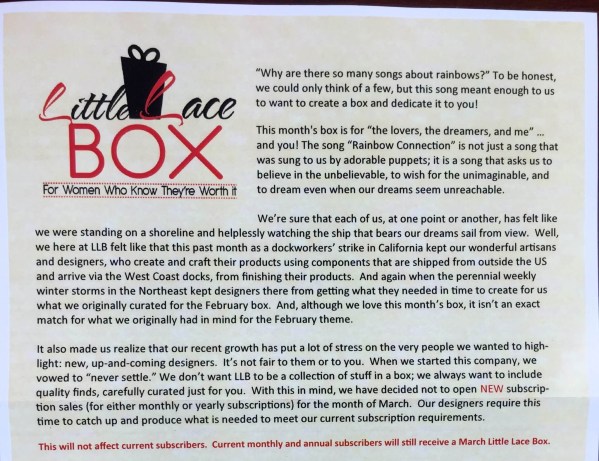 The February Little Lace Box Theme was "Rainbow Connection."
Note that there were two variations! Some subscribers received the "Kitsch Dream Bracelet" and others received the Beekman 1802 Iridescent Shimmer Bling Bath. I'll post photos when I get them – feel free to send me yours!
Dancin' Goat Skin Care Hula Bliss Lotion ($4.50) Bonus item! Goat's milk and coconut lotion with lavender, rosemary, and eucalyptus. I would have liked a tropical scent for hula bliss, but it's a great lotion and uses active enzymes, probiotics, and lactic acid to soften and rehydrate skin.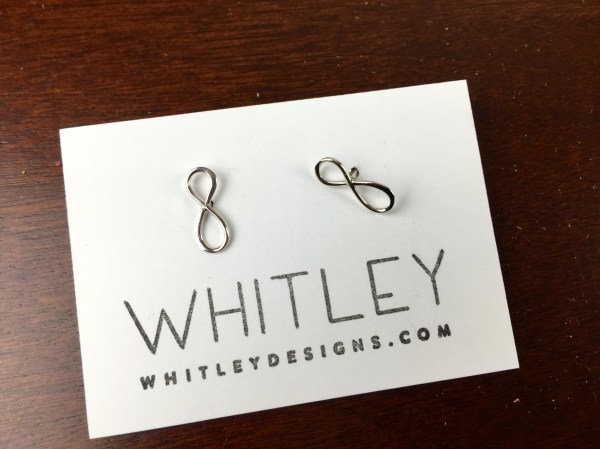 Whitley Earrings ($54.99) I adore these. A.d.o.r.e. I think they are beautiful and perfect. These are my new everydays. Subscribers received variations.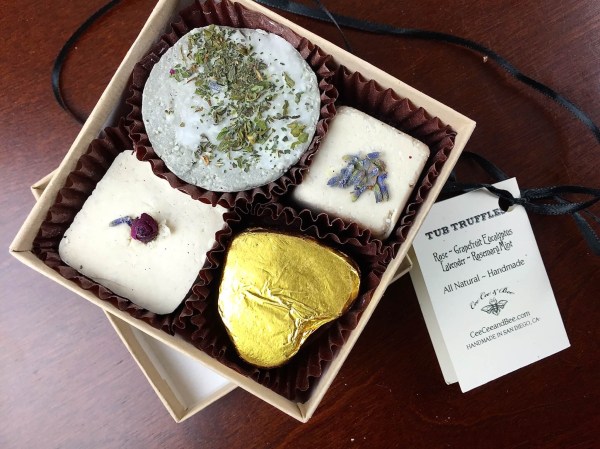 CeeCee & Bee Tub Truffles ($21.99) When I first saw these, I thought the tub referred to the shape. I was totally confused because I was thinking grapefruit eucalyptus sure would be a tasty and interesting truffle. It's a bath item, Brandy.  They are crazy fragrant and I can't wait to use one because it will totally help relax and soothe my cold-ravaged brain!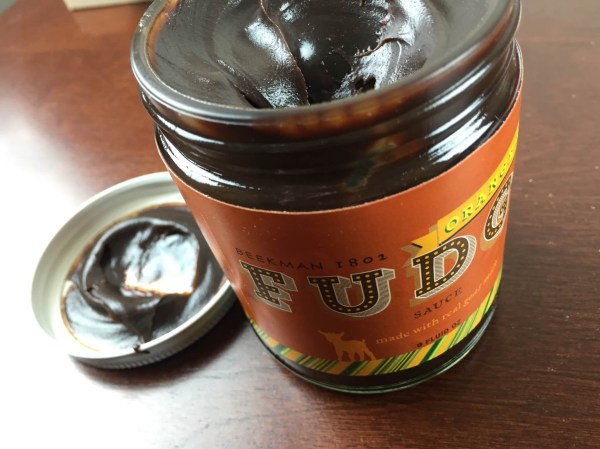 Beekman 1802 Orange Zest Goat Milk Hot Fudge ($12) This is delicious! Do not stick your fingers in it and handle your cards. Because I did and lost a card (sob).  It doesn't taste weird (it's GOOD) even though it's made with goat's milk (which I think really only sounds weird and is not actually weird).
P. Press Papers Pink Arrow Stationery ($12.99) These are so pretty and great for February and year round. It was included to inspire the lover in your to share your heartfelt thoughts with the one you love.
The February Little Lace Box had a total retail value of around $106.47. The box is $39.99 per month and you can save $10 on your first box with code LLB10 – when the site goes back up. Be sure to subscribe to my email newsletter – I'll post when it happens!
The Theme For the March Little Lace Box: Here Comes the Sun
Visit Little Lace Box to find out more or to subscribe! You can also check out all my Little Lace Box Reviews or these subscriber reviews of Little Lace Box.
The Subscription
:
Little Lace Box
The Description
: Get hand-curated, nearly impossible-to-find designer products directly to your doorstep every month. Your monthly box will be brimming with high-end, brand name beauty, lifestyle, and home product samples to treat yourself to and dazzle your friends during your next night out.
The Price
: $39.99 per month
The Coupon
: Save $10 on your first box! Use coupon code
LLB10
!
How Little Lace Box Works & the Point System
Little Lace Box
 is like Popsugar Must Have Box in that you'll be getting a mix of items from all different categories – it's a lifestyle subscription box for women. And it's like Birchbox because they have POINTS! You will receive 200 points for opening up an account, one LLB point for each dollar spent in the boutique, and you also receive 50 LLB points for reviewing your product after you receive it. For every 50 points you accumulate, you get one LLB reward dollar to spend in the shop. So if you open up an account and get a one year subscription ($383.90) you'll have earned 584 points. PLUS you get another 50 for every item you review, plus your review of the box. You will even get a reminder email 5 days after the box ships reminding you to review.