February's French Box was pretty much a fail.  While French Box is supposed to bring the latest beauty secrets, lifestyle items, and recipes from France every month, this month did not.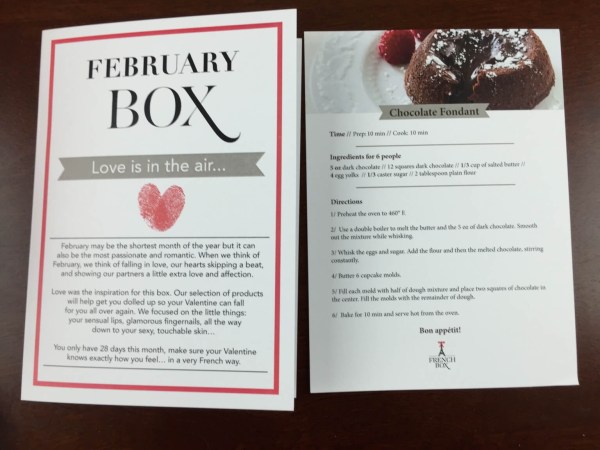 Information card and recipe.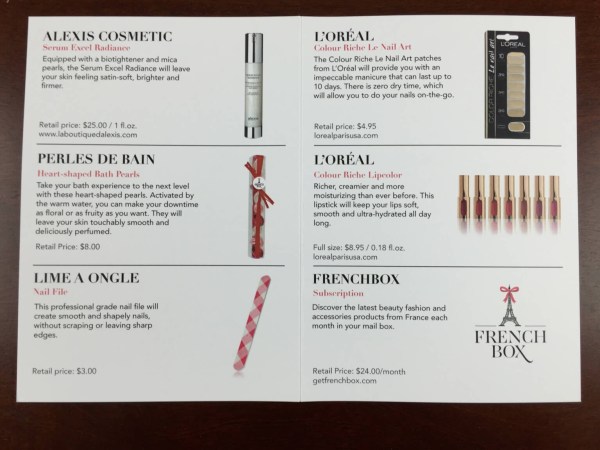 The L'oreal nailpolish in last month's box was fine, but 2 more products?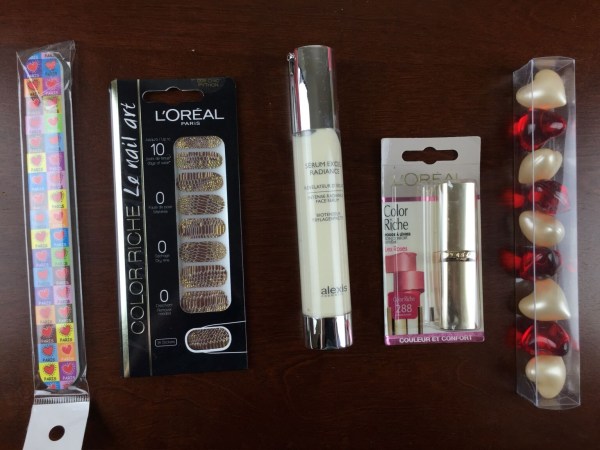 I'm not going to do a total box breakdown here. It was apparent when I unpacked the box that the lipstick was old stock from the packaging, and indeed, French box sent out a warning about that and the serum as they are expired products. (To be clear, the 2 year expiration is actually after opening, but who wants old products especially when they are supposed to be new trendy French products?).  I am wary about the bath beads (no ingredients and I believe it's a dollar store made in China product, not an $8 one) .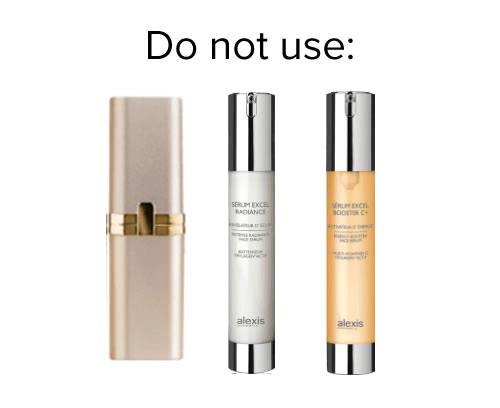 I'm unsure where or how French Box is sourcing its stock, but it needs to improve immediately. I would love for them to adopt a different model – French handmade goods, something, anything, besides sourcing and sending old expired (and not very French!) stock. This company has good ideas, but has been uneven on the execution. In the end I have one product – a nail file – that I'm willing to use. I am hoping that refunds or replacements are arriving soon.
Update: See the email sent by FrenchBox to subscribers on 2/23 below
Visit French Box to subscribe or find out more! See all my French Box reviews. You can also see all the lifestyle & combo subscriptions in the monthly box directory or more boxes with geographic/regional appeal.
The Subscription
:
French Box
The Description
: French box is a little bit of France monthly. Receive personalized chic products, accessories and delicacies from France every month
The Price
: $24 per month
The Coupon
: Save $10 on your first box! Use coupon code
G7POXFK8Y9
Dear subscribers,

FrenchBox was created to bring you a piece of France in your mailbox each month at an affordable price; a themed box with quality and varied French products that makes you excited the day it is delivered and happy as you open and discover the products we selected for you.

For the last 6 months, we felt proud of each box that we sent to you.
Meeting expectations for a $24 box with imported products has been a great challenge for us, one that we were conscious of when we started, on the premise that this was a novel concept and a good match in the subscription box business, allowing us to acquire great products for our subscribers to discover and enjoy.

This premise has proven difficult to sustain and the product selection of our last box has disappointed a lot of you. We sincerely apologize that we did not meet the expectation level we had accustomed you to.

But more importantly, we sent you two products that we did not verify and that should have never been sent had we been more vigilant.
We have let you down. We broke the trust you had in us. We feel absolutely terrible that we only realized this after we shipped you the products.

This apology letter is not meant to provide a quick-fix to our mistakes or to ask for forgiveness. It is merely to share our view of the situation with you. We know we won't be forgiven by a lot of you, especially first-time subscribers. Trust takes time and we shattered the trust that we had built over the last 6 months.

Our ultimate hope is that we can regain your trust through actions and quality boxes, not through apologies of asking for forgiveness.

Going forward, our first decision is to hold off to the next box (March) until we can ship it with the certainty that it will match the level of quality that you have seen from us in the last 6 months. No current subscribers will be charged on February 25th, the usual date for our monthly subscription fee.

Our next step will be to provide a solution to our February subscribers. We are working as fast as we can to come up with a solution for you and we will be emailing it and posting it on our Facebook page. We will also be publishing the ingredients list for the bath pearls that were included in the box.

Finally, we are hard at work thinking and implementing the changes that we need to better serve you and get back to our mission statement. To name a few from the feedback we have received: more complete products descriptions, ingredients lists for all products, publishing more detailed 'teasers' for our upcoming boxes.

Until then, we will continue to try to reply to your emails with the information we have and in the shortest delays possible given the recent volume.

Thank you