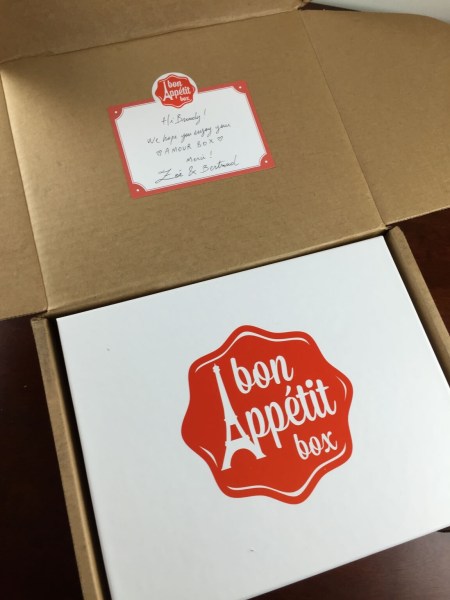 Bon Appétit Box now has the Limited Edition Amour Box available! This box contains 8 full-size items made by French artisans to add a romantic touch to your special dinner night. Along with these French gourmet specialties come cultural and dining cards including a French recipe & playlist, to spend the perfect night in the country of love: France. You can start a subscription with the Amour box and save 10% with coupon code LOVE10.
This was so festive and fun. This box has the best presentation I've seen yet. It's very chic and sweet.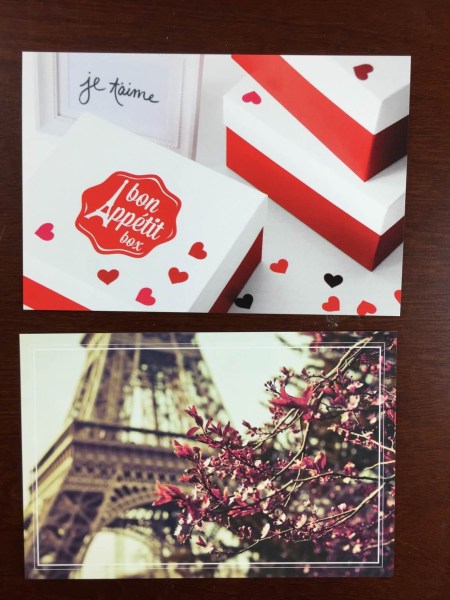 Information card and postcard.

Each Bon Appétit Box is curated by avid gourmands Zoé & Bertrand and offers only the finest French artisan goodies. Aren't they adorable?
Within every Bon Appétit Box, you will find 7-8 scrumptious gourmet items perfect for sharing, or exploring different combinations and tastes.  I loved this map showing the origin of every item.
Recipe & Information Cards. On the back of the recipe there's a playlist of French tunes that follow the theme. The recipe included was Dîner Romantique à la Française, which uses the tapenade and lavender oil to create a mediterranean chicken en papillote. 
Love this box and that gingham print on the inside of it is so adorable.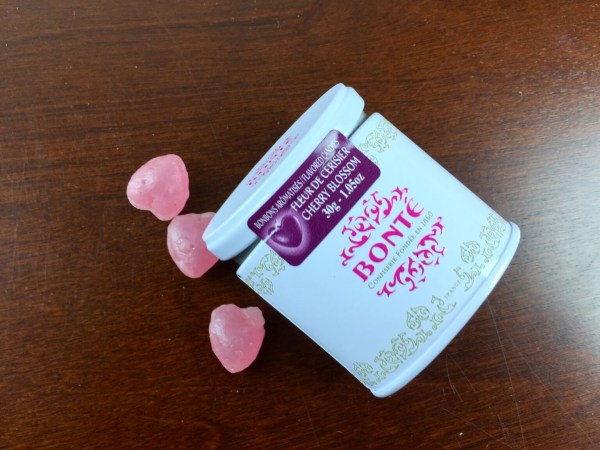 Bonté Cherry Blossom Candy – This was an unusual candy. Love the little heart shape, and I'm keeping that tin! Perfect for the Amour box. I've found that the French really rely on natural and traditional flavorings for their candies.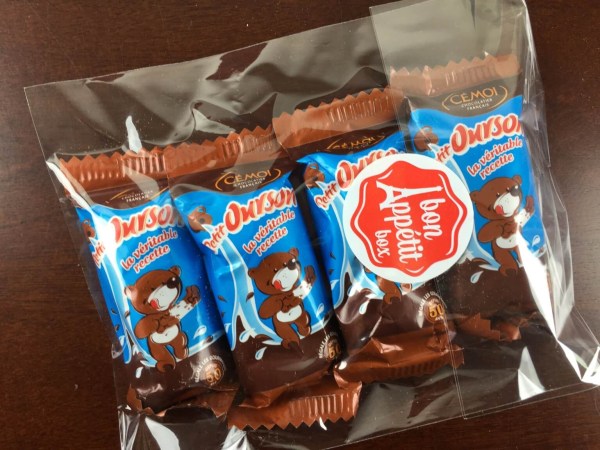 Petit Ourson (Little Bear) Milk Chocolate Covered Marshmallows in bear shapes. This is a charming little fluffy candy!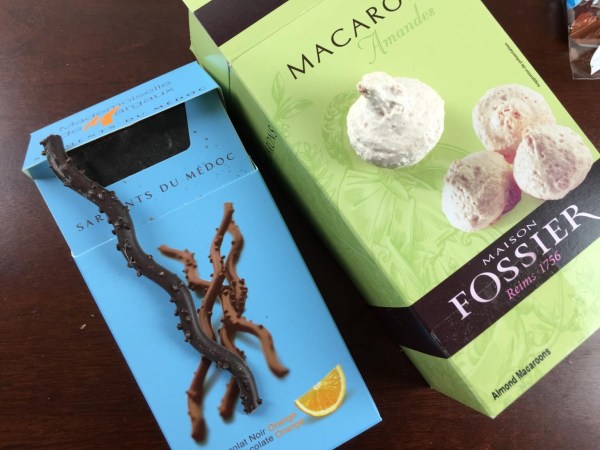 Mademoiselle de Margaux Sarments du Médoc – These dark chocolate and orange twigs were absolutely delightful. Apparently they came about from a manufacturing error but it looked like grapevines, so they went with it. I love the texture of these. This company uses local inspirations for its flavorings.
Maison Fossier Macarons a l'Amande – Fantastic meringue texture on these traditional almond macarons. I believe that this bakery makes the macarons the traditional way (instead of the trendy round version) because they've been around since 1756.
La Brague Tapenade aux Olives Noires – This black olive tapenade has admonished me to "Keep at the cool after opening." Made with black olives, evoo, and salt, capers and anchovies give an extra dimension to it.
L'Epicurien Sweet Onions Confit – The onions are cooked down in white wine for a delicious caramelized flavor. I noted that many of the items have special labels for US export, so we can read them. Great with any soft or semi-soft cheese and some bread. Maybe even a touch of jam!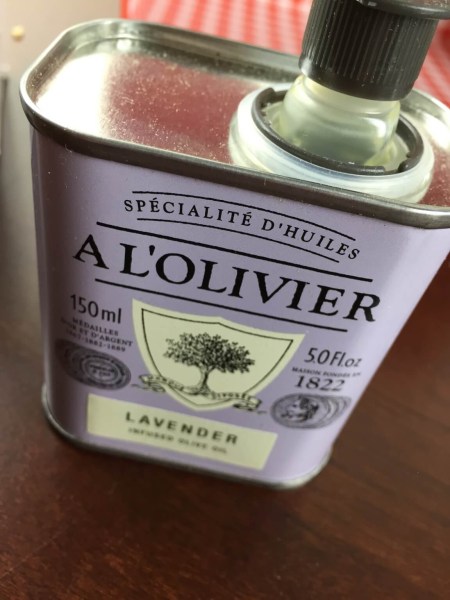 A L'Olivier Lavender Infused Extra Virgin Olive Oil – This was so intriguing, and you can tell I had to pop open the top to taste it. It wasn't overpowering but really more of a delicate infusion to help bring out the flavor of veggies or chocolate desserts (as suggested on the card). I must try it that way.
Truffettes de France Cocoa Truffles – Fortunately I have another box of these (that I bought) and I was not forced to open every item in the Amour Box. These are yummy too and I think they're perfect to set out for a tiny bite of sweet after a good meal.
The Amour box from Bon Appétit Box was just delightful, and perfect for a fun date night or splurge. Most of the items go a really long way so I think you could enjoy it for quite some time! And reading the cards on this box is so much fun (that's saying something, I rarely actually read the cards!). Start a subscription with the Amour box and save 10% with coupon code LOVE10.
Visit Bon Appétit Box to subscribe (or purchase a single box) or to find out more! You can also see all my Bon Appetit Box Reviews or find more international food subscriptions on the world traveler food subscription box page!
The Subscription
:
Bon Appétit Box
The Description
: A taste of France in a box delivered right to your doorstep! Experience the flavors and traditions of France in a unique and fun way, without the need of your passport. Start your journey to France thanks to our incredible gourmet selections, dining tips and cultural anecdotes.
The Price
: $75 per box
The Coupon
: use coupon code
MSPLURGE10
to save 10% on all subscriptions!