Sudsy Box provides three beautiful bars of all natural shea butter and olive oil soaps plus a fun gift, every other month. It smells absolutely wonderful when you open it. The packaging has changed just a teeny bit but the soaps as always are artisan and hand crafted.
Everyone does deserve a little box of luxury!
Your information card provides the complete details for each item.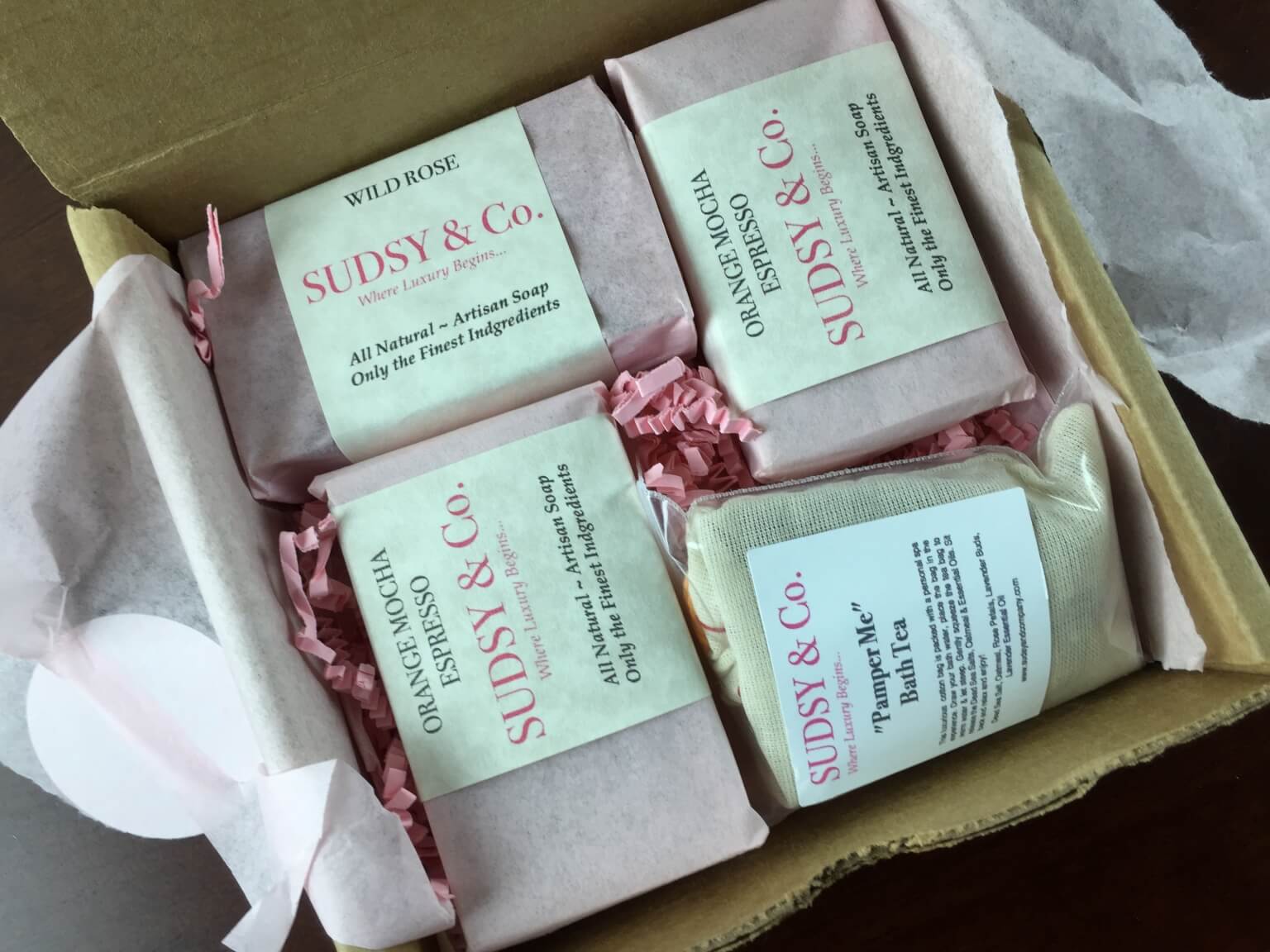 Your box will come with 3 hand wrapped soaps and a bonus! This month's bonus is Pamper Me Bath Tea ($3).
 Smelled yummy, and as you can see, made with premium ingredients.Great for a nice soak!
Woodland Mint Soap ($6) This bar uses a cocoa and chlorella swirl to provide all those good antioxidants straight to your skin! It's a lovely scent and an excellent bar.
Wild Rose Soap ($7.50) Can I tell you how high quality this soap is? I recently received a rose soap and the bar was extremely discolored. I sent it to Heidi for her opinion (she told me then that this box was going to have a rose soap!) and she confirmed that it wasn't well made. This one is – gorgeous, wonderfully scented, a great presentation. It uses rose oil and rose kaolin clay to carry the scent of the petals.
Orange Mocha Espresso Soap ($6) I make my husband guess all the soap smells when I remove the bars, because it's fun, and he nailed this one! Like from smelling the whole package he could tell the scent. Made with olive oil, cocoa butter, coconut oil, castor oil, coffee, and orange essential oil – this is a super moisturizing bar.
I thought this was an amazing box for Valentine's Day – it really used the romance and chocolate theme without being trite. I think there's also something for every member of the family, and I feel great using these soaps (and having my kids use them too).
Visit Sudsy Box to subscribe or find out more about this box. Check out all my Sudsy Box Reviews or see all the skincare, soap, and shaving subscriptions in my directory!
The Subscription
:
Sudsy Box
The Description
: Get all natural, luxurious, hand crafted soaps delivered every other month. Soaps are made with Olive Oil, Shea Butter, Coconut Oil, Cocoa Butter and Essential Oils. Box includes surprise gift that may be lip balm, lotion bars, body butter, sea salt scrubs!
The Price
: $20 every other month.