Surprising absolutely nobody, the inaugural Chococurb box is on my list of January 2015 Favorite Subscription boxes! Inside each Chococurb box, you'll find assortment of 5 to 7 chocolates or chocolate related items. These items can come from small, local chocolatiers to more established, national brands. Every box will have something new, exciting, and absolutely delicious. This box really delivered! It came inside a priority mail envelope in the above cardboard box.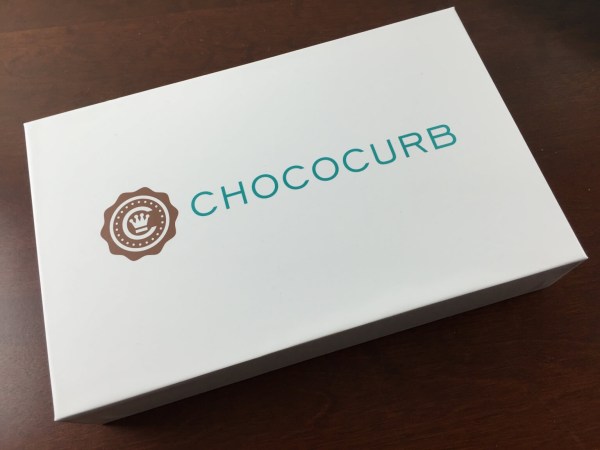 The presentation box is the same style as the new Glossybox box.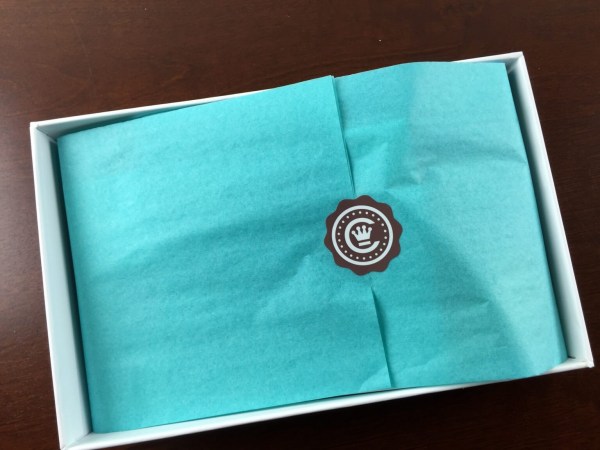 Very pretty!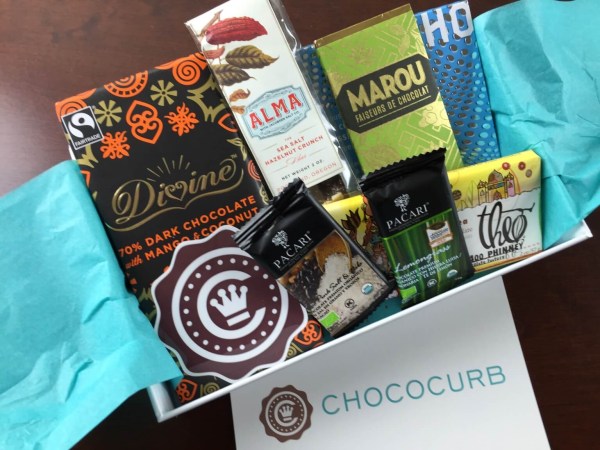 I was really surprised how many items were in this box!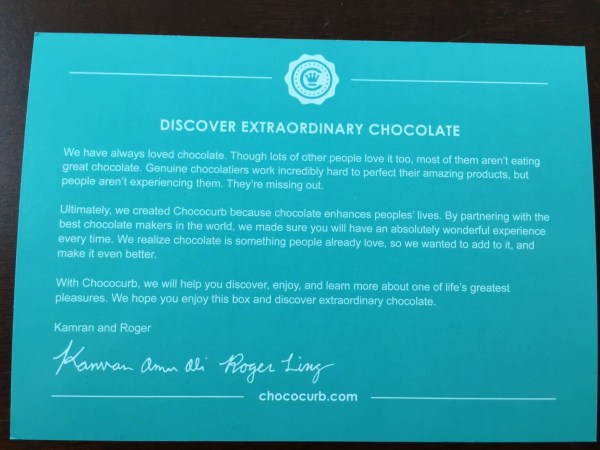 The information card didn't have any information about the products, and I'd wished there were notes about why each selection was included.
Pacari Eco Pink Salt & Nibs & Lemongrass 10g mini bars ($2.50) Pacari Chocolate is a line of premium organic chocolate, and either I haven't tasted their bars before or it's been a while. I am saving the Pink Salt & Nibs (I know it will be great) and tasted the lemongrass. A truly excellent chocolate – not surprising as it won gold in the 2012 International Chocolate Awards!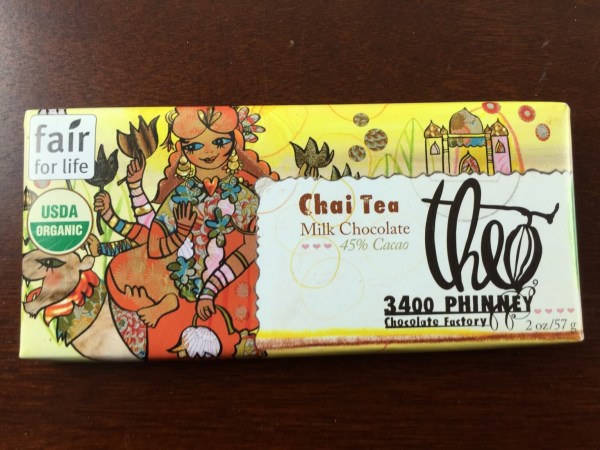 Theo Chai Tea Milk Chocolate ($3.25)  I was going to tell you I hadn't tasted this bar yet, which is crazy, so I opened it. It's not as smooth as I'd like but the flavor is fantastic. I'm not a tea drinker but I adore this mildly spicy (seasoned, not heat) flavor – it's perfect for winter. It's like drinking chai, except instead of watery tea, you're eating chocolate. Yes.
That's the MSRP, which is kind of silly, because this is a $5 or $6 bar in the store. Shipping is $7. So FYI the values are going to be all over the place on this box!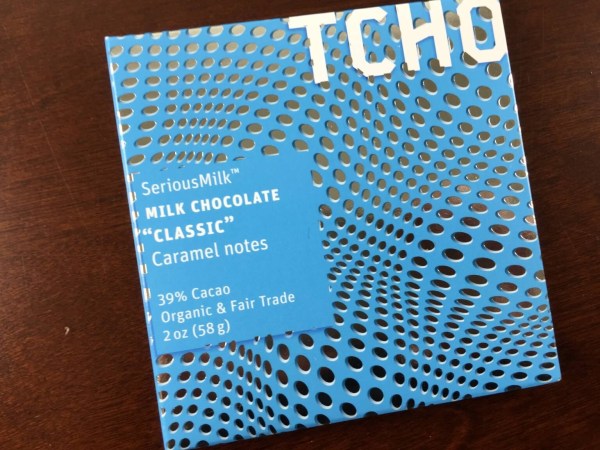 Tcho SeriousMilk Milk Chocolate "Classic" with Caramel Notes ($5.95) This tastes exactly like a caramel chocolate candy, except there's not a lick of caramel in it. The chocolate is of exceptional quality.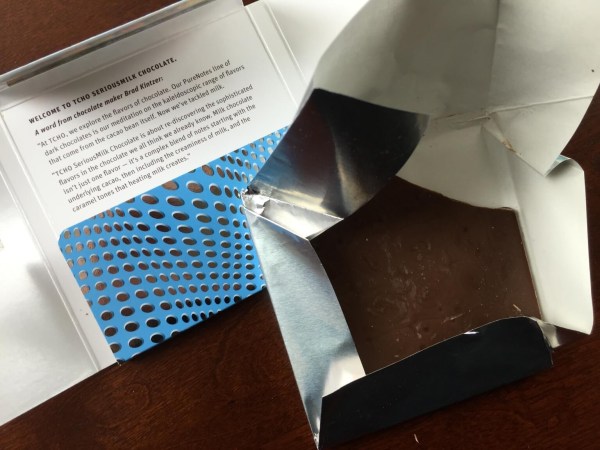 Yum!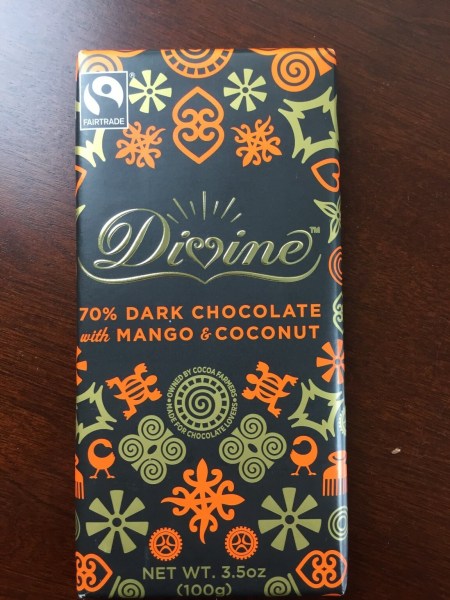 Divine 70% Dark Chocolate with Mango & Coconut ($3.99) I love the intense burst of mango, but not the texture of the coconut. It's delicious but I wish it was just mango!
Alma Sea Salt Hazelnut Crunch ($5) SO Good. SO SO SO. 70% dark chocolate from Woodblock, filled with organic hazelnut praline, topped with more hazelnuts, finished with Jacobsen Salt Co.'s Oregon sea salt. More please.
Marou Ben Tre 78% ($5) Marou is a Vietnamese craft chocolate maker and this single origin dark chocolate supposedly "features a spicy aroma with notes of nutmeg, cassia & peppercorns and a smooth, buttery texture." I actually found it intensely fruity and not spicy in that way, but I also just ate a whole bunch of chocolate on your behalf.  It's intense and delightful and I cannot wait to taste more chocolate from this new-to-me chocolatier!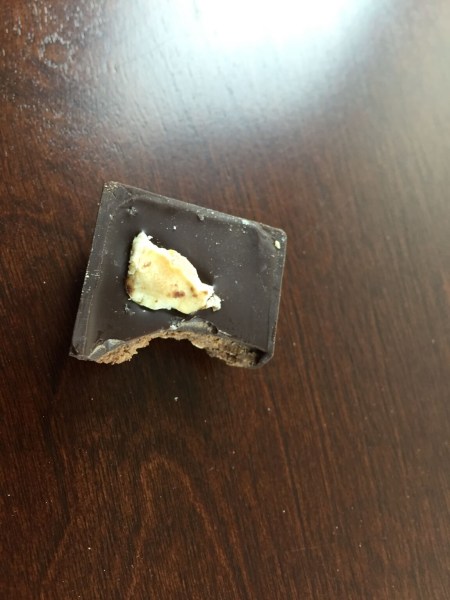 A shot of the hazelnut praline
I'm trying to cut back on my sugar and eating actual chocolate instead of baked goods is a fantastic way to go, and I have the Chococurb box right on my desk to curb those chocolate desires! I do expect the box to be a little different over the summer months (when some of the purchasing power needs to go towards getting the chocolate safely in your hands without melting) but I think it will still be great.  I'm looking forward to seeing more fantastic boxes, I think this one was a win! Chococurb also has a shop to purchase your favorites in!
Visit Chococurb to subscribe or find out more! You can also check out more sweets, treats, and candy subscriptions in the directory!
The Subscription
:
Chococurb
The Description
: Chococurb is a chocolate discovery experience that sends customers unique, personalized subscription boxes filled with five to seven products every month.
The Price
: $35 per month