This is a sponsored post written by me on behalf of Similac® StrongMoms®. All opinions are 100% mine.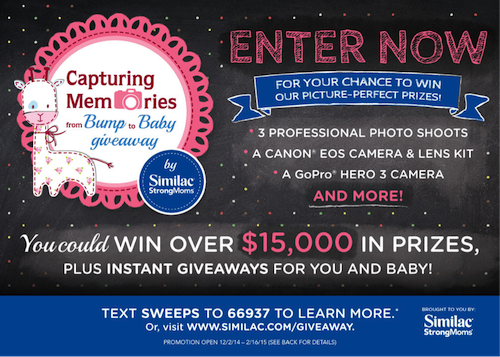 If you are a new mommy or a future mommy, Similac Strong Moms wants to help Make your Memories last a lifetime with the "Capturing Memories from Bump to Baby Giveaway"!!! The grand prize in the Strong Moms Giveaway is worth over $15,000 and there's tons of instant win prizes you can enter to win every day.  The sweepstakes doesn't end until 2/16/15 so there's plenty of time to enter and try for one of the instant win prizes. I know I can always use a little help with capturing memories of my precious babies!

By joining Similac Strong Moms you'll get emails with tips and tools for a healthy pregnancy and healthy baby, plus baby formula savings (oh you'd better believe I am a member! All 3 of my kids have used Similac!).  Similac Strong Moms offers great resources on all sorts of baby issues including tummies and diapers, so it's perfect for everyone.
One lucky winner will receive the Grand Prize in the Strong Moms Giveaway:
3 Professional Photo Shoots
Canon® EOS Camera and Lens Kit
A GoPro® Hero 3 Camera
A 13-inch MacBook
Adobe Photoshop® Elements 12 and Adobe Premiere® Elements 12
Beginnings Baby Record Book
$500 Shutterfly® Gift Card
$500 Pickles & Ice Cream® Gift Cards
Medela® Pump in Style Breast Pump
A What to Expect When You're Expecting® Book Set
Over 300 lucky moms will win instantly!
Similac® Prenatal Vitamins
Similac® for Supplementation Formula
Shutterfly® Gift Cards
Snoogle® Full Body Pillows
Beginnings Baby Record Book
Medela® Pump in Style Breast Pump
A What to Expect When You're Expecting® Book Set
Check out all the rules and enter the Strong Moms Giveaway  Good luck!!
The designers and manufactures whose products are featured in the giveaway are neither sponsors of nor affiliated in any way with this giveaway, nor do they endorse products or services of others included within the prize. All trademarks and service marks included on such products or services are property of the respective designers and manufactures.