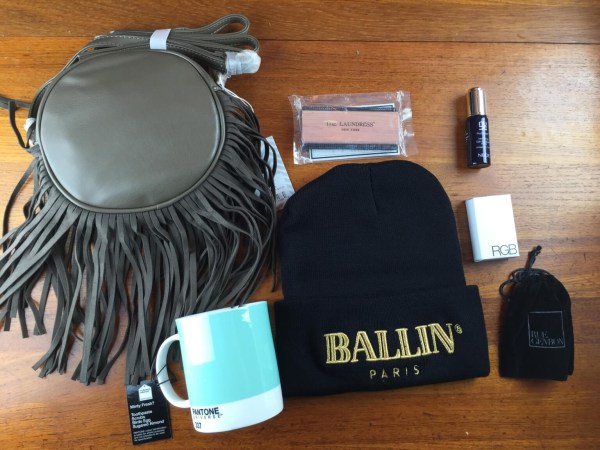 Nina Garcia's Quarterly #NGQ04 arrived at the very tail end of November, well past when a fall box should arrive. I had seen the spoilers, canceled, but my box had already shipped. When I opened it I found that while I enjoyed the box more than what I had expected to, I didn't think it was worth the $85 I paid for it. I haven't picked up a single item to use, and that's a real measure of a box for me. This box just hit all the wrong notes in my book! Look, Nina Garcia is a fashion guru, I get it, but to me, a box curated by a 49 year old classy woman shouldn't exclusively appeal to 20 year olds. Quarterly boxes are definitely love or hate and perhaps that's because they are so personal to the curator. I really loved a few items but the ones I disliked really overshadowed the rest. Your opinions may differ and that's A-OK with me!
The letter.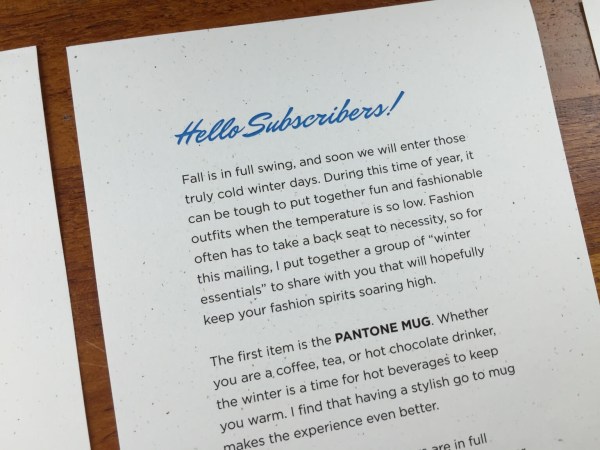 Fun & fashionable outfits… This went beyond fun.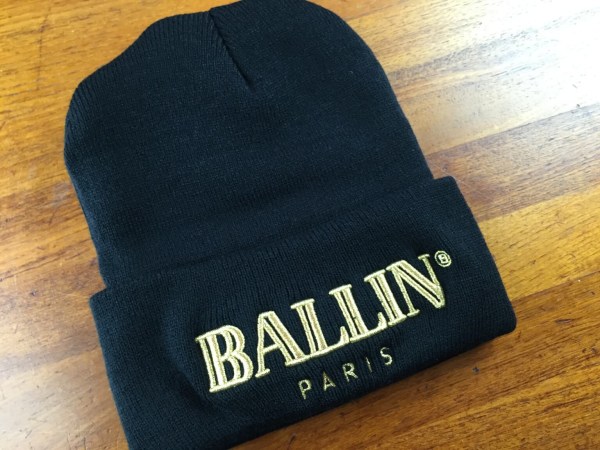 BALLIN Paris Beanie ($40) It's an acrylic beanie. And its' embroidered with Ballin. I more than have a sense of humor but I paid for this, and I am unamused. I shouldn't have to regift items that have a high retail value because they have ridiculous sayings on it. I expect this box to elevate my look, not degrade it. I do not "ball" so much as to blow money on an acrylic hat embroidered with the word. No, it doesn't have to do anything with male genitalia, but this is not something I'd wear at home around my children, nor at work in a professional environment.
Pantone Mug ($15.22) I got a pretty color, but I don't drink coffee, tea, or cocoa. I do love the color, but this mug is bizarrely thin.  However it's a fun, fashionable inclusion in the box.
Rue Gembon Mette Rose Earrings ($65 – not really) This was pretty much the make or break item in the box, and unfortunately it was the "break" item. I love the rose gold, but the ear jacket just isn't me. Also this is a variation on the earrings I linked to. It's probably worth 10-15 less.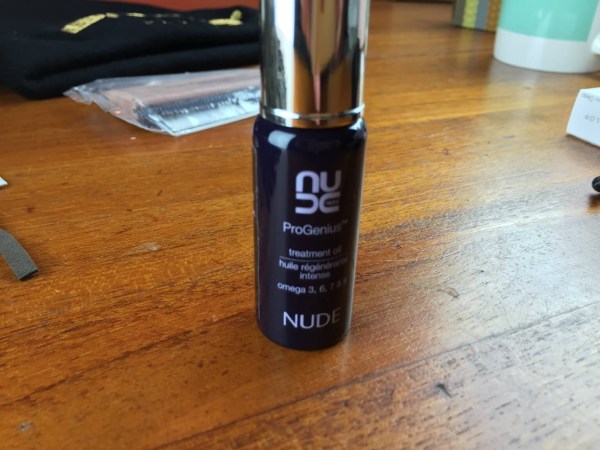 NUDE Skincare ProGenius Treatment Oil ($39) Knowing I can try this skincare item out as a Sephora freebie makes sending this box back a lot easier. This is a LOVE item for me and is a great fall item.
RGB Nail Polish in Deep ($18)  LOVE this. I want to use it right now just looking at it again but alas, I'll be sending this box back.
The Laundress Sweater Comb ($18) This is a great fall item – but not one I would ever personally used. I have never depilled a sweater and don't really intend to start now!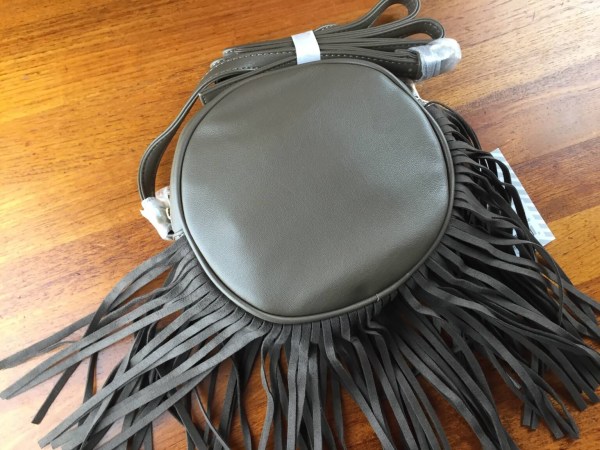 Deux Lux Joplin Circle Messenger in Mink – is NOT worth $75! Every other blog has this as $75, but it doesn't have a chain handle. Also, every other blog including my own pictures this with all the packaging intact. Because ain't nobody carrying this bag. If you love it, great, there is room for this bag in some people's lives, but definitely not in mine. I think the color is off, it's kind of deformed/squished, and I cannot stand the styling of it. If I liked it, I'd pay $15 for it at Target. This was the big item and it didn't do it for me.
There were a few items that I loved and would happily trade for. However, compared to past editions, NGQ04 had much lower value and when you removed the items I absolutely hated, I'd pretty much be paying retail for the remainder. One of the reasons I love all my subscriptions is that I pay much less for top shelf items, so in the end, this was a return box. Even though I canceled I may resubscribe. I love Quarterly's return policy!
One note – while I love exclusive items made for boxes, one thing I'm not loving is seeing the exact item except with fewer fabulous details. Yes, it does bring down the price, but it makes me pouty!
The Subscription
:
Quarterly
The Description
: Quarterly Co. is a subscription service that lets you receive awesome things in the mail. You can subscribe to people you find interesting and, once every three months, they will send you a package right to your doorstep
The Price
: $25+ per quarter. Nina Garcia's box is $100 per quarter.