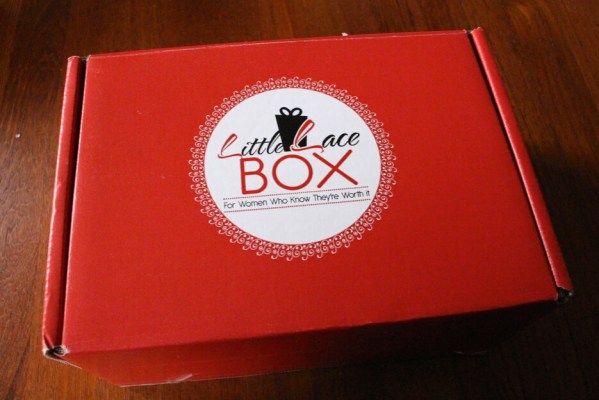 Little Lace Box is a brand new subscription box delivering the goods to chase away the weekday blues and bringing high-end, brand name beauty, lifestyle, and home product samples to your door each month. And I think it could be your next favorite subscription box, especially if you have been yearning for a combo of Birchbox and Popsugar!! Read on for a $10 off coupon, a walkthrough of LLB's amazing points program, and enter to win the November Little Lace Box!!!
You can save $10 off your first box with code LLB10! Don't forget to check out the yearly subscription option – you'll save $8 off the cost of your box every month.  Little Lace Box is like Popsugar Must Have Box in that you'll be getting a mix of items from all different categories – it's a lifestyle subscription box for women. And it's like Birchbox because they have POINTS! You will receive 200 points for opening up an account, one LLB point for each dollar spent in the online boutique, and you also receive 150 LLB points for reviewing your product after you receive it. For every 50 points you accumulate, you get one LLB reward dollar to spend in the shop. So if you open up an account and get a one year subscription ($383.90) you'll have earned 584 points – that's $11 in the shop. PLUS you get another 150 for every item you review, plus your review of the box. So for October you could rack up another 150 points – that's $18 in store credit!!! On every box! You will even get a reminder email 5 days after the box ships reminding you to review.
Check out these subscriber reviews of Little Lace Box! Impressive!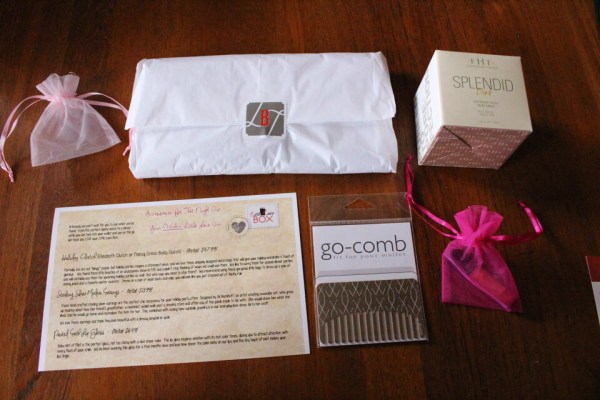 Here's my October box. I was super excited by one of the items being wrapped. I love opening presents!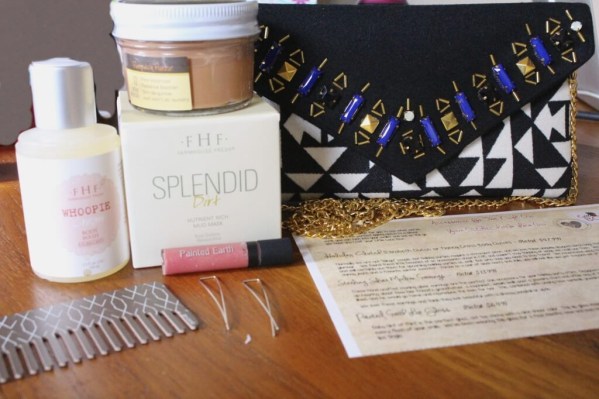 This box looked pretty fab. The theme was Accessorize for a Night Out!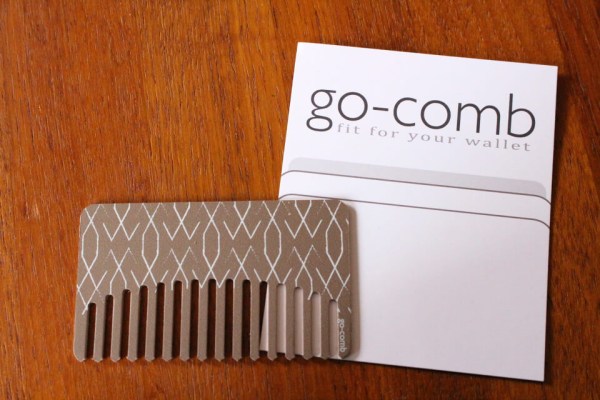 I know it's funny, but this Go-Comb ($9.99) is my FAVE! It's a laser cut comb you can stick in your wallet, it's just like a card, and I think it's the coolest. Never seen anything like it before – and I'm much more likely to keep this in my wallet.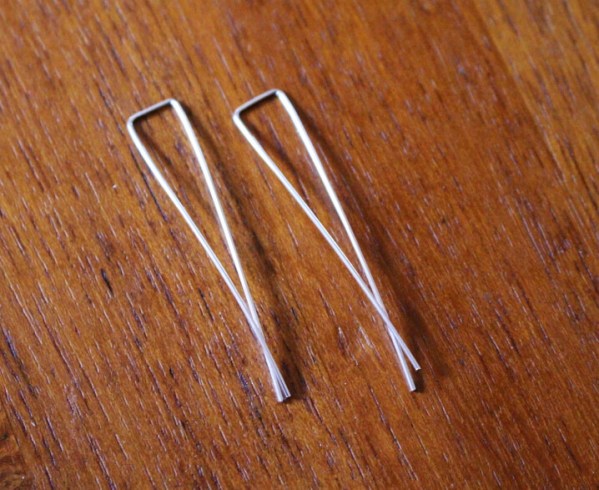 Modern Earrings in Sterling Silver ($13.99) (click through and take a look at these – you can move around the stems for a different look). These are unique, lightweight earrings. They remind me of a paper clip but if you make them swingy they don't look like one at all. Depends on your taste. I really liked that they were sterling silver!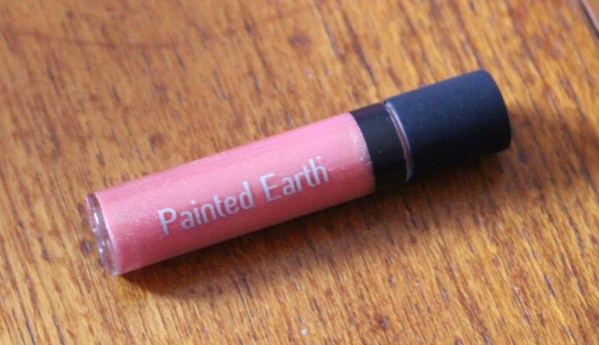 Painted Earth Lip Gloss ($6.49) In "Baby Hint of Mint." I was surprised because it was kind of spearminty I think? The mint plumps your lips and this is a really nice sheer and flattering color.
Farmhouse Fresh Pumpkin Splendid Dirt Mask ($19.99) This is a facial mask with a strong tingle! It has clays, pumpkin, and yogurt to shrink pores and reduce redness (like with any mask your face might look red immediately after but it calms down quickly). I love this mask – it's a strong one!
Bonus! Everyone received a bonus item in their box – mine was Farmhouse Fresh Whoopie Cream Body Wash – and it smells just like the inside of a Whoopie Pie!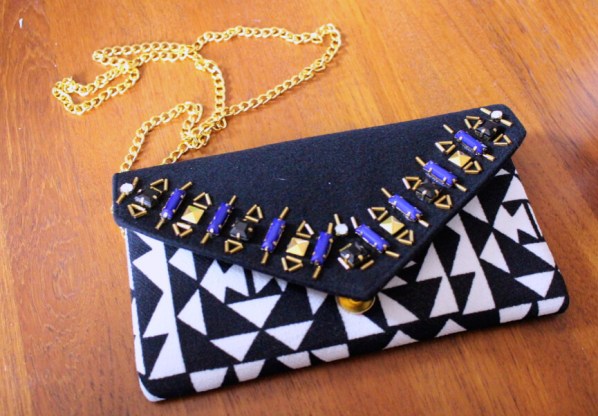 Nancy Cross Body Clutch ($47.99) It has a chain! At first this item seemed really loud, but it totally grew on me. Looks great with a slick black outfit or a fun sweater, and definitely picks up on the fall runway trends.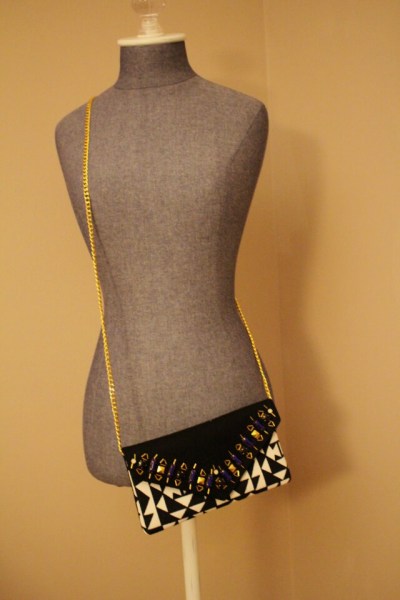 I put it on my fancy hanger so you can see how it will look. There was a variation of this clutch –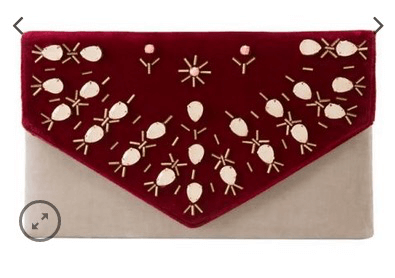 The October Little Lace Box had a total retail value of almost $100! The box is $39.99 per month, and you can save $10 on your first box with code LLB10. You can also pick up a yearly subscription for $383.90 (which is $31.99 per month), plus you'll get all the points as described above. I am impressed with this box and excited to see what they do in the future.
A Sneak Peek At The November Little Lace Box
"More rapid than eagles, his coursers they came."
It will include some really great thematic finds for you AND your home. It will also come in an ugly oversized box, because there are those times when we just can't agree on what to eliminate from a box, and when that happens, it's just easier to send a bigger box.
It will also ship earlier in the month, because so many of us travel over the Thanksgiving Holiday.
October's box completely sold out fairly quickly, and I'm sure November's will too. However, we have one box reserved for one of my readers (I begged, but it happened!). Enter the giveaway below!!
Visit Little Lace Box to find out more or to subscribe! You can also check out all my Little Lace Box Reviews!!! You can save $10 on your first box with code LLB10.
The Subscription
:
Little Lace Box
The Description
: et hand-curated, nearly impossible-to-find designer products directly to your doorstep every month. Your monthly box will be brimming with high-end, brand name beauty, lifestyle, and home product samples to treat yourself to and dazzle your friends during your next night out.
The Price
: $39.99 per month
The Coupon
: Save $10 on your first box! Use coupon code
LLB10
!