Love with Food's theme for November was "Baby It's Cold Outside" and every item helped warm you up!! If you're unfamiliar with this subscription, it's a fun snack discovery subscription and inexpensive! We get the Deluxe box, but if you use my link, you can get the Classic Size box free (pay $2 shipping). In addition to that free box check out my list of free & cheap subscription boxes while you're here! The November box insert noted that their sale is on Black Friday with the best prices (I assume for ongoing subscriptions) of the year – because it doesn't get much better than a free box! See all my Black Friday + Cyber Monday subscription box deals and if you're not a regular newsletter subscriber, subscribe to the special deals newsletter for next week. It will be totally worth the 10 seconds of your time to sign up. You can also save $10 on any subscription with code HOLIDAY14. Exp 11/30.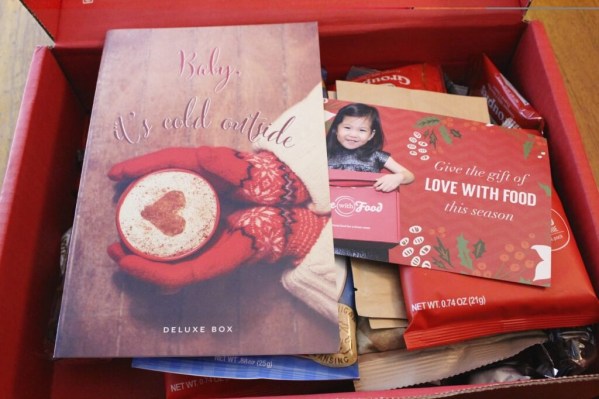 This was a ridiculously good box – so much chocolate! Don't forget to subscribe and get your first box free (pay $2 shipping) Just use this link to activate the offer! Remember that I get the deluxe box and will always say how many come in the deluxe box vs the Classic Taster's box. November's box theme is Baby, it's Cold Outside!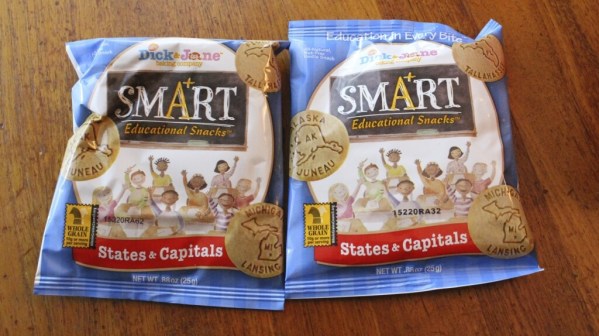 Dick & Jane Baking Company Smart Educational Snacks States & Capitals (2 in deluxe, 1 in classic) SO cute! I think I'll be getting more of these for my daughter's lunch sack!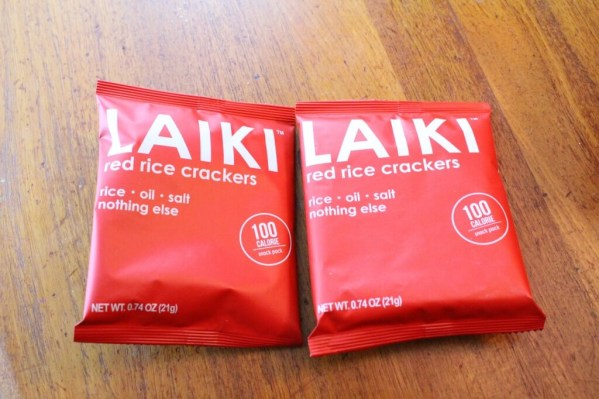 Laiki Red Rice Crackers (2 in deluxe, 1 in classic) Eh, I wish these had stayed in the gluten free box. I didn't open them because I don't care for these kind of crackers. Passing to sister in law. She gets all the too weird for me food.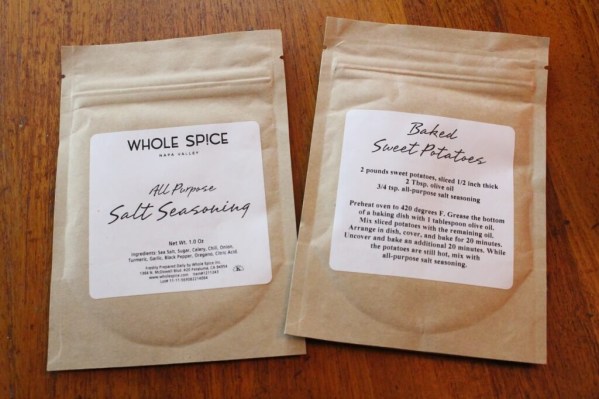 Whole Spice All Purpose Seasoning Salt (1 in classic, 2 in deluxe) I forgot to use this in the meatloaf I made for Sunday dinner. Dangit! This one looked delicious and flavorful.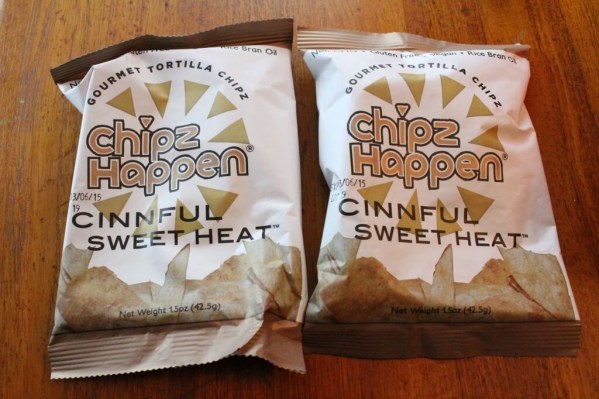 Cinnful Sweet Tortilla Chips by Chipz Happen (2 in deluxe, 1 in classic) Sweet, cinnamony, and spicy. Perfect for a quick winter snack.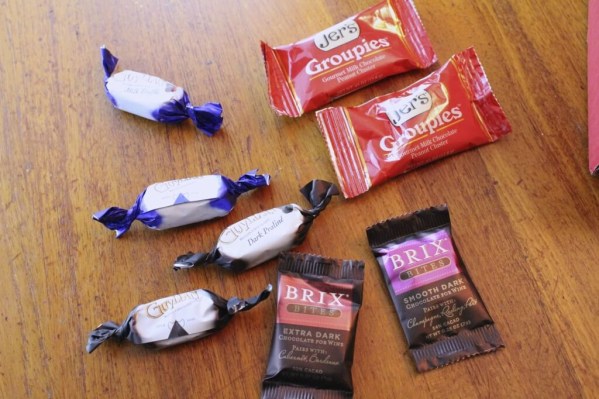 NOM CHOCOLATE.
Guylian Truffles (1 ea in classic, 2 ea in deluxe) – fun seahorse shaped chocolate (see photo at the end). Always love these.
Jer's Groupies Milk Chocolate Peanut Clusters (2 in classic & deluxe) YES YES YES. So salty and chocolately and peanutty and perfect. PERFECT. I may have ordered more of these.
Brix (only in deluxe) these are meant to be paired with wine and if I had girlfriends here yet (look, I have a blog, a FT job, and an 8 week old, and I moved here 10 weeks ago, cut me some slack!) I would totally be all over these for my holiday get together. I tried one by itself and the smooth dark chocolate was AMAZING. I love chocolate and these were just fantastic. I believe I have seen them at World Market. 
Marlo Bakery Midnight Soft Baked Biscotti (2 in deluxe, 1 in classic) This tasted like a stale brownie. Kids loved it.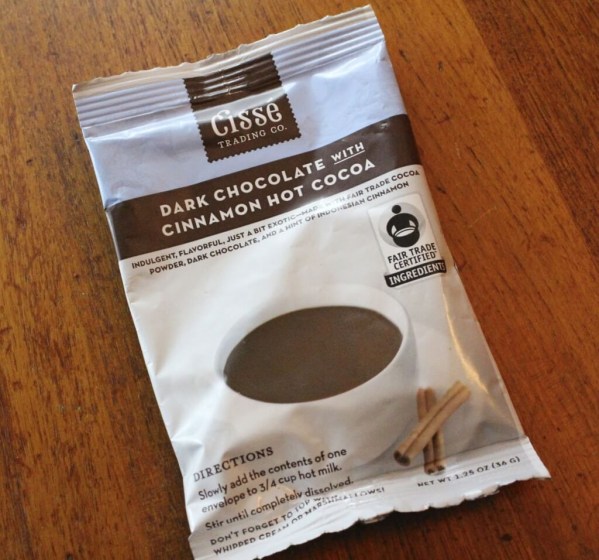 Cisse Dark Chocolate with Cinnamon (deluxe only) I love Mexican hot chocolate and this is fair trade and DARK cocoa. Yummt!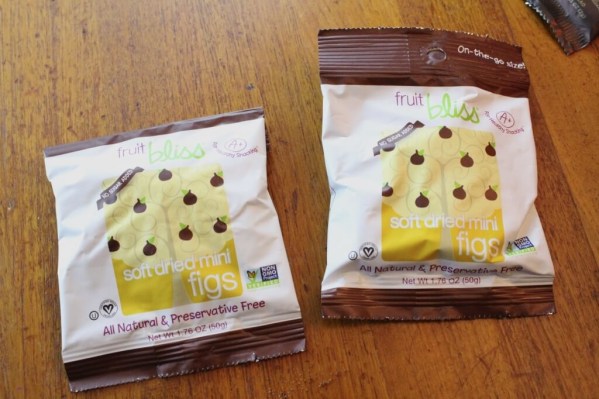 Fruit Bliss Soft Fried Mini Figs (2 in deluxe, 1 in classic) I love figs. LOVE. I have to watch my sugar intake so I am saving these for a day where I have eaten less chocolate.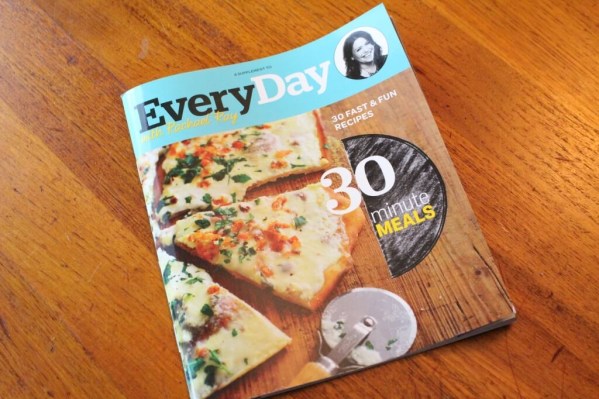 Rachel Ray Mini Mag. My Favorite magazine!  If you love it too here are some deals: Get a full year of Digital EveryDay with Rachael Ray for just $9.99 or Get a full year of EveryDay with Rachael Ray for just $5.99.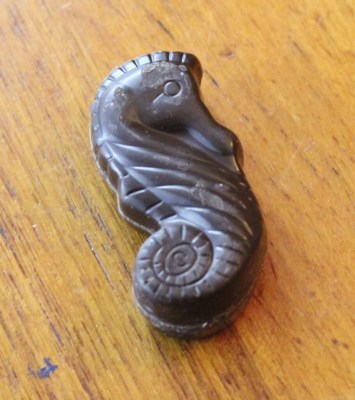 Delicious. I think I ate all my seahorses. Whoops! There was also a $25 promo code for Le Tote in my box. You should sign up for my newsletter to be alerted of the next free first tote offer if you just want to try one tote (the code was off an entire 1 month).
Visit Love with Food to subscribe, find out more, or just go shopping in the shop! Check out all my Love With Food Reviews! Don't forget to take a look at other Snack Subscription Boxes.
The Subscription
:
Love with Food
The Description
: Love with Food is a gourmet sampling and discovery subscription box filled with 8+ gourmet treasures centered around a monthly theme. The deluxe box contains 16-20 items.
The Price
: $12 (regular) or $19.95 (deluxe) per month
The Coupon
: Use this link to
get your first Classic Size Box free
– pay $2 shipping.
Looking for more awesome
Black Friday Coupons for Subscription Boxes
?