Excellent Black Friday deal on Madison Reed! Free standard shipping on all Madison Reed orders – no code needed! This sale goes all the way through Cyber Monday!
I of course LOVE Madison Reed Hair Color but also check out these NEW additions to the Madison Reed hair care line!
New Madison Reed at home hair color accessories! (This is what I am buying with my coupon!!)
The Madison Reed Root Touch Up really works and is perfect for grays, roots, or thinning hair. Check out my review!
And YES, a broader range of BLONDE!  And don't forget – you can ask a Madison Reed hair color advisor for assistance!
Meet our ravishing Ravello. One of our most anticipated shades, it's a delicate, fashion-forward strawberry blonde. This shade is vibrant enough to bestow a warm glow to hair. Ravello adds burnished gold copper tones soft enough to cover gray, resulting in a strawberry gold.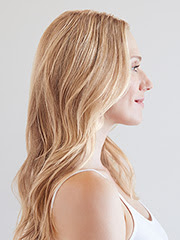 Meet Tremiti, the sunniest of our new shades. It creates a soft sunshine gold, exposing natural warmth and adding gold tones. This shade would be perfect on a warm skin tone. With hair that has gone gray it will restore tone to hair, and sparkle to the complexion.
Salute, Varese! This is a champagne blonde with sheer beige tones. Perfect to add tone to a yellow blonde. It also tones super light blonde or white to a minky, Hollywood blonde.
Meet Manarola, the iciest and coolest of our blondes. This shade is a brass buster and counteracts any unwanted yellow tones. On naturally white hair, it gives a crisp, steel effect.
Ciao, Amalfi – "out little pearl!" This is the lightest blonde in our collection, as well as the most natural. This shade gives a soft creamy result on white hair and the effect of spun gold on natural hair.