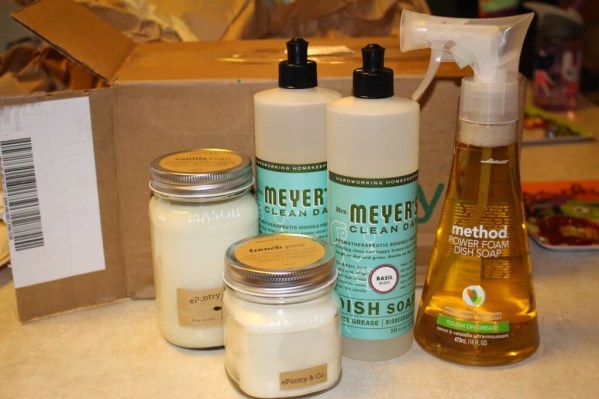 Whoop! It's ePantry time! EPantry is a household supply subscription service that allows you to quickly pick your favorite high quality cleaning supplies and set up a customized schedule for their shipment to you. I don't always review household subscriptions when I get them because they're usually the same, but I have different items this time. YAY!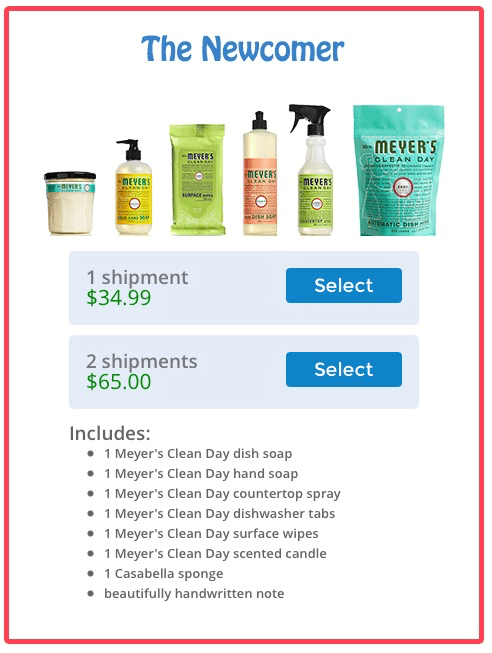 First of all, here's something new I noticed! You can gift an ePantry newcomer bundle to a friend – what an amazing housewarming gift! Find this in your dashboard under Pantry Actions, give the gift of ePantry.
ePantry stocks products from Method, Mrs. Meyer's Clean Day, Seventh Generation and Green Forest, among others, including all sorts of dish and laundry supplies and razors, toothbrushes, etc from fancy pants brands like Preserve and Casabella. You'll be able to select what kind of products you want to subscribe to. Tell ePantry your household size and they'll figure out when you need more.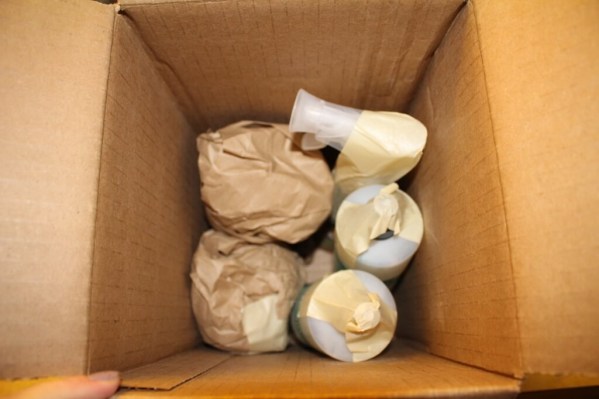 This box was filled to the top with recycled brown paper – ePantry is a B corporation and they carbon offset all their shipping, use recycled wherever possible, and sends little tips on the packing slips on how to live more sustainable lives. Love that.
You can see they take great care to package everything. This I got a Method Power Foam in Lemon Mint (we LOVE this soap), Mrs. Meyer's Clean Day in Basil (also LOVE), and 2 candles.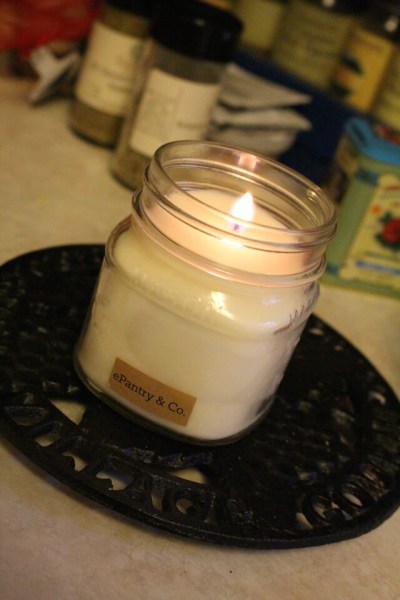 ePantry now carries candles! I purchased the 8 oz French Pear and the 16 oz Vanilla Bean. ePantry says:" We found that "fillers" burn much more quickly than organic soy wax. We set out to source the best 100% organic soy wax and we couldn't be more excited with the results: cleaner scents, longer burn time (8 oz = 70+ hours), less waste. "
It's burning now – very slowly! Smells great although not as strong as some other candles, it's fresh and clean. I may end up burning the French pear and vanilla bean at the same time for a Pear Crisp combo scent!
Visit ePantry to check it out and personalize your own subscription. It's super easy to skip, move around your dates, and change your products! See all my ePantry Reviews!
The Subscription
:
ePantry
The Description
: Flexible household product subscription service. Choose from Method, Mrs. Meyer's Clean Day, Seventh Generation cleaning products and add on TP, paper towels, and trash bags.
The Price
: Varies
The Coupon
: Get $10 off your first order when you sign up!