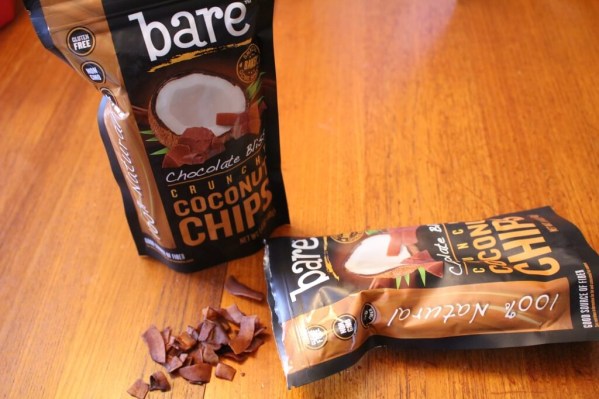 Bare sent me their brand new Chocolate Bliss Crunchy Coconut Chips to try out. They are gone. We ate them all and they only arrived tonight! First of all, heads up, they are 20% off on Amazon right now through the end of October. So if you're interested get them while you can! There are only 3 ingredients – coconut, coconut nectar, and unsweetened chocolate. They are made by baking and they must be soaked in a chocolate coconut nectar concoction and toasted. Amusingly these bags have zipper seals. What I mean is that um, you'll totally engage in the self-control my family was unable to (we all loved them) and save some for later?
No really, they're delicious and the entire bag only has 12 grams of sugar. If you are feeling like you want to eat the stash of candy ready to hand out Friday, Prime some of these bad boys and eat them guilt free. And gluten free. But mostly chocolate soaked.
They are sold in a 12 pack and the coupon brings them to around $2 per pack! This is a lot less than I saw Dang chips on sale at Safeway, and these are chocolate. That is my PSA for the day. Also why are these not in all the subscription boxes?!