Posh Pak is a subscription box for girls with three age ranges: Little Girl, Tween, and Teen! It is really a fabulous addition to the girls' subscription box category and I absolutely loved the September box! Like I'm having a hard time deciding whether to shower my girly girl with these gifts now or save some of them for Christmas – they were that fantastic! This month I received the box for my daughter's age range – the 5-8 year old Posh Pak.
I know I know, it's Back to School! You suckered me into to, I have to *cough* let it go and make sure she's the best coiffed girl at school. This is a fantastic box! 
I couldn't believe all the fabulous things in this box. Boxes run $29 per month (a bit less on a longer subscription) and it's pretty much like a Popsugar for girls.
Ottilie & Lulu Clean Skin Face Wipes ($9.50) I love this natural face wipe made for tweens. It's also perfect for sweaty little girls after soccer, dance, or gym!
Pigtail Princess Boutique Hair Bows & Ribbon Strip ($25) This is so darling! And it has a Frozen bow in addition to lots of cute other ones. I've really never put a bow in my daughter's hair. Am I a terrible mom? I can't wait to try!
Neon and Rhinestone Beaded Bracelet Set ($15) This is totally cute and I love the mod neon look contrasted with the rhinestone bead. Can I keep this one? (OK OK I'll give it to my daughter!)
Pink Fizz Nail Polish ($2) This is adorable and a great fun color for girls! I'm betting it's going to get crazy used for the Halloween season (which starts now, if you didn't know. No seriously, we're all wearing our Halloween shirts, get with it!).
Bright & Cheery Crayon Roll-Up ($7) Can you believe I didn't own one of these? I (yes me!) was so excited when I unwrapped this. I hate plastic baggies of crayons (they get gross) and let me tell you, my kids always fight over the two colors of crayons that they get at a restaurant table. This went in the diaper bag, which is really the kids' bag (which will have diapers again soon, but… it holds everything!).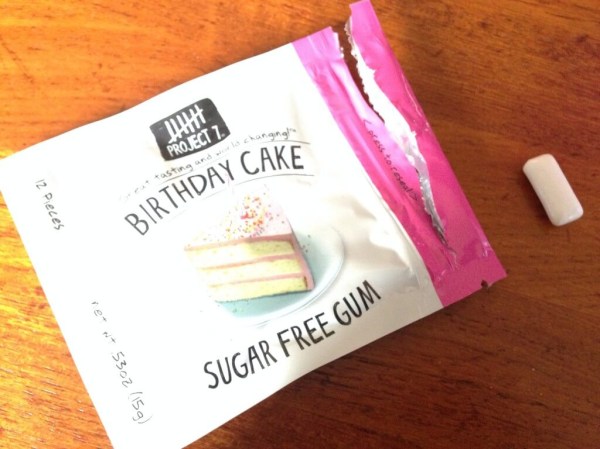 Project 7 Birthday Cake Gum ($1.69) This was yummy. I still supervise my daughter with gum so it doesn't end up on the floor, but she's getting to be very responsible about it. I like an occasional gum for her so she does learn how to use it.
Frozen Invisible Ink Activity Set ($6)

Twinkle Candy Sucker – A sweet extra treat!
I just thought this was a really wonderful box, and with over $65 in value, a really great deal. I cannot wait to gift some of these items to my daughter. I promise I will… maybe when we need a little distraction from the upcoming baby. I do normally let her have everything but I was so thrilled with this box I wanted to save it for something special!
Visit Posh Pak to subscribe or to find out more about this box! You can also check out the teen & tween subscription box list or the rest of my PoshPak Reviews!
The Subscription
: 
PoshPak
The Description
: Inside the Pak you will find 4 to 6 items ranging from health/beauty, fashion accessories, tech, school supplies, tasty treats and some designer labels, just for girls. Choose between the age ranges of 5-8, 9-12, and 13+!
The Price
: $29 per month.