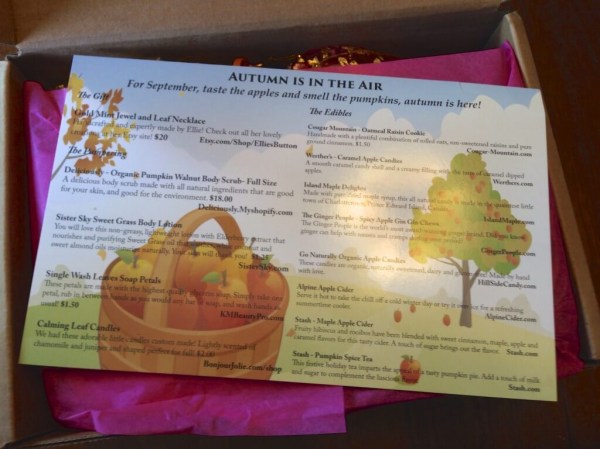 Bonjour Jolie is a time of the month and more box and I think it's my new favorite box. Bonjour Jolie is only $16 per month plus shipping. Totally awesome variety & value, plus period supplies. Wooo!  The September theme was Autumn is in the Air – and they do such a great job with the theme!
This is what it looks like when you open it. I love the packaging. This box makes me happy.
All the goodies, including a pack of Always. The box comes with your choice of supplies, plus Advil & fresh wipes if you want em.
Pampering supplies! I thought this was so adorable – Soap Leaves/petals, a little body lotion, and chamomile/juniper leaf candles. I totally put them in my bathroom. They were too cute.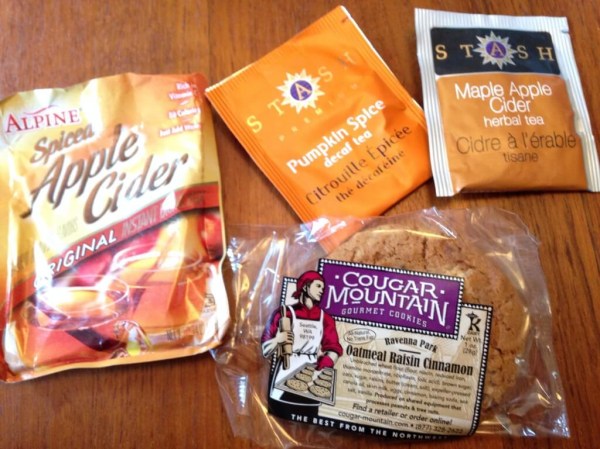 Beverages & snacks. Bonjour Jolie comes with plenty of goodies and this month there was a yummy Oatmeal Raisin cookie, Spiced apple cider, and two teas.

Plus, an assortment of fall-flavored sweets. I loved the Apple flavored Gin-Gins and the Caramel Apple Werther's! The Island Maple Delights (maple syrup candy) were pure fall. Oh and the Go Organic Apple Candies. There seems to always be a pile in this box!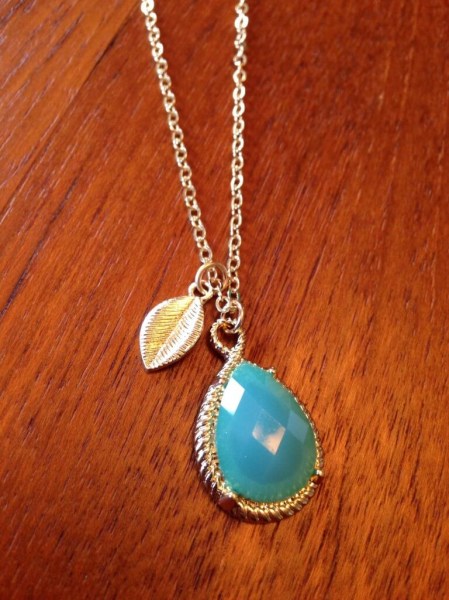 Gold Mint Jewel & Leaf Necklace ($20) This is a cute necklace from Ellie's Button, an Etsy shop.  Every box comes with a "gift" like this one!
You can choose one full pack (if you don't like people sorting your goods) or if you don't care, You can order exactly what you need. This takes care of the long debate of other people handling your period supplies.
Deliciously Organic Pumpkin Walnut Body Scrub ($18) It's like PSL for your bod.  And smells so good!
My September Bonjour Jolie was really perfect. The value far outweighs the price, and it's totally justifiable because it has period supplies. I totally recommend it. I've been truly delighted with each box I've received!
The Subscription
:
Bonjour Jolie
The Description
: Bonjour Jolie is a period pampering box available for women and teens. Boxes are themed and are curated with bath and body items, teas, and of course, chocolate!
The Price
: $16 per month plus shipping ($5 US)