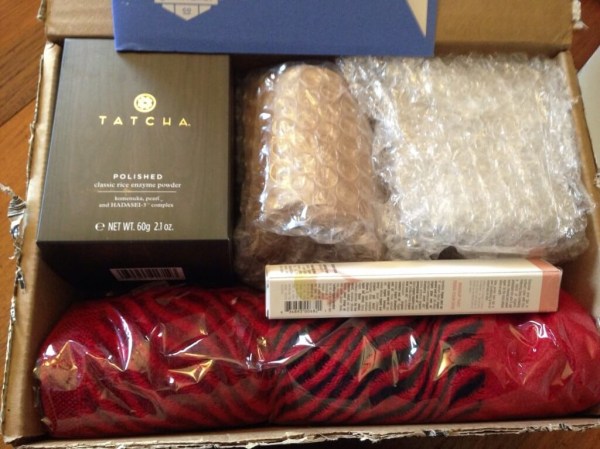 OMG I totally hate to be the box reviewer that hates another box reviewer's box, but…. this was so not my style. I'm sorry! I realize that makes me basically the worst person in the world.  But I can't even bear to take that red thing out of the package because I need to sell/swap it immediately. I opened this box and thought, what the hell is this ugly thing?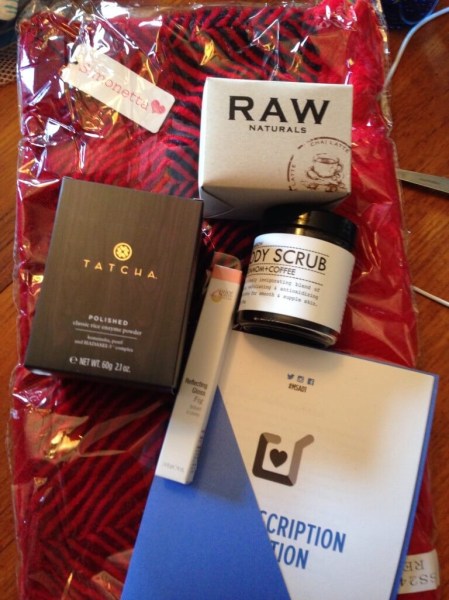 Unboxing it did not improve it.
Raw Naturals Candle in Chai Latte ($24) Excellent smell. Will use!
Fig + Yarrow Cardamon + Coffee Body Scrub ($22) This smells gross, because I cannot stand the smell of coffee. This is JUST ME, I know. But it didn't help to endear me to this box.
Tatcha Polished Classic Rice Enzyme Powder ($65) I'm interested in trying it. I hear it's a love/hate product! The #1 ingredient is talc and I'm not sure how I feel about that! Some people are super sensitive to it.
Juice Beauty Reflecting Gloss ($15) Gorgeous color – fig!
Simonetta Infinity Knit Scarf ($25 according to card) – There is no way in hell I would ever wear that. If you love it, I'm super happy that someone does, I cannot stand it.
Also included, coupons for Tatcha & Fig & Yarrow (purchases required). There was also a coupon for 75% off Just Fab, which is at least better than the crappy 50% off (which was the standard offer, now it's 20% off) Citrus Lane put in all its boxes last year.  Here's a BOGO offer for Just Fab if you want one!
The Subscription
:
Quarterly
The Description
: Quarterly Co. is a subscription service that lets you receive awesome things in the mail. You can subscribe to people you find interesting and, once every three months, they will send you a package right to your doorstep
The Price
: $25+ per quarter. MSA's box is $50 per quarter.