.
Candy German is a totally unique subscription box. Each monthly delivery contains 6-8 German candies, shipped straight from Germany to your door! I was super excited to try out this box because I spent my formative sweets years in Germany!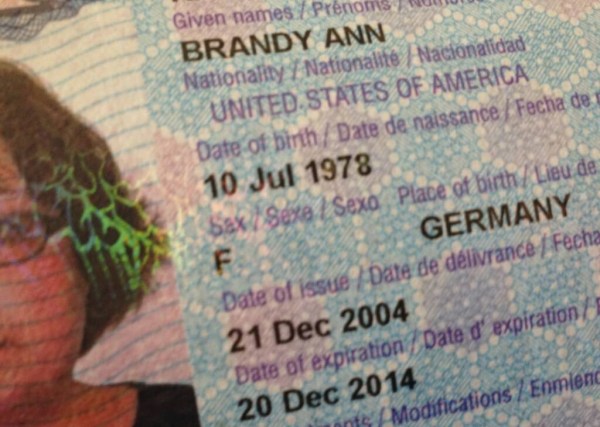 And yes, I have to get my passport renewed.  Fortunately nobody has to actually be born in Germany to enjoy this box. I love trying new international sweets, and Germany's sweets are top quality and super accessible. I wished there was a nicer presentation to the box or an information card but mostly this service is about monthly shipments of curated boxes of fresh goods!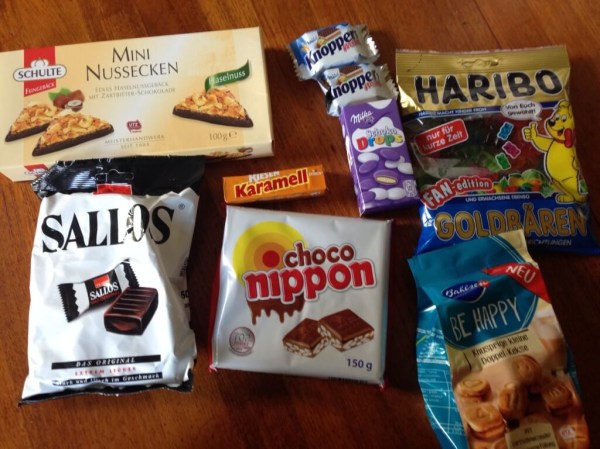 I loved that there was a real textural and flavor variety, and not everything was the same!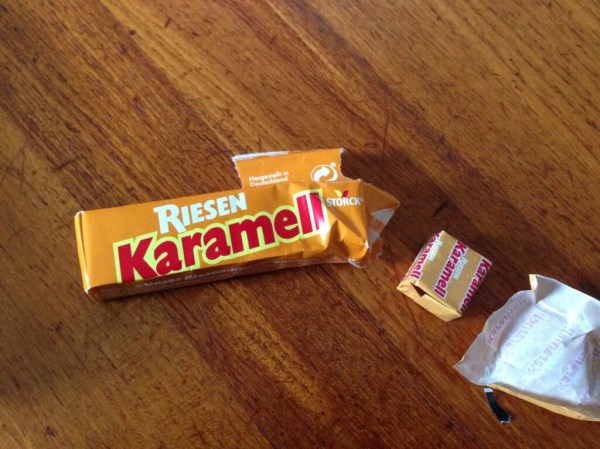 Riesen Karamell – Reisen brand should be pretty familiar to most Americans, they make great caramels! These were super chewy, kind of like the starburst version of caramels.
Sallos – I knew before I popped one of these in my mouth that they would be, as my husband called them, "distinctly German." It's a licorice and herbs candy, they are strongly anise with a sharp menthol undertone. Not really my thing, but a great example for the box. Good thing Grampa loves licorice!
Haribo Fan-edition – Most people think Haribo is Japanese, but it's German.  The fan edition contains the favorite fan flavors of Haribo – cherry, grapefruit, melon, sweet woodruff, apricot, and the BLUE Goldbear with blueberry flavor. We have gummies open so I didn't sample these but I'm really excited to, as I haven't tried these unusual flavors (I'm betting nearly impossible to buy here, because we buy a lot of Haribo!).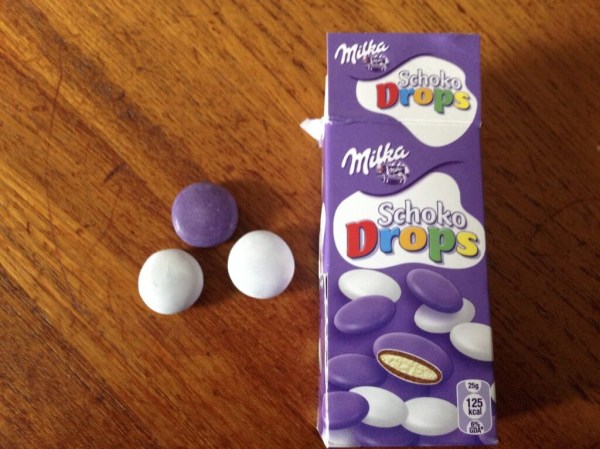 Milka Shchoko Drops – Candy coated with milk chocolate outside and milk cream (like white chocolate inside)! The candies are really quite large and we all loved these!
Knoppers Minis –  It's like a cocoa wafer bar with chocolate hazelnut filling and a milk filling. It was delicious and the kids begged for more. I would totally buy a bag of these, they seem like good Halloween candy!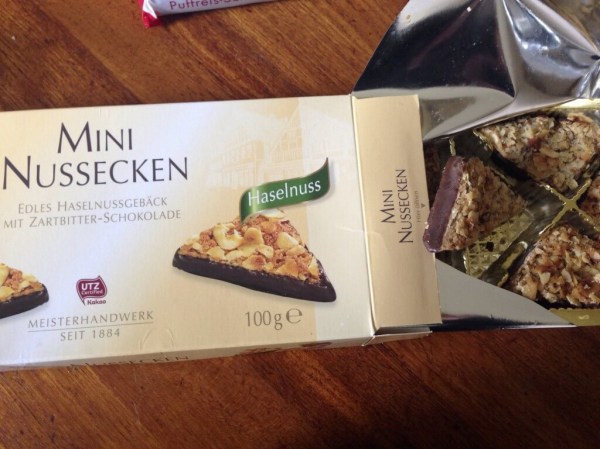 Mini Nussecken – Shortbread covered with  hazelnuts and dipped in chocolate. This is the kind of thing I would keep on the pantry to put out a tray of if I had company. And/or eat the entire box. It was really delicious and moist, not dried out or anything.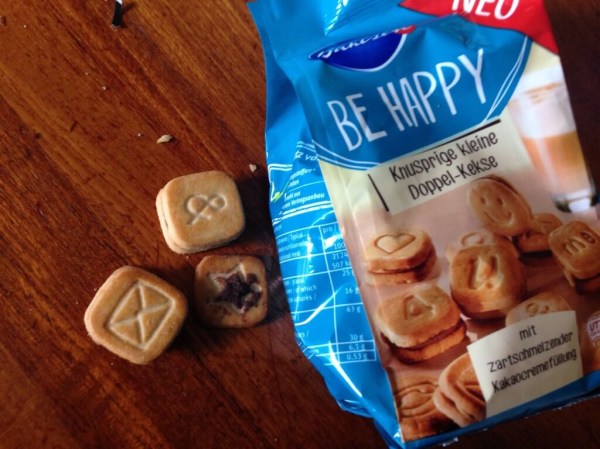 Be Happy Cookies – The Germans are so smart. Instead of putting dorky things on nasty candy (like conversation hearts), they put them on sandwich cookies with hazelnut filling instead. These were fun & tasty!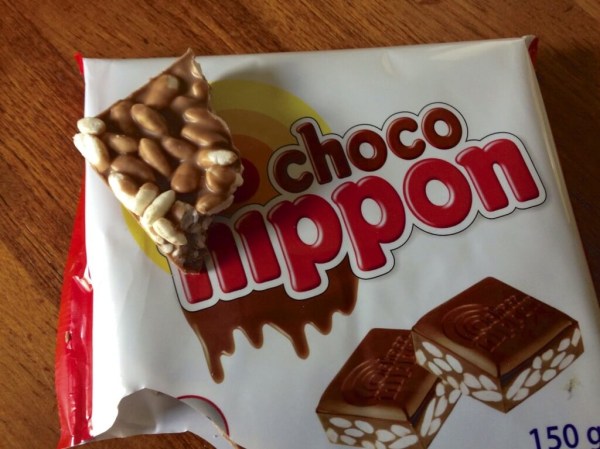 Choco Nippon – Ah, "Japanese" chocolate from Germany! This bar contains puffed rice, and not like Rice Krispies, but actual puffed rice (it's also in Kashi cereal and I like buying plain puffed rice to mix in with cereal, it's light and fluffy).  The manufacturer calls it "for a healthy and greedy break at any time." OK! Rice Chocolate is apparently a thing and I had no idea!
I loved Candy German and for including fast international shipping and a fantastic variety of really excellent candies and sweets straight from Germany, I was really pleased with it! If it were easy I would have rebought several of the goodies in this box!
Visit Candy German to find out more about this box or to subscribe. You can also see more Sweets and Treats subscription boxes in the directory or find more internationally themed food boxes.
The Subscription
:
Candy German
The Description
: Every month you will receive a box with round about 6 to 8 carefully selected German candies. Boxes include anything from chocolate, wine gums, drops and cookies to gingerbread, licorice, marzipan and much more surprises (up to 1 kg).
The Price
: 29 Euros per month